Bugzilla: Mid Engine Autocross VW Bug
Here at AutoXandTrack we like vehicles of all kinds.  But like many gearheads we have a soft spot for the home built and different.  What do you get when you cross a VW Bug with a Chevy Ecotec motor and a Mazda Miata?  Sean's McKillop's Bugzilla!
Ever since we saw Sean's mid engine supercharged Ecotec powered VW Bug out slaying cones at an NMCA West Hotchkis Autocross we've wanted to know more!  It turns out that was one of Sean's first ever autocross events for himself and the car.  While he had some sorting issues, he still managed a first place in his class and took home a special recognition award.  For most of 2017 Sean has been upgrading Bugzilla with an eye towards a full year of racing in 2018.  Read on to learn more about this unique build as AutoXandTrack has a Q&A with Sean.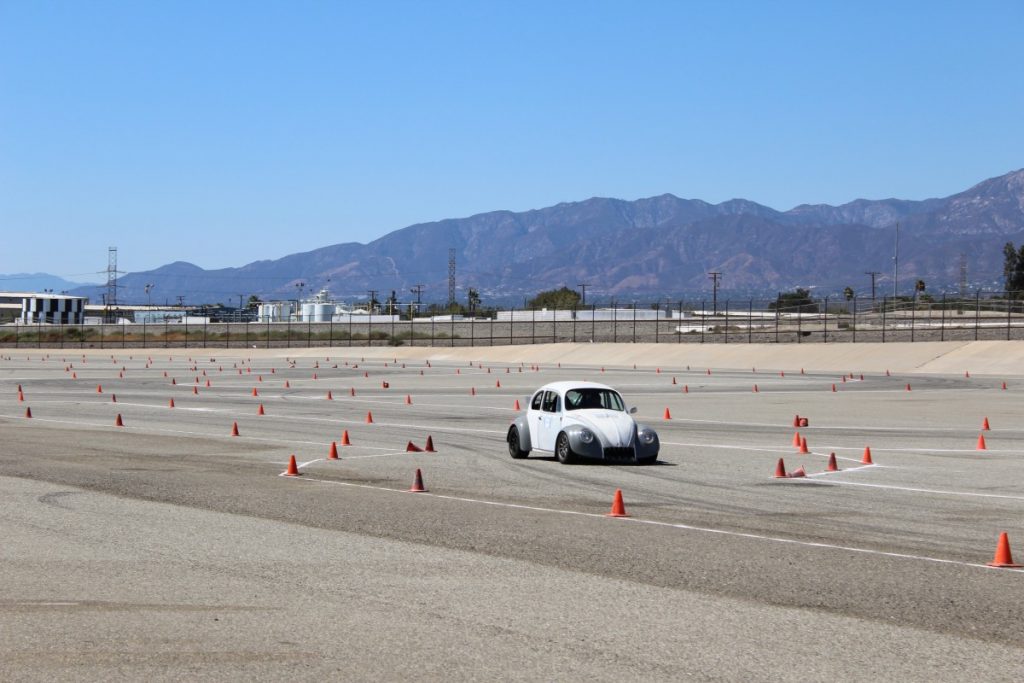 Please give us an overview of Bugzilla.
Project Bugzilla started almost 5 years ago. I was over at my parent's house browsing through Craigslist ads for a project car and found a cheap Bug only a few blocks away. Since it was so close, I figured I might as well go look at it. Well, looking at it turned into borrowing my brother's truck and my dad's trailer to go pick it up and then drop it off at my house.
A few days later, I had the pan pulled off and started taking down some measurements. Measurements turned into drawings and drawings then turned into a chassis. Soon enough, it was sitting with all four wheels on the ground. It was 3 years before I was able to drive it.
I really don't know how the name Bugzilla came to be. It was first named Frankenbeetle because of how many different things it was made from mixed in with its multicolored paint job. But somehow the name Bugzilla popped up and stuck.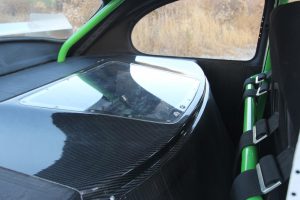 How did VW Bug, Chevy Ecotec and Autocross make its way into your head?
I have always been someone who has to have a project car on the side. And most of my project cars have been geared toward road racing. I had a 1970 Nova right before the Bug that I was building for road racing. While I really enjoyed that car, I wanted to do something different, something that people normally wouldn't expect to see at the track. So, I sold the Nova and used that money to start the next project, Bugzilla.
So why did I choose a VW Bug? The main reason was the price. Bugs are a dime a dozen and dirt cheap. I picked up a nearly rust free and good condition 1970 VW Bug for $600. I sold $800 worth of parts off it so it actually ended up costing me nothing to start this project. Why did I choose an Ecotec? Well, I actually had an Ecotec sitting in my garage for years that I wanted to do something with. I figured a small vehicle like a Bug would be perfect for an Ecotec, so why not put it in?
At that point, I had a vehicle and an engine as a starting point, but no idea what type of driving I was going to do. My first thought was to do a Baja Bug, but too many people have done that already. Then Autocross popped in to my head. I knew what it was, watched a couple events and thought driving through a field of cones looked boring. So I had to try it out to make sure I was right. Then I signed up for my first ever Autocross event in my Nissan Juke Nismo RS. I proved myself wrong and had an absolute blast. From then on, I knew I was going to build the Bug to be an Autocross monster.
Did you have a specific design or build objective when you first decided on building Bugzilla?
Going into this project, I knew I wanted 3 things. 1 – Mid engine. 2 – Four cylinder powered. 3 – To build and design the entire frame and suspension from scratch. I knew I still wanted it to look like a Bug, but at the same time, know it's really not one. I also wanted to make sure it was streetable. Couldn't be too low, didn't want it too loud (although it is loud) and I wanted to be able to drive it everywhere. Trailers are for broken cars!
What does it take to fit an Ecotec engine into a VW bug?
It takes a lot of planning ahead to make it work. It also took a lot of guessing! I don't think the hardest part was actually mounting the engine to the chassis and making the mounts. The odd thing to my Bug is how the engine goes in. It goes in through the driver's door. There is no removable subframe. So once I had the engine mounted, I had to be sure to leave enough space around it to get it out. Not only did that mean I had to worry about the frame design, but I had to worry about how I made the roll cage. Past that, I had to worry about making a removable engine compartment that worked with everything else. It was quite the task, but I think the outcome was good.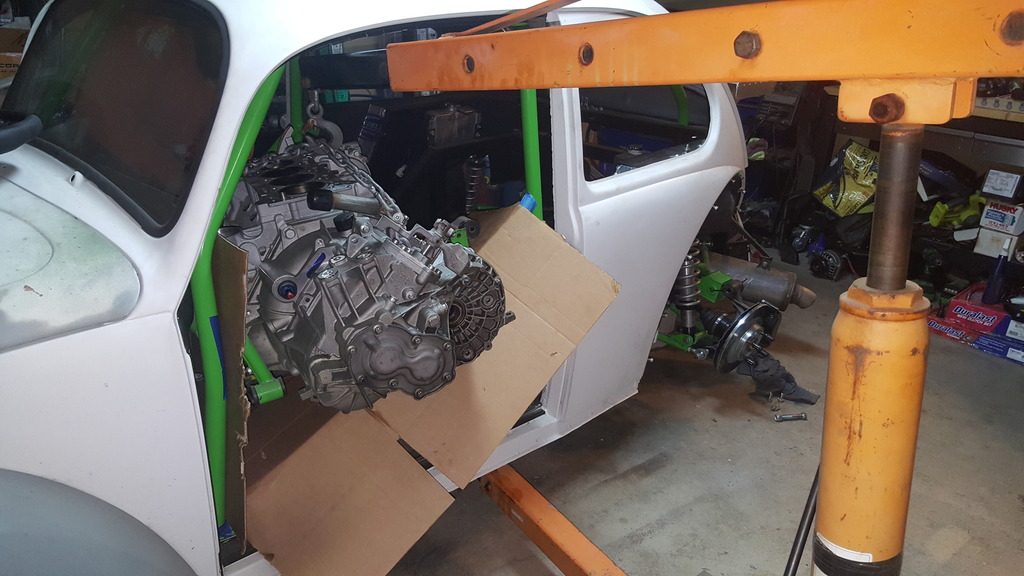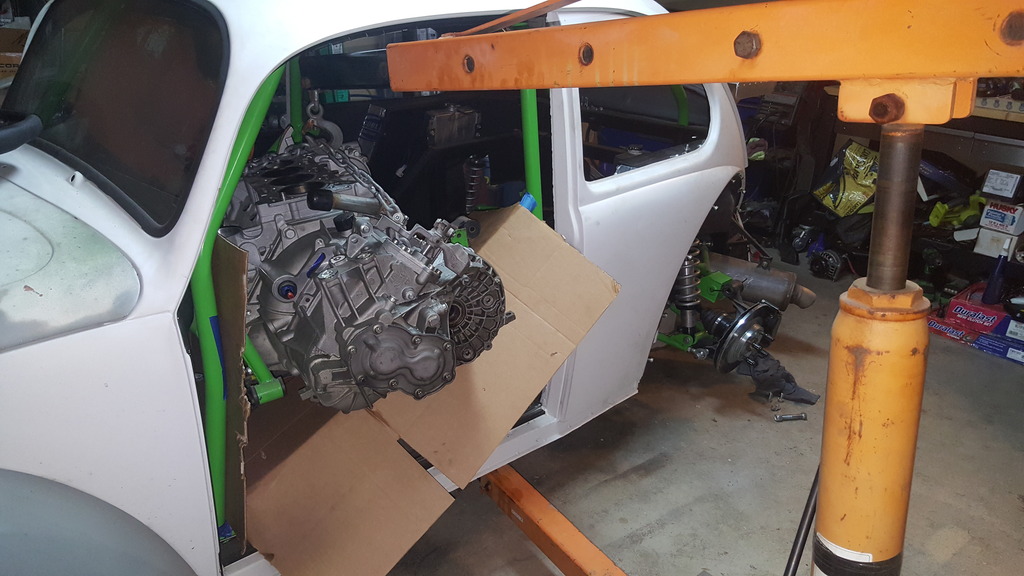 Detailed listing of Bugzilla's modifications. 
Engine/driveline
The engine is a 2.3L Chevy Ecotec. It has a stock 2.2L crank with Eagle H-beam rods connected to it. The pistons are my custom design that I had JE Pistons make. They were designed to use the 2.2L crank and rods while being in a 2.4L block. The head has been CNC ported on the intake ports, exhaust ports and the combustion chamber. It uses oversized Inconel valves with ZZP valve springs. It also has a pair of Comp Cams sitting under the valve cover that make it sound quite lumpy at idle. The supercharger is an Eaton M62 that has been modified to fit a LS1 style throttle body without the use of an adapter. As of right now, it puts out 9 psi of boost. I have not had it on the dyno yet, but I am estimating that it makes around 425hp. Currently, the redline is set to 8000 rpms. All that power gets transferred through a Getrag F23 trans and Spec stage 4 clutch with Exedy chromoly flywheel. From there, it goes through a pair of The Drive Shaft Shop axles rated to 600hp. The axles connect to the 15" TR Motorsports C1 lightweight wheels which are wrapped in Nitto NT01 tires. It is estimated that the Bug weighs in around 2000 lbs.
Suspension
The suspension was all designed and built by me. It has Mazda Miata spindles front and rear. It still uses the double wishbone design, but with custom a-arms. I am using QA1 double adjustable coil overs on all 4 corners. For brakes, I went with Wilwood. The front brakes are on 2 piece 12" rotors with 6 piston calipers. The rear uses a 1 piece 11" rotor with 4 piston calipers. For now, I am only running a front sway bar. I am also using a quick steer manual steering rack that is only 2 turns lock to lock.
Body
Since I wanted Bugzilla to still look like a Bug, I didn't do anything too crazy to the body. I also wanted to shave a few pounds with lighter components. So I went with fiberglass fenders and a trunk lid from Creative Car Craft. The rear fenders are 3" wider per side and the front are 2.5" wider per side. I had to get a little creative with the hood since my radiator is up front. The very nose of the hood was chopped off to allow me to make a grille. The section I cut off was where the original hood latch was. This made me incorporate a hidden hood latch. I also had to put a vent in the top side of the hood to release the hot air out of the radiator. Out back, mostly for looks, is a fabricated aluminum wing from Ron Lumas Racing.  
Interior
My interior is fairly basic, as a race car should be. The floor is completely flat and has no carpet. The seats are fixed back buckets made by Procar. All of the gauges are from Livorsi. I really like carbon fiber so both the gauges face and the switch panel are carbon fiber. It also has a carbon fiber engine hatch from an Acura NSX that I modified to fit. Carbon fiber door panels are next on my list. Since Bugzilla is very difficult to get in to, I installed a steering wheel quick disconnect with a D shaped Grant steering wheel to help out. All around you, you will see a bright green eight point roll cage. Safety first. It really gives it that "race car" feel.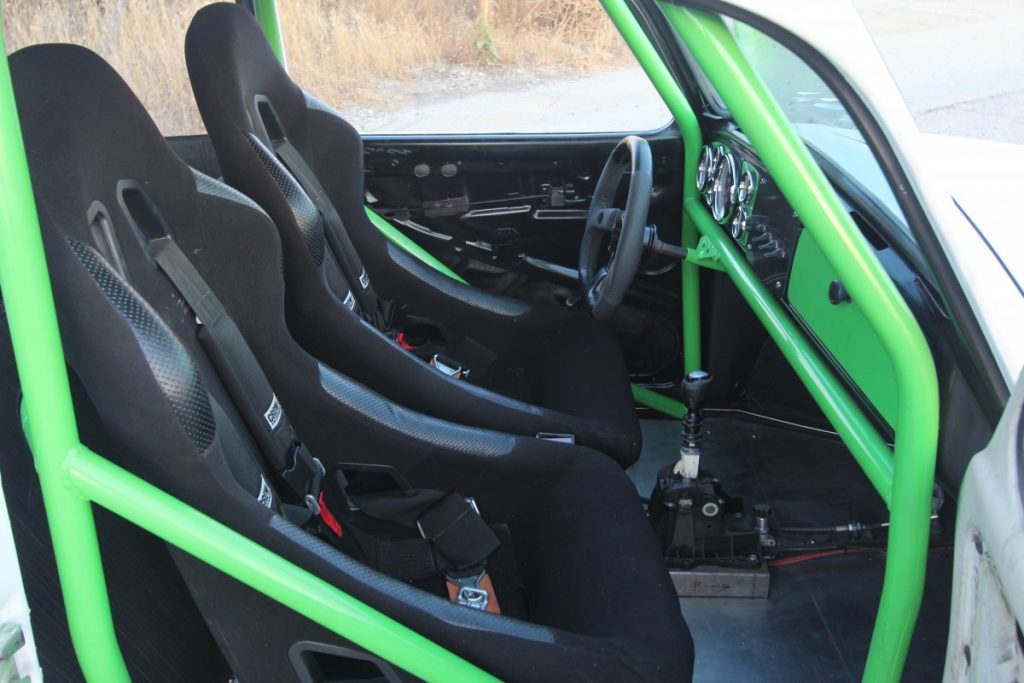 What is your favorite bang for the buck mod you have made for performance driving?
I am going to say it was the supercharger. I got it on a very good deal and it helped almost double my horsepower. Being a four cylinder, I am the under dog to all the V8 guys. The only way to make up for that is forced induction. So that is what I did and it seemed to work just fine.
What would you say the car's primary strength is?
How does it perform in autocross?
I think Bugzilla's primary strength is its acceleration. It does not have any traction issues from a dead stop, just hooks and goes. I have calculated that 0-60 mph comes in a little less than 4 seconds, even with less then ideal track conditions. I am still working out its kinks during Autocross events. During my first event, it bent both front lower arms. I made new arms for the next event and it understeered badly. So I have been messing with spring rates and shock settings to help. It's slowly getting better! I am sure I will have to tweak it a little more since it is making more power with the new engine.
What types of performance driving to you use the car for?  Do you have a favorite?  And is there anything you haven't tried with Bugzilla yet?  
Sadly, the only type of racing I have ever done has been Autocross. This is still a fairly new build to me. My goal is to take it to Laguna Seca for a track day. I also hope to do many local track days, meaning the Autoclub Speedway Roval Buttonwillow. If there was a 1/2 mile event even somewhat local, you can bet I would be there.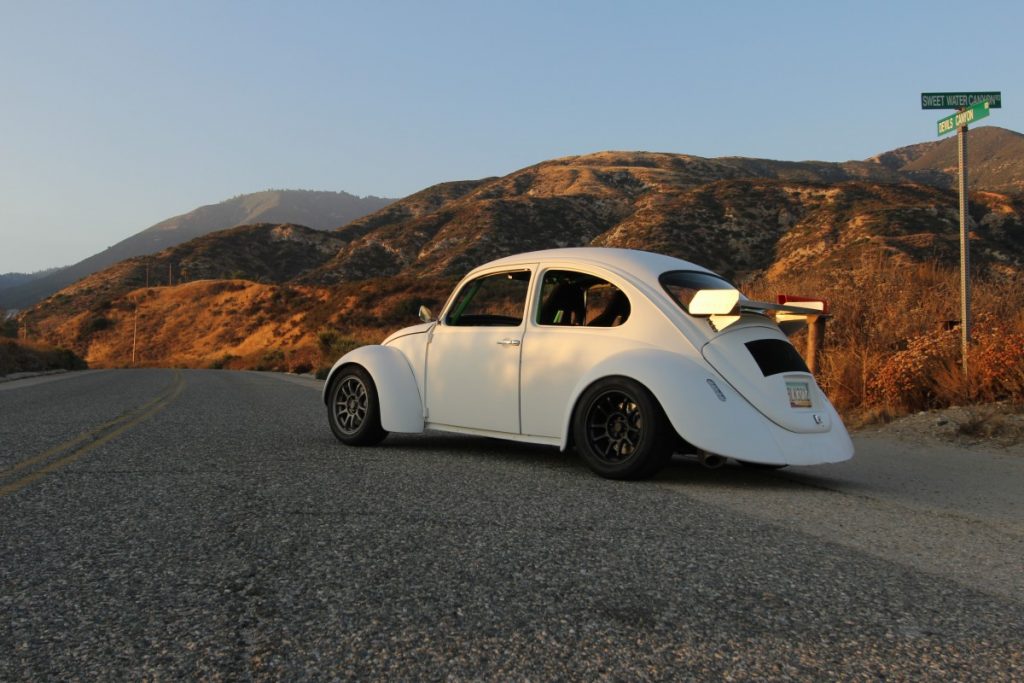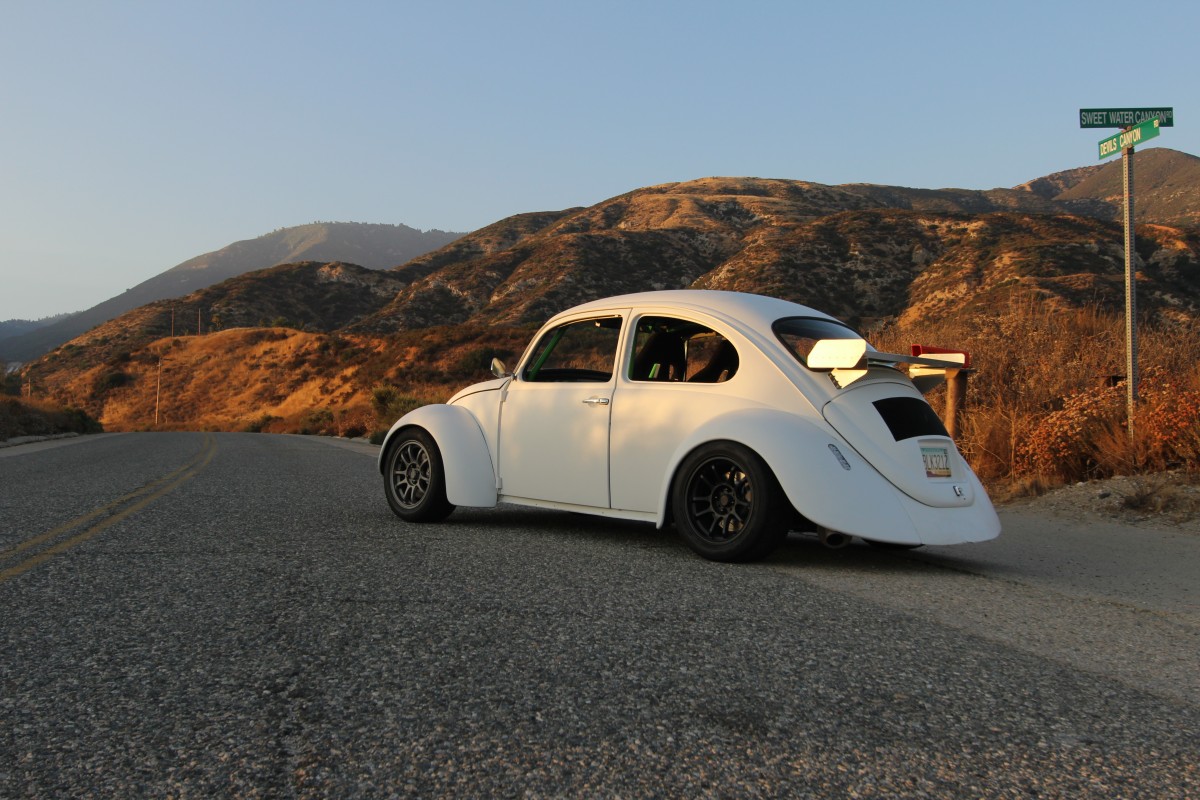 Recently, Bugzilla has been undergoing to major work.  What happened and does this mean upgrades?  
Yes, Bugzilla has been under the knife for the past 8 months. During my last Autocross event, the engine spun a rod bearing. It nearly wiped out every single part in the engine. I really liked the way the last engine ran, but I wanted to do something different this time around, something I have yet to see done. I ended up putting another Ecotec back in the Bug, but instead of using a 2.2L block, I went with a 2.4L block. It still has the 2.2L crank and rods in it, so I call it a destroked 2.4L. The actual displacement is 2.3L now. The 2.4L block is better in every way. It's stronger, has larger water jackets and even has piston squirters. Everything else on the engine is pretty much the same as the previous 2.2L.
While the Bug was down waiting on engine parts, I figured it was a good time to finish all the body work and paint. Since it is not a show car, I didn't want to fork out crazy money for a nice paint job. I decided to tackle the project on my own. After many hours sanding, laying down bondo, welding holes closed and sanding some more, I realized why paint jobs cost so much. It is a ton of work! After about 2 months of on and off work, I got it done. While white may not be the color it stays, it works for now and looks a lot better than before.
Is there anything else on your wish list to do to Bugzilla?
Yes, of course! Bugzilla will never be considered done. Making it handle even better is #1 on my list. That will take a lot more track time and will be a slow process. I am also considering taking off the blower and replacing it with a turbo. A turbo would not be as track friendly, but it would allow me to make a lot more power. I would also like to get a custom wrap done one of these days to make it look a bit nicer.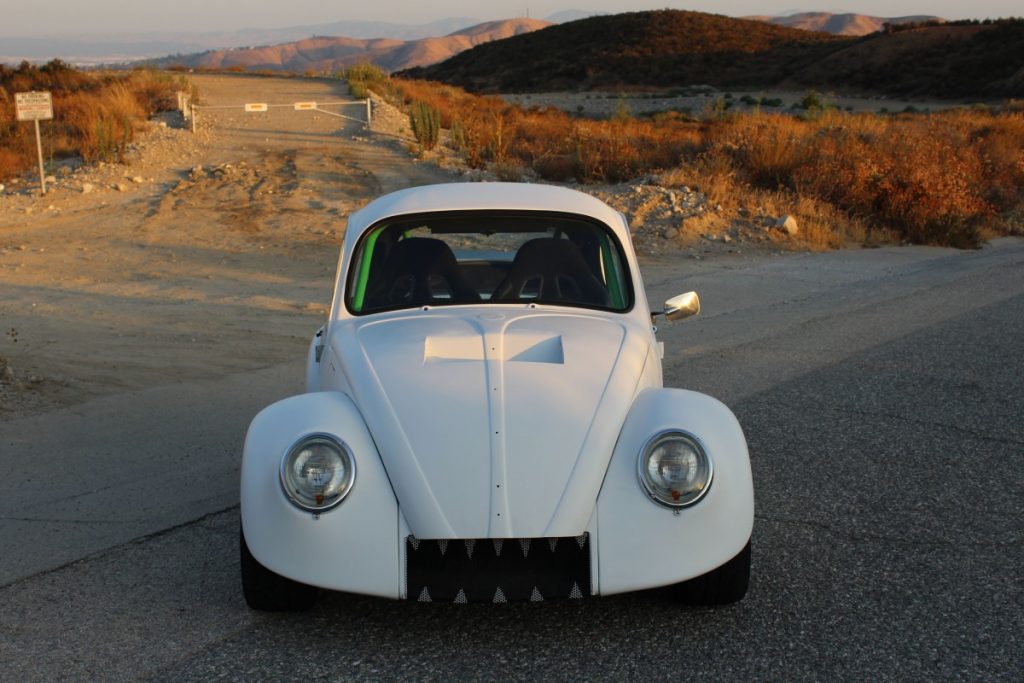 Are there any sponsors or others you would like to acknowledge for their assistance in getting your car to what it is today?
Sadly, I do not have any sponsors. I wouldn't mind picking a few up though (hint hint…). First off, I have to thank my girlfriend Nicole. She has put up with this project since the beginning. I have spent more time in the garage then with her over the past couple years and yet she doesn't complain about it (maybe she has complained a little). I have had car parts scattered through the house and she is fine with it . Even after I have stained every door and wall with a black hand print, filled the house with exhaust fumes, caught a few things on fire, she is still around and happy. What more could I ask for?
Most of the vendors I worked with or bothered to death with questions, were great people and I have to thank them as well. So thank you CBM Motorsports, Wilwood, Creative Car Craft, Flyin Miata, G&J Aircraft, Racing Byrds, Air Cooled Parts, Rancho VW, The Drive Shaft Shop, Kartek, JE Pistons and of course all my friends who helped me when I asked for it.
Is there anything else you would like to add?
Yes, there is something I would like to add. Like every other normal person out there, I need more power! I have been tossing around the idea of taking the blower off and replacing it with a turbo. It would net me about 100 extra horsepower. That is a lot of extra power when you are talking about a 2000 lbs car. My goal is to compete in next years Optima's Ultimate Street Car event and I know I will need more power to be competitive. Yes,  it will take away from my near perfect powerband, but the raw power itself should make up for it. Other then that, all I plan to do is drive Bugzilla around and enjoy the smiles per gallon!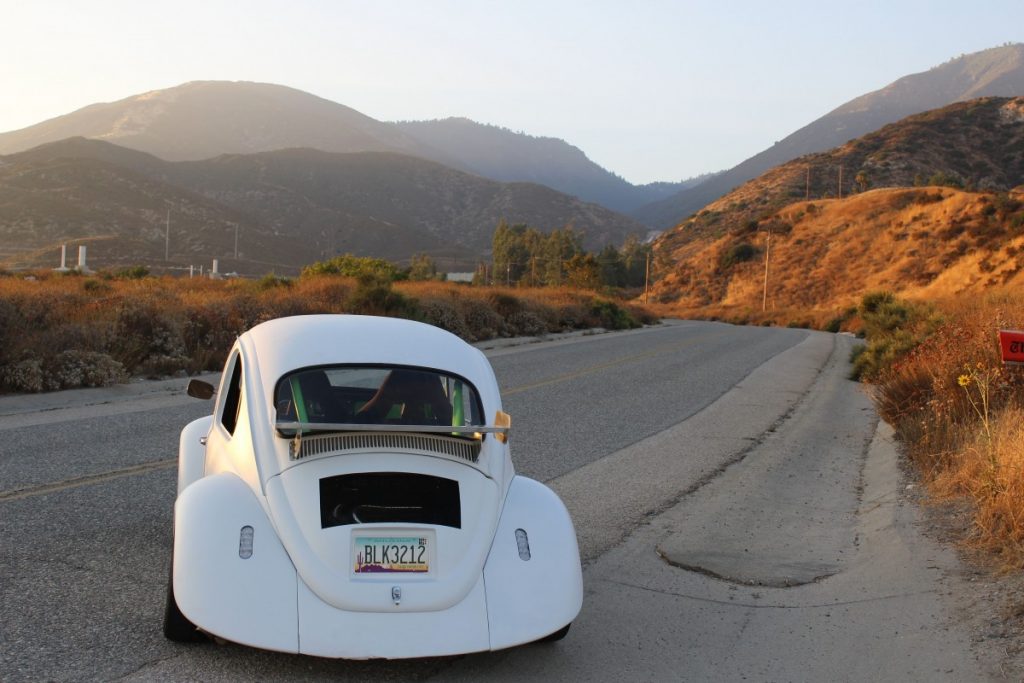 Photo credits: Nicole Ayon.
Editors note: Anyone else really want to drive this car?
Check out more AutoXandTrack Feature Cars here.