Oli Thordarson: Corvette Race Car Driver Extraordinaire
Oli Thordarson is the September AutoXandTrack featured driver!  Oli is a well known, and some might say influential, name in the Corvette racing community.  From his first track day in 2004, through the current season driving in the Trans Am Western States, series Oli has seen and done what many of us can only dream about.  This former SCCA Cal Club Rookie of the Year (2007)  has put over 40,000 track miles on his GT2 Corvette.  Let that sink in, 40,000 track miles.  Over the years Oli has racked up some impressive wins including but not limited to:
2007 & 2008 Southern Pacific T1 Championships,
25 hours of Thunderhill winner (3 car endurance team),
2016 TT2 Western States Championship
2016 second place ST2 Western States Championship
Locked up 2017 Trans Am Western States TA3 Championship
AutoXandTrack is super excited to share our driver's feature Q&A with you.  Because of Oli's extensive racing history and generous answers to our questions its a long read.  But whether you are just curious about racing or a long time competitor the read is worth it.  In fact, due to length, and because we don't have to edit anything out, the feature will be split into two parts.
Want to know more about transitioning from an impulse Corvette purchase, to a track day enthusiast, to winning a pro race championship?  Read on to learn more about this championship winning race car driver!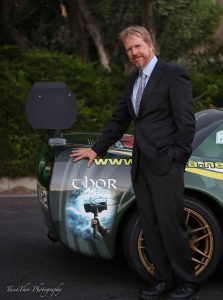 You have been racing Corvettes for a number of years now.  How did you get started and how has your racing evolved?
I started doing track days in 2004. For years I was a competitive off-road motorcycle racer, doing mostly trials, but a bit of everything from motocross to hill climb. I rode across the country at nationals. I was good, but I knew I would never quite be in a position to make money and as young man I did not want to take what I did for fun and make it a job. So I went to school and then started a business. In my 30s I was in a club of riders that were mostly a bit older former pro and expert riders, but we still rode seriously. We would regularly do extreme rides on the most difficult trails in the country and sometimes race.
On my way home from work I would sometimes drive past the car dealerships. One night I see a new 2004 Lemans Edition Corvette Z16. It has racing stripes and I think to myself that looks just a bit juvenile, but not too juvenile. I am smitten with the car. The next night I stop and look at it. I take a test drive and now I am smitten times 10. I talk to the sales guy and tell him "I have to be somewhere, but if you can get me outa here in 30 minutes I'll buy it." He said they could and I bought it.
Later that night I email my buddies in my riding club and tell them what I bought. One guy, a former US International Six Day Enduro rider asks me if I am going to take my Z16 to the track. I write back, "Huh?" He writes back "Are you going to take it to the race track?" "What do you mean?" I asked. I had never heard of track days before, but he was into doing HPDE with his Porsche. Up to that point I thought to get on a race track that I needed a race license, suit, car helmet, cage, fire system, etc. He explained to me the concept of a track day.

Do you remember your first event?  What was it and how did you do?
I remember it well, very well. It is burned into my memory. Two weeks after that email exchange I go to Streets of Willow Springs with my friend and watch and ride with him a couple of times. I think "This is the coolest thing."
Being smitten again I sign-up two weeks later with Speed Ventures at Buttonwillow Raceway Park. I think I am hot stuff because I am a great rider. Nothing could be further from the truth. Not only was I unable to find my brake points, my turn-ins, the apex or track out properly. But, I was slow, erratic and awkward. I quickly found out that driving a car on track at two to four times the typical off-road speeds, with a vehicle about eight times the foot print and 10 times the weight of a motorcycle on an asphalt surface was very different from any of my experiences. The only thing going for me was that I inherently knew what I needed to do, but I could not get the car to do it. But I persevered and by the end of the day I was somewhat OK, but clearly I had a lot to learn.
So being the compulsive smitten type I sign-up again and I go back to Streets of Willow Springs, but this time to drive. I had a blast. I even spun once, but did not get yelled at by Speed Ventures and I did not hit anything. They are so cool about that. They talked to me, but let me explore my limits. And I got faster. There is nothing like seat time to get better.
On the two hour drive home I am thinking, "I have a truck… I'll need a trailer… I'll need spare wheels and a bunch of tools…." I basically lined out a plan to go wheel to wheel racing in two years. Two years from that month of October 2004 I bought my first race car, a yellow 2002 SCCA T1 Corvette built by Joe Aquilante and team at Phoenix Performance in Pennsylvania. It is a wonderful car I still race today in SCCA GT2, sometimes in T1, at NASA in TT2 and ST2, Trans Am TA3 and occasionally with other clubs like Porsche Owners Club in there GT3 HP to weight class with all the other Porsches. I just love racing with anyone anywhere who will let me race.
Take a ride with Oli Thordardson in his ST2 Corvette at Auto Club Speedway
What are the different series have you competed in?  
For years I have been a pretty die hard SCCA racer. The racing is amazing.
I still remember that at my first SCCA Runoffs in 2007. That driver was Andrew Aquilante. He must have five plus SCCA Runoff titles to his name by now and he is only about 30 years old. But there are all kinds of drivers like him there. BTW – it was my goal to make it to the SCCA Runoffs my first year racing… as a rookie. I made it. I could not believe I was there. My main goal in the race was to not suffer the humiliation of getting lapped while my friends and family watched on TV. I was relieved to finish in sixth place and I was actually pretty happy with that as a rookie. But I made a rookie mistake and made a pass under yellow. When I made the pass and I realized, "That was way too easy" I looked back and saw the yellow flag. I gave the spot back a couple turns later, but they still penalized me three finishing spots. Now I was a Runoffs veteran. From there I went on to keep racing ambitiously with SCCA and then started racing NASA ST2 and TT2.
Two years after I started racing I got a call from Scott Bove from World Challenge, you know the Pirelli World Challenge and they invite me and some of the other T1 racers to come race. I think I started 12th or so, and due to a good start I got up to second, but dropped back to fifth at the checkers. I also found out what it is like to get between experienced pro racers and their paychecks. The driving was a lot more physical contact between the cars than club racing.
Where are you racing today and do you have any favorites?
Coming up on October 25th I race at Indy at the SCCA Runoffs. There are 1,050 race cars entered in 26 different classes for a week of racing. The racing is amazing. At that race there are pro racers racing an amateur series and amateurs who should/could be racing pro. Watching some of the drivers is an experience I can't articulate. Being on track with them at the same time and watching a racer I respect and admire come up inside of me on a long sweeping carousel and seeing his front tires jostle back and forth with all the micro corrections is infatuating.
This year I am campaigning one car in four classes at three series, SCCA GT2, NASA ST2/TT2 and Trans Am TA3.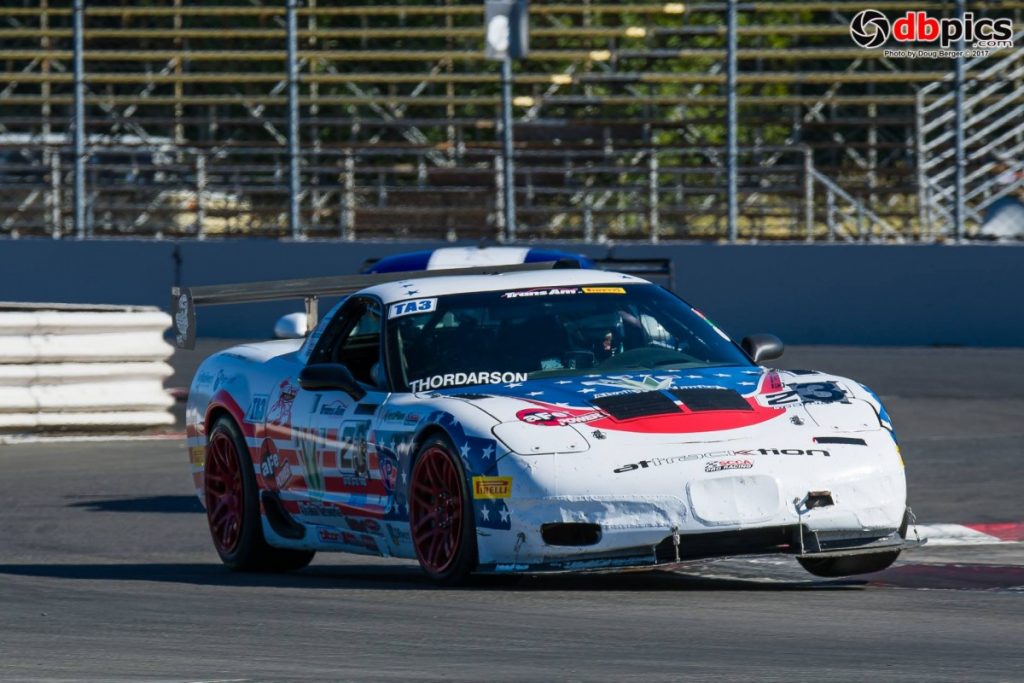 You recently began racing in the Trans Am series in the TA3 class.  What has the transition to this series and class been like compared to your prior racing series?
The Trans Am organizers are great. You can't ask for a better bunch of people. They started a west coast Trans Am championship series this year and I decided to campaign it since I would not have to haul east of the Rockies a bunch of times. I could still focus on my local club racing, but go out and race with some pros, too. So I did. The racing and tracks we are running are super fun, tracks like Willow Springs International Raceway, Portland International Raceway, Auto Club Speedway and Circuit of the Americas in Austin, Texas. What is there not to love about that? The transition was fairly easy. By now I am far from a rookie even though they label me that at Trans Am since this is my first season with them. They practically held my hand through the whole process of getting signed up for the program and getting my car qualified to race. It is typical SCCA hospitality, but every one of the TA staff make me feel like I am the only racer there. And I get to race on TV again for friends and family.
What events do you want to do in the future that you haven't done before?
My bucket list is big. There are still many tracks back east that are bucket list tracks I have not yet raced. Watkins Glen is one of them. I would also like to try my hand in open wheel, nothing permanent, just a few races for the experience. Formula Atlantic would be awesome, but I would also love to try F500. F500's are like karts on steroids. The springs are rubber pucks and the engine is a two cylinder two-stroke 500cc snowmobile type engine. The cars are small, but really fast.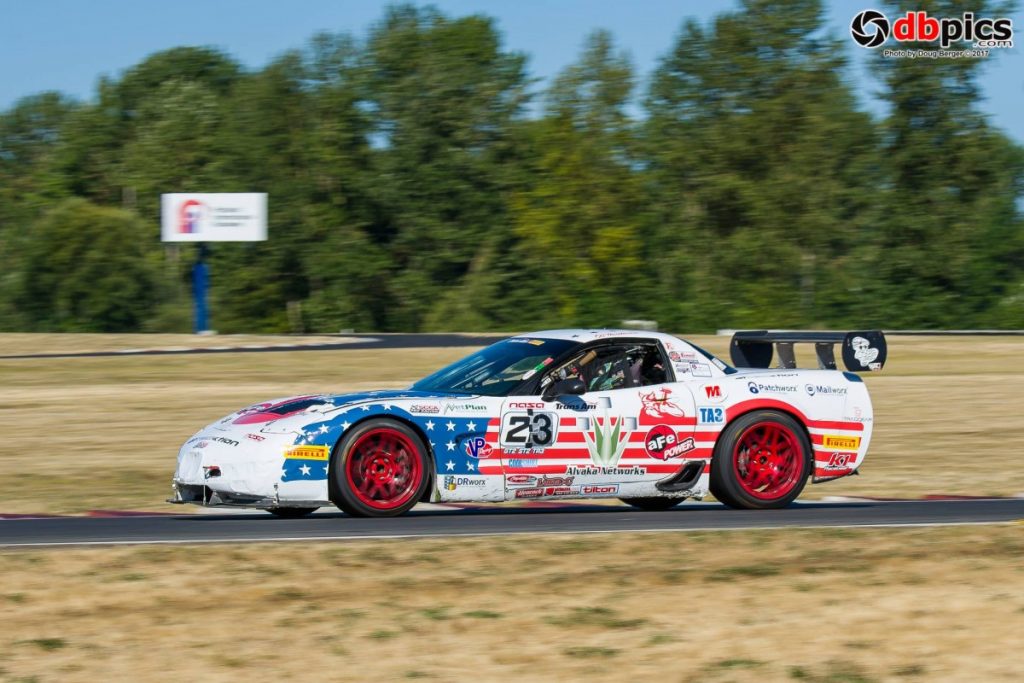 Despite jumping up to Trans Am racing, you're assembling a car for the new Spec Corvette racing series.  Can you tell us more about this series and why you're participating?
Yes, I am glad you asked about that. The old T1 cars, mostly Corvettes, were very stock looking cars with no wings or splitters. They are incredibly fast cars and the racing quite competitive. They are kind of like V8 powered Spec Miatas, but obviously way faster. You can get close in for racing, jostle a bit, run two wheels or four wheels off at 100 MPH and come back on track and keep racing. With GT cars with splitters and such the driving has to be more reserved and civilized. GT classes are also expensive.
Spec Corvette gets back to the roots of T1 style racing. It is fast and affordable. A driver doing the work to build his own C5 Spec Corvette can do so for about $17,000 to $20,000 including buying the base Corvette, the roll cage, top of the line aFe Control sphericals, coil overs, sway bars, Wilwood Spec Corvette big brake kit, Trackspec Motorsports hood venting kit, race wheels, the first set of tires, race seat, harness, fire system, big radiator and coolers for the engine oil, tranny and diff. That is a complete race car that will turn some of the fastest laps at any race track anywhere.
I am so excited to be racing that style car again. My Spec Corvette race car I kept registered for the street. My goal is to drive it to a race weekend and each day do practice/warm-up, qualify and then race it. And to at minimum get on podium, but hopefully score a win. I want to show that a streetable car can be driven to a race, do battle, set incredible lap times and then come home all without a race trailer, truck and a bunch of other stuff. In Spec Corvette I can throw my gear bag in the back with a tool box and drive out on the spec'd Falken 615k+ 200 treadwear tires. We negotiated 50% off deals for the best parts for the Spec Corvette racers to build a fast car for under $20,000.
The momentum building for Spec Corvette is exciting and more than what John Nguyen and I expected it to be. I knew it would be popular, but I gotta' say that when I heard Jim Pierce of Pierce Motorsports say he thinks Spec Corvette is going to be bigger than Spec Miata I got a chill. I thought about it and I think he might be right. GM made 498,000 C5 Corvettes so they are plentiful, fast and cheap right now. Spec Corvette fills a lot of the voids not filled by other racing classes like Spec Miata. It is an affordable racing class, but it is still fast thanks to the huge discounts provided by the primary sponsors of the series.