Falken RT615K+ Review for Autocross and Roadcourse
Having just worn through my first set of these tires, I wanted to publish a Falken RT615K+ review to share my thoughts.  I used the tires in a mix of autocross, road course and street driving.
EDIT: Be sure to check out Falken Azenis RT660 tire review!
First two disclaimers.  1) This review will focus mainly on comparing the performance of the Falken RT615K to the Falken RT615K+ tires.  After putting more than 500 autocross laps and hundreds of road course laps on the RT615K, they are the best benchmark for me to compare against the new Falken tires.  2) Falken did not ask AutoXandTrack to do this review and we received no compensation.  However, the AutoXandTrack Camaro is sponsored by Falken.
Falken Azenis RT615K vs RT615K+, what changed
Most hardcore motorsports enthusiasts have probably already heard about the Falken RT615K+ and know that the only change from the RT615K is the compound.  The Falken press release states:
The PLUS encompasses an all-new digitally-engineered, nanotech-formulated compound for superior grip and excellent handling.
Otherwise, the tread pattern and basic construction of the tire (aka sidewall stiffness) is the same.
The test vehicle
All of my experience has been with my pro touring 1968 Camaro.  In most uses with both the old RT615K and new RT615K+, the Camaro weighed in at 3,500-3,550 lbs with driver.  Sizes used were: 275/35/18 & 315/30/18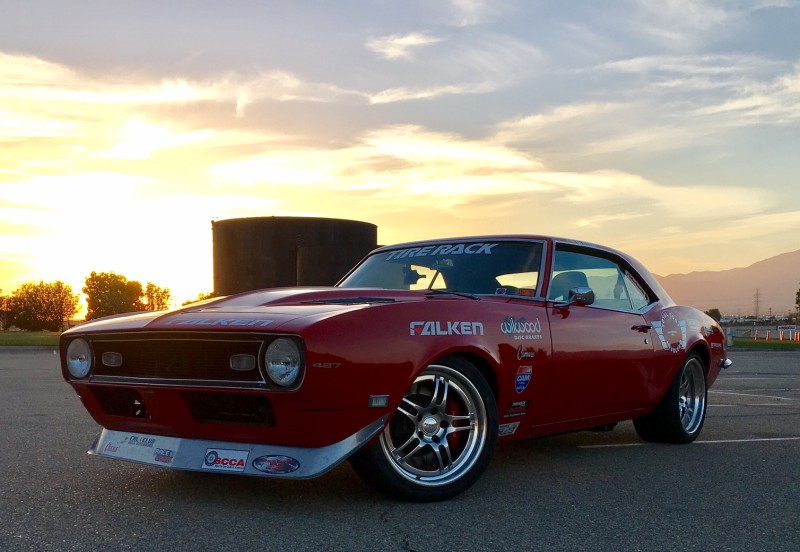 My Falken RT615K+ Review
So how does it stack up?  Awesome!  The new RT615K+ is clearly superior to the old tire.  I base this opinion on a combination of anecdotal and data based evidence.  Lets take a look at the data.
Lateral-G forces
I use Harry's Lap Timer which combined with an external GPS records measurements of the car's speed, lateral and lineal forces 5 times per second.  Looking at the data and on my car, the RT615K+ is worth a 5-10% improvement in sustained lateral g forces in all the different configurations I've tested it in.  In other words, I saw a 5%-10% improvement in both autocross and road course and in the case of autocross, in low grip asphalt as well as high grip concrete.  It's interesting to note that while sustained lateral g forces improved 5-10%, peak g forces were fairly consistent with the old tire.
Overall, what I noticed is that in a slower and tighter autocross corner that I previously could drive very consistently and hit my normal peak g number, that with the new RT615K+ I wouldn't see a dramatic difference in the data.  But the rest of the course, from higher speed corners to transitions I saw improvement across the board.
Road Course Lap Times
I drove the Las Vegas Motor Speedway outer road course in November on fresh RT615K tires and again in March on fresh RT615K+ tires.  Ambient temperatures in March were about 10-15* warmer than November.  Despite the higher temps, the RT615K+ was good for a drop of 1 second in my lap times.
Longevity / wear characteristics
When compared to the last set of RT615K's the new RT615K+ tires lasted a similar number of events with the RT615K+ wearing just slightly faster.  However, running the high grip concrete at the Crows Landing SCCA ProSolo may have caused some higher wear on the RT615K+.  While I've run on high grip concrete on RT615K's previously, I hadn't run concrete recently.  My concrete comparisons lateral g force comparisons are to an earlier set of RT615K's.
Anecdotal "seat of the pants" feedback
Three things stand out to me about these tires.  First, on the autocross I feel like the car is able to withstand more aggressive turn in inputs and corner entry speed.  Second, also related to autocross, I've been able to close the gap and/or catch some of the competitors that used to beat me and haven't made changes to their cars.  Third, on the road course I see a more pronounced fall off after the first 2-3 laps.  With the old RT615K, I was able to get faster throughout a 15-20 minute session despite some tire fall off.  With the RT615K+ and my one experience at LVMS outer road course, I always went a bit slower after my 3rd lap.
I'll also add that on these tires I won two out of three SCCA national level autocross events (podiumed the 3rd).  A first for me and my car.
Final Thoughts
The Falken RT615K+ tire is clearly better than the RT615K and is a great tire for autocross and time trials use.  It can hang with the other well known top 200tw tires.