LSFest West: Event Recap and Overcoming Adversity
Rather than writing a typical recap of the inaugural Holley LSFest West in Las Vegas that covers just the winners, I've decided to share a more detailed story of my experience at this event.  The second half of the article still highlights the top 3 finishers in each event that made up the Grand Champion competition with links to the full results for each event.
The Camaro finally makes me work on it…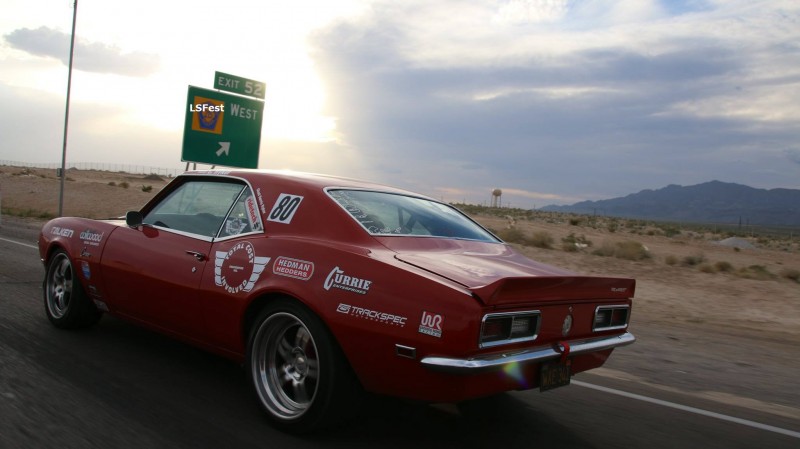 I've run the AutoXandTrack Camaro hard at a variety of events for years now with almost zero issues.  Indeed, more often than not the only tool I use is an air pressure gauge.  However, that finally changed at LSFest West.  And it happened towards the end of the warm up lap on the Las Vegas Motor Speedway Outside Road Course.  At the middle of the carousel with the LS3 427 spinning at 6,500 RPM the chrome alternator fan failed spectacularly.  No longer cooling the alternator the pieces of the fan tried to punch through my hood and inner fender.  But at first I had no idea what happened.  The only thing I knew is that where I normally turned about one foot from the edge of the track, the car didn't turn and I went flying into the dirt at about 60 mph.  At that point I thought I broke something in the front end or lost a tire due to the car going straight when muscle memory said I turned the wheel.  Turns out the loosing your power steering right before you turn the wheel at the edge of the track is a good way to go off track.
It was only after rolling up the windows and turning on the A/C to wait for the tow truck that I realized at a minimum I lost the belt.
The Carnage
Once I was towed off the track and able to start inspecting the engine compartment did the full damage become clear.
One shredded belt
One missing alternator fan
One Ridetech triple adjustable shock (remote reservoir line sliced by flying fan bits)
Spectre Intake Tube saved my hood but got dented and nicely gouged in the process
Driver's side inner fender was pushed in 3/4″
Racing Family
The coolest part of my LSFest West weekend was how much help and generosity I received from my competitors and fellow racing community to get the Camaro back up and into fighting condition again.  I've seen amazing support before but this was the first time being on a fire hose end of it.
First, the corner worker near the carousel came up with the leftovers from my belt which had the part number on it and saved time chasing down a new belt.  My wife was quickly off to the parts store for the belt, driving a borrowed manual 5 speed dually.  She is such a badass.
Sal Solorzano of Total Cost Invovled was at LSFest West running ProjectRedDawn.  Rather than trying to chase a replacement fan blade and not knowing the condition of my alternator Sal quickly sourced a new alternator.  The only downside of my Vintage Air Front Runner accessory drive is that it requires the use of a side post CS130 alternator which is not available at the local auto parts store.  Classic Performance Products stepped up and pulled a brand new Powermaster side post alternator from one of their packaged kits.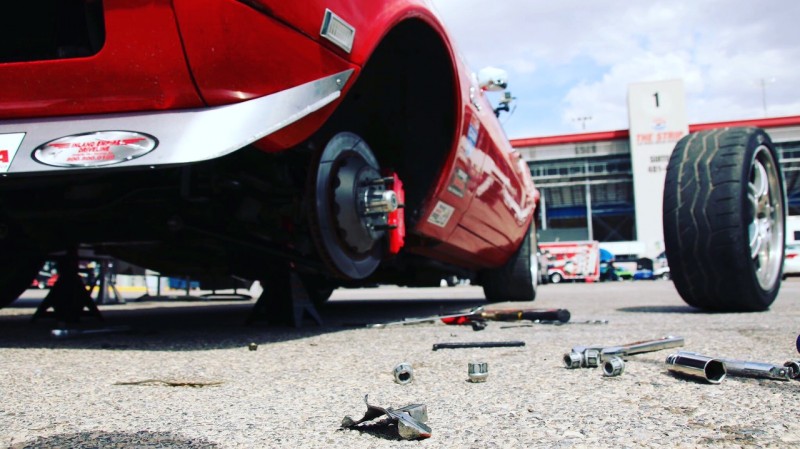 However, the biggest difficulty was sourcing a replacement Ridetech triple adjustable shock that would be compatible with my subframe and 10″ spring.  Speedtech Performance was a LSFest West autocross sponsor and came out in force.  They let us take a shock off of one of their displays to try and make it work.  This necessitated swapping the end off the shock shaft, the upper shock bushing and the spring.  Getting my shock end off after nearly 25K miles and countless autocross and track days proved no easy feat.  This is where Jeremiah Stotler of Ridetech stepped in to help.  With Jeremiah running down a butane torch from the nearby hardware store and the Unser's letting us invade the Speedway Motors trailer and tools we got 90% of the way there with adapting the Speedtech supplied shock to work on my Camaro.   However, this shock was a slightly different length and had different valving than my own.
That's when Skrape from Black Widow Exhaust made the generous offer of letting us take the Ridetech shock off of his TCI Engineering equipped Nova.  This shock had the same length and same valving as my shock and would be a more predictable item to tune.  While it felt like starting over, Sal and I got the shocks swapped between cars and my Camaro up and running again in time to make the Friday night poker run.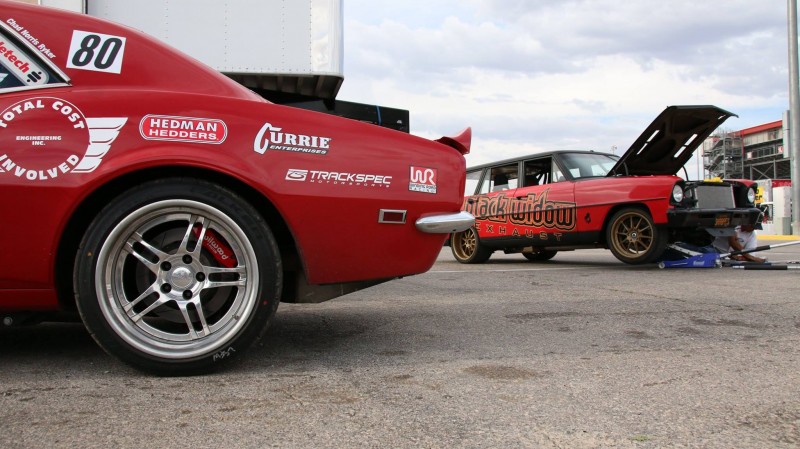 None of the people or companies above had to help but all of them did.  Especially, Sal who missed autocross runs in ProjectRedDawn to help me work on my car.  Please think of these companies the next time you are buying parts for your car.
The AutoXandTrack Camaro ran strong the rest of the event and didn't miss a beat.  The driver, was pretty exhausted on Saturday but feeling human and competitive again on Sunday.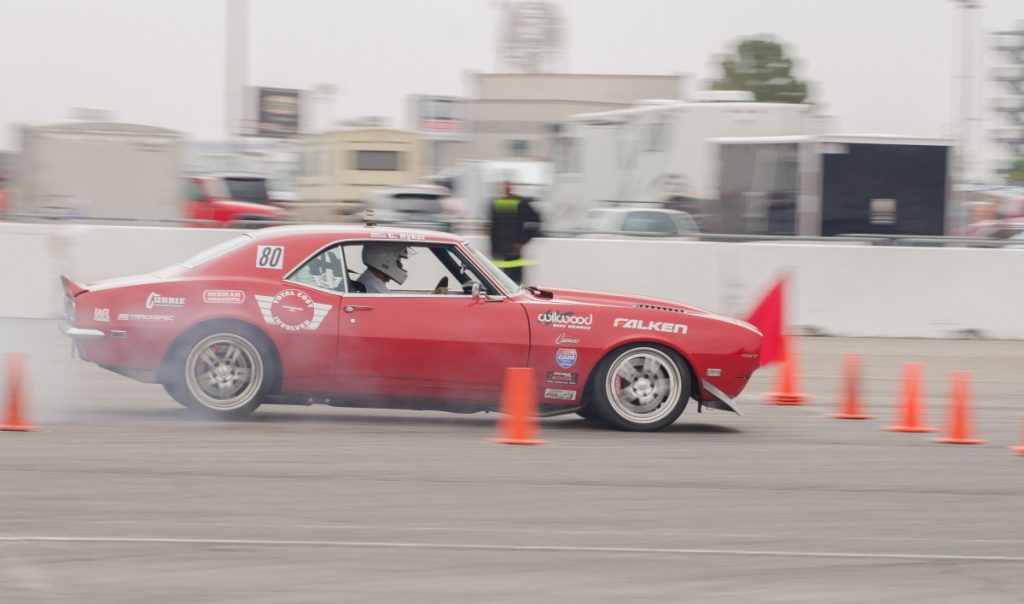 LSFest West Grand Champion Results
To be eligible for the LSFest West Grand Champion you had to do the following events:
2 laps on the road course
3 autocross laps
3 3S challenge laps
1 drag race lap
5 bonus points for completing the poker run
The fastest lap determined finishing order which in turn determined points earned for each event.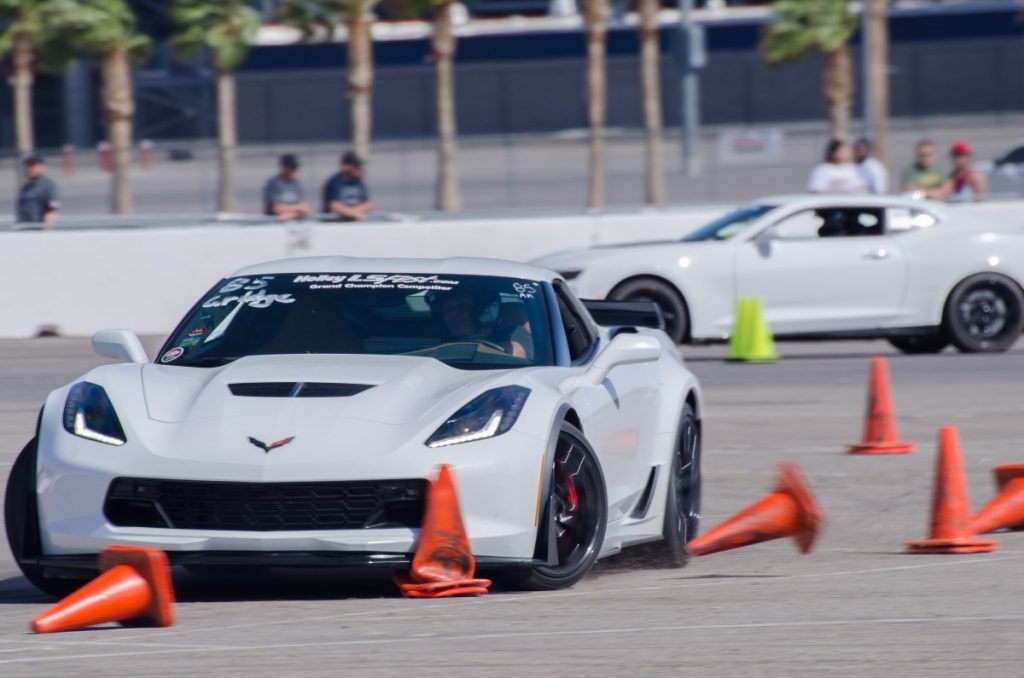 Friday Chevy High Performance High Noon Shootout Winners
The fastest 8 drivers as of noon on Friday qualified for a shootout against each other.  The shootout winner and finishing order was:
Mike Dusold
Duke Langley
Rich Willhoff
Brian Hobaugh
David Carrol
Efrain Diaz
Jordan Priestley
Eric Sheely
Saturday Top 5 Shootout Winners
The fastest 5 drivers as of noon on Saturday qualified for a shootout against each other.  The shootout winner and finishing order was:
Rich Willhoff
Jake Rozelle
Mike Dusold
David Carroll
Brian Hobaugh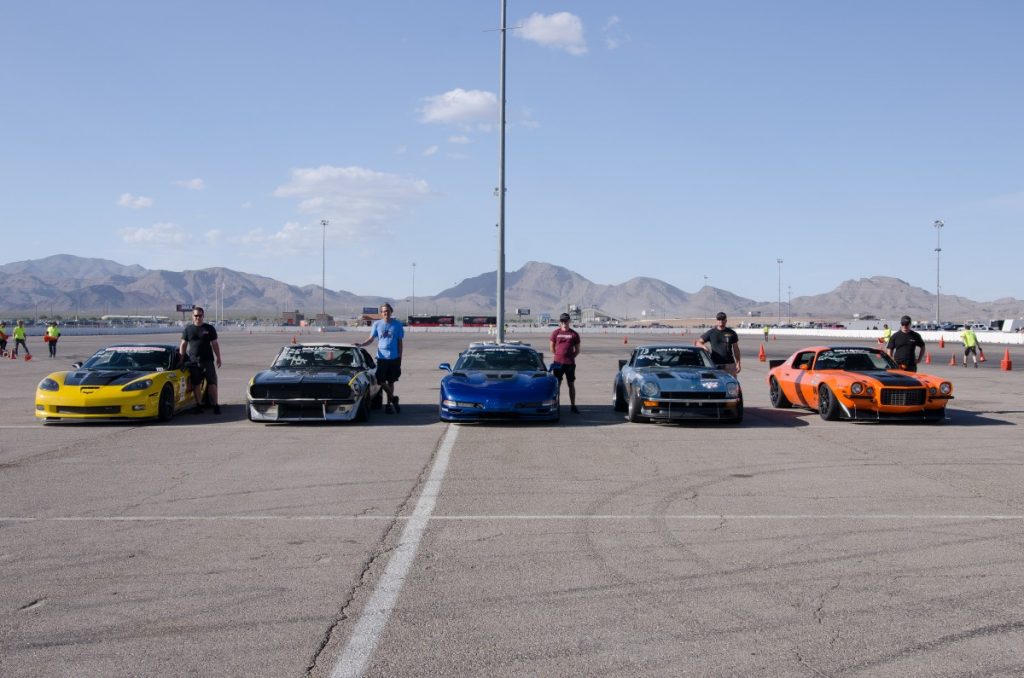 Lateral-g.net QA1 Autocross Winners
Rich Willhoff 31.344 – 2006 Corvette – $250 check, Optima Battery and plaque
Mike Dusold 31.359 – 1967 Camaro – Optima digital 1200 charger
Jake Rozelle 31.603 – 2003 Corvette – Optima digital 400 charger
LSFest West had three additional awards for autocross.  These awards were for the driver with the fastest lap time closest to but not faster than the cut off time.  As LSFest doesn't have classes this is a great way to drive competition down the ranks.  These awards and winners were:
Platinum Award (35.000) 35.125 Brandon Pursley – 91 Camaro – Optima digital 400 charger
Silver Award (38.000) 38.04 Steven Komlos – 2004 Silverado – Optima digital 400 charger
Bronze Award (41.000) 41.488 John Kimble – 67 El Camino – Optima digital 400 charger
Pro-Touring.com Racepack Road Course Winners
Rich Willhoff 1:22.052 – 2006 Corvette – $500 Holley gift certificate
Mike Dusold 1:22.409 – 67 Camaro – Optima digital 400 charger
Jordan Priestley 1:23.579 – 2017 Corvette – Optima digital 400 charger
Super Chevy Baer Brakes 3S Challenge Winners
Mike Dusold 27.215 – 67 Camaro – $250, Optima battery & plaque
Jordan Priestley 27.468 – 2017 Corvette – Optima digital 1200 charger
David Caroll 27.509 – 75 280Z – Optima digital 400 charger
Carcraft MSD Drag Race Winners
Mike Dusold 10.9 – 67 Camaro – won a hug from Jimi Day
Dave Bennett 11.601
Seth Latrell 11.636 – 2002 Corvette
LSFest West Grand Champion
Mike Dusold – 67 Camaro – 99 points – $1,000, big trophy and jacket.
Jake Rozelle- 2003 Corvette – 77 points
Rich Willhoff – 2006 Corvette – 77 points
Jordan Priestley – 2017 Corvette – 72 points
David Carroll – 1975 280Z – 65 points

LSFest West Spirit of the Event Winner
Chad Ryker Won the Spirit of the Event which includes an invite to compete at the Optima Ultimate Street Car Invitational.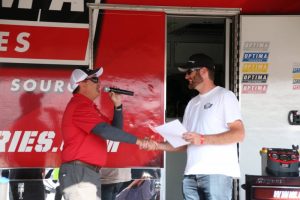 All on course action pictures in this article courtesy of Terry Lysak