SoCal Racetracks (Road Courses) Guide
What you need to know about SoCal racetracks so you can get your road course or big track fix.  Within a reasonable drive or Los Angeles and Orange County are four major racetrack facilities in Southern California.  Thankfully, we not only have four facilities but some of those facilities have multiple tracks and multiple track configurations.  Which helps keep things interesting.  This article is a one stop shop on getting a basic overview of these tracks and options.  It is also part 3 of a 5 part series as follows:
Part 2: SoCal HPDE and Track Day Guide
You are here–> Part 3: SoCal Racetracks (Road Courses) Guide
Part 4: SoCal Time Trials Guide (coming soon)
Part 5: SoCal Wheel to Wheel Racing Guide (coming soon)
Not ready for the big track?  Check out the AutoXandTrack SoCal Autocross guide.
SoCal Tracks and Locations
Auto Club Speedway – 48 miles from Los Angeles
The closest and easiest to get to track facility for those in Los Angeles and Orange County area is Auto Club Speedway ("ACS").  Auto Club Speedway is a NASCAR Oval course located in Fontana, CA.   For track day fans there are two different track configurations.  The Sports Car Course (aka Roval) and the Interior Course (aka Infield).  Though they both used parts of the infield course, for purposes of this guide I will treat them as two tracks.  Track website: https://www.autoclubspeedway.com/
ACS Sports Car / Roval:
The Roval uses a portion of the outer banked NASCAR circuit and infield.  It is 2.8 miles long and has 21 corners (though some of the corner's aren't much of a corner).  The banked section from turn 21 to turn 1 is extremely fast.  For example, high powered cars will see north of 150 mph on this section of the track.  While Big Willow might be the fastest track in the west based on average speed, the Auto Club Speedway Roval is the fastest track in SoCal in terms of pure top speed.  I recommend folks only consider a track day event here if their car is in tip top mechanical shape with lots of tire life and brake pad life.  The Roval has no elevation changes and no real blind corners.
ACS Roval track map: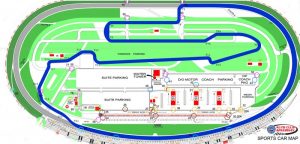 Older video of a few laps on the Roval.
ACS Infield:
The infield is in the center section of the NASCAR circuit and is 1.46 miles long with 14 corners.  There is no elevation change and no blind corners on this track which makes it somewhat beginner friendly.  However, it still is quite fast with two sections where cars can see well over 100 mph.  Depending on if the front straight is choked down, high powered cars will see around 130 mph.
ACS Infield track map: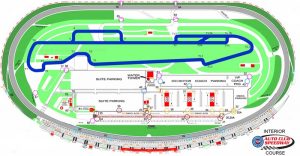 Video of a lap of the infield course.
Willow Springs International Raceway ("WSIR") – 79 Miles from Los Angeles
Willow Springs is home to a number of different tracks.  However, only two are commonly used for typical track days, Big Willow and Streets of Willow Springs ("SOWS").  Willow Springs is located in Rosamond, CA.  Track website: http://www.willowspringsraceway.com/
Big Willow:
Big Willow is the oldest and main track at Willow Springs.  It's known as The Fastest Track in the West and has been in operation since 1953.  The track is 2.5 miles long with 9 turns and some elevation changes.  The fastest track in the west moniker comes from average speed as there aren't really any tight or technical corners.  Turn 8 and 9 are the most famous because of how fast turn 8 is and how dangerous turn 9 can be.  There is only one configuration for this track and I've only seen it run clockwise.  Top speeds in a high horsepower car will be ~130+ mph.  This track has some fun elevation changes and two semi blind corners (turn 4 and 6).
Big Willow track map: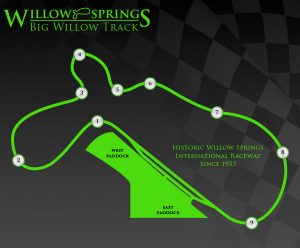 One of the better guides for big Willow is Jack Olsen's video below.  Big Willow has since been resurfaced so not all of the track surface marks are still there.
Streets of Willow Springs:
The full Sreets of Willow Springs configuration is a 1.8 mile track with 16 turns.  This track is basically the opposite of Big Willow.  SOWS is shorter and much more technical with a variety of turns including a 20% banked turn known as the "bowl."  Streets is a very fun track for both newbie drivers and experienced drivers alike.  This track has a number of different configurations though it is commonly run in the full track configuration with the bowl and skid pad.  It is also frequently run both clockwise and counter clockwise. Top speeds are commonly around 100+ mph.
Streets of Willow Springs track map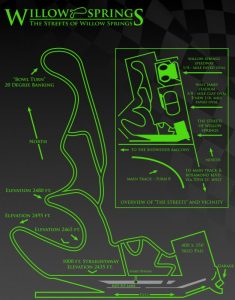 Video of Streets of Willow Springs counter clockwise
Buttonwillow Raceway Park – 134 miles from Los Angeles
Buttonwillow Raceway is one of my favorite tracks accessible from SoCal due to the wide variety of corners and configurations.  While there are a number of different configurations for Buttonwillow Raceway, the most common is #13 clockwise.  In this configuration the track is just shy of 3 miles with 21 corners.  Buttonwillow Raceway is located in the town of Buttonwillow, CA.  The track website is: http://buttonwillowraceway.com/
Buttonwillow #13 track map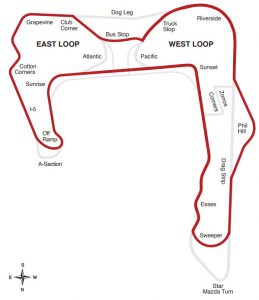 A few laps around Buttonwillow Raceway Park in a 1968 Camaro.  Check out my GoPro External Mic guide if you want your videos to sound this good.
Here is an mostly stock S2000 laying a quick time in the most common 13CW configuration
Chuckwalla – 182 miles from Los Angeles
The newest track on this list is Chuckwalla Valley Raceway ("CVR").  Chuckwalla is located in Desert Center, CA and was built in 2010.  The track is 2.68 miles long and has 17 corners and some very mild elevation changes.  Track website: http://www.chuckwallavalleyraceway.com/
Chuckwalla Valley Raceway track map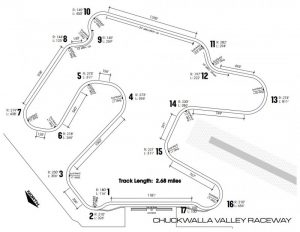 If you have a good video with good sound for Chuckwalla, post a link in the comments!
Comming soon: Part 4: SoCal Time Trials Guide