How to drive your own car on a racetrack
Have you ever wondered what it would be like to drive your personal street car on a racetrack?  Maybe you've experienced the adrenaline of spirited driving on canyons or twisty back roads and looking for more?  Or you just want a safe place to stretch the legs of your amazing sports car or hotrod?  All those things and more can be had through the magic of track days.
Track Days and High Performance Drivers Education ("HPDE") events have become hugely popular.  And for good reason, it is a ton of fun!  Whether you want to try driving your street car on a racetrack for the first time or you want to try something a little more competitive, AutoXandTrack is here to help you get started.  In fact, as I began to write this guide I realized there is so much info on this topic that its morphed from a single article into a 5 part series on racetrack and track day driving.
Part 1: How to drive your street car on a Racetrack
Part 2: SoCal HPDE and Track Day Guide
Part 4: SoCal Time Trials Guide (coming soon)
Part 5: SoCal Wheel to Wheel Racing Guide (coming soon)
Part 1 of this guide is not location dependent and intended to familiarize people with basic event types.  However, while parts 2 – 5 are fairly SoCal centric, some of the organizations covered have national operations and therefore the info may be useful to non SoCal residents too.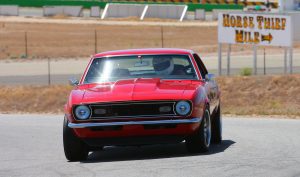 Does my car qualify?
If are new to driving your own car on a racetrack you are probably wondering whether your car qualifies.  You also might be worried that it isn't fast enough or good enough in some way.  If your car is safe and legal for driving on the street you are probably okay.  Read more about this in part 2 and part 3 of the series.
Types of Track Day Events
This guide breaks driving on a road course into the following four categories.  These categories are somewhat in order of the amount of experience or competition type of driving (increasing) and support for brand new drivers (decreasing).  HPDE and Track days are focused solely on drivers education and driving your own car on a race track.  Time trials and wheel to wheel racing are all about the competition.
High Performance Driver's Education HPDE
Open Track Days
Time Trials or Time Attack
Wheel to wheel Road Racing
High Performance Driver's Education – HPDE
HPDE events are not racing and are focused on educating drivers on the proper techniques, rules and safety of driving on a race track.  These events are held by various clubs at road-course tracks everywhere. Students are grouped according to their ability and experience and typically include a Novice Group, Intermediate Group and Advanced Group.  Groupings are based on driver experience, not the capabilities of the car or how fast it is. Some organizations permit experienced students to drive the racetrack without a ride-along instructor. Mandatory classroom instruction contributes to the overall learning experience and allows peer-group discussions of event logistics, on-track performance and track characteristics.  Often HPDE beginner and intermediate classes do not allow timing.
Things you will learn at an HPDE event:
The Racing Line around the track
HPDE Terminology
Threshold Braking
Corner Theory: Turn in, Apex and Track out
Car Control
Proper Passing and Passing Signals
Optical Awareness
Flag Communication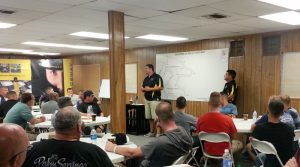 Track Days
A track day is similar to an HPDE with less focus on instruction.  Track days have varying formats, but they usually consist of three to four groups loosely corresponding to an individuals level of experience and/or how quick they are, (e.g. Novice/Intermediate/Advanced). One group at a time will then take to the track and there is usually time for between four to six 15 to 20 minute sessions a day.  In most cases, participants use their own vehicles.
Generally a track day will have an extra instruction session after the driver's meeting for novice or beginner classes as well as on track lead follow sessions.  Many of the same things will be covered as an HPDE event but in less detail.  The non beginner groups are typically allowed on track without an instructor.  However, paid dedicated instruction is still available for intermediate and advanced drivers.  Drivers are usually given free timing.
If you already have some track experience and just want to have fun lapping your car around a racetrack a track day is going to be the best bang for your buck.  However, if you want to receive instruction, either because you are new or wanting to develop as a driver, then you can do either an HPDE event or an open track day and request an instructor.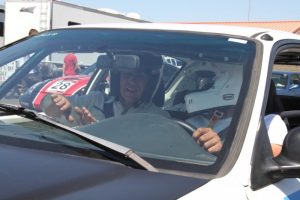 Take a ride along on a track day at Laguna Seca in a 1968 Camaro
Time Trials, also known as Time Attack
Unlike common wheel to wheel racing, time trials is a form of racing where competitors are scored according to their best lap of the day.  Some organizations allow open passing but true wheel to wheel racing is not allowed and slower competitors are expected to yield to faster overtaking cars to reduce risk to car and drivers.  Time trials racing has gained significant popularity in recent years.  There are now classes for everything from pure stock street cars to highly modified no limit race cars.  In fact, due to many time attack organizations having less restrictive rules than common wheel to wheel racing classes, the unlimited classes within time attack have some of the fastest race cars around and often set track records.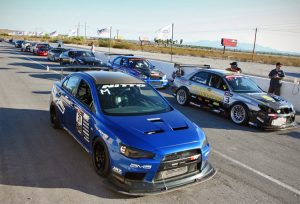 Wheel to Wheel Racing
When the above items don't scratch the competitive or adrenaline itch then wheel to wheel racing is for you.  This is exactly what it sounds like and what you are used to seeing on TV or the movies.  Cars of similar classes battling it out from the green flag to the checkered flag, first car across the finish wins.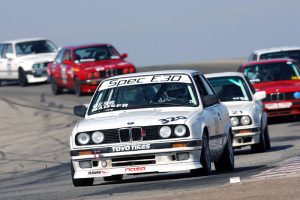 Continue to Part 2: SoCal HPDE and Track Day Guide