September NMCA Hotchkis Autocross Recap
The following recap is written by Greg Thurmond using a first person perspective.  Video and pictures supplied by AutoXandTrack unless otherwise noted (click any thumbnail gallery pics for a larger version).
What an incredible weekend at the Auto Club Speedway in Fontana California! This was the third event of the season for the NMCA WEST Hotchkis Sport Suspension autocross series.  There is only one more event left in October. As usual, the Racing Byrds did a great job keeping things safe and fun. The weather was our friend for the first time I can remember in years, thanks to the weather gods! Onto the recap,
Test and Tune Friday
Test and tune Friday has now turned into cheater Friday.  We used to go out on Friday to help newbies and take a couple runs in our own cars just to see if our setup would be good for the weekend. Now it was like another day of competition. No awards but lots of runs and plenty of time to tweak your setup if needed. Thanks to Stephen Wolcott from NMCA for hosting lunch for everyone while we all compared our lap times a completely relaxed environment.
The course was tough with plenty of technical sections and if you were precise enough you could get on the throttle hard through a couple of sections as well. Acceleration and braking were put to the test big time but to be able to carry speed through the tight turns was equally important. No one thought it was easy but everyone thought it was fun.
Saturday Autocross Recap
Saturday it was a little more serious! With a total of 82 cars you know there is going to be some close racing. The course was run in reverse from Friday and it presented a new set of challenges. This event brought out some of the fastest cars and drivers from all over the southwest. Everybody is separated into run groups of about eight or nine cars with three runs per session. We all had three sessions for a total of nine runs and the competition was insanely close. Several cars only had a few thousandths of a second between them with less than one second between the top ten in Early Muscle.
Chad Ryker jumped into the lead in the first session, I was in second and Casey Cronin had third. Things changed around after each session with me ending up third behind Chad by one thousandth of a second, my 39.258 to his 39.257 and Casey moved into first place with a 38.748. Congrats to Casey! Matt Alcala was only 34 thousandths behind me in forth with Richard Trujillo and Jane Thurmond, finishing fifth and sixth respectively. We were all within eight tenths apart. There was a battle going on all day for the all the positions with twenty two cars in our class.
Take a ride in John Fendel's 1968 Mustang, driven by Tom Berry, to see Saturday's course:
The Modern Muscle class was a hard fought battle also with the closest times I've ever seen. The top five were only three tenths apart. Greg Nelson won with Paul Molina twenty eight thousandths behind in second, and Kurt Robinson, Donnie Gonzales and John Grow third, forth and fifth respectively.
In the Sports Car class Eric Sheely set the bar with a fast time of the day of 38.01 with John Lazorack III, Jordan Priestley, Tom Kamman, and Scot Spiewak following in that order.
The truck class was another tight battle with only one second separting the top five with Wes Drelleshak first, Mike Sullivan second, Brandy Phillips third, Pat Sheely forth and Bill Kinsman (Dynoman) fifth.
The Compact Class was won by Troy Lyman, Caleb second, Max Sigwart third.
[Editors note: Greg makes reference to a Saturday lunch, initially organized as a pot luck by Cal Club SCCA CAM competitors.  Cal Club CAM does a pot luck lunch at almost all of their monthly autocross events.  As word got out, more folks joined in including a whole lot of food from the Sheely's.  This was an unofficial potluck lunch.]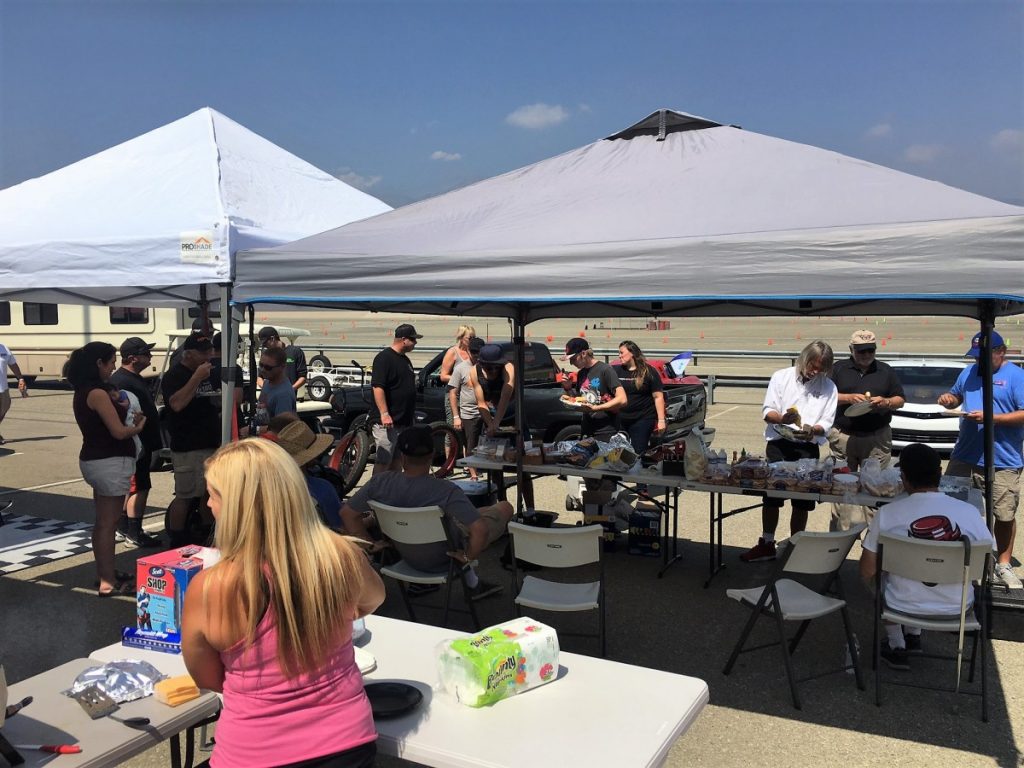 Saturday we enjoyed a great pot luck lunch was graciously provided by Teri and Paul Molina with contributions from the Sheely clan and many others.  Terry did an awesome job cooking burgers and dogs for everyone, thanks to Paul and Teri, the Sheely's and all that pitched in with sides and desserts. It was a good time for some bench racing and everyone enjoyed a great lunch.
Saturday night's dinner was arranged by Rob and Brandy Phillips of PCH Rods with Larry Callahan of Pro-touring.com covering the bill. Thanks to Brandy, Rob, Larry and all of you that contributed to a great dinner. It's great to see a racing community all come together like this.
[Editor's note: In addition to good competition and eats, when a car breaks down so many people are quick to help.  Usually one of the first is Rob Phillips from PCHRods who had two ignition switch wiring faults diagnosed and fixed in about 30 minutes when this Mustang quit on track.  We were pleased to see Rob recognized for consistently going above and beyond like this with an award on Sunday.]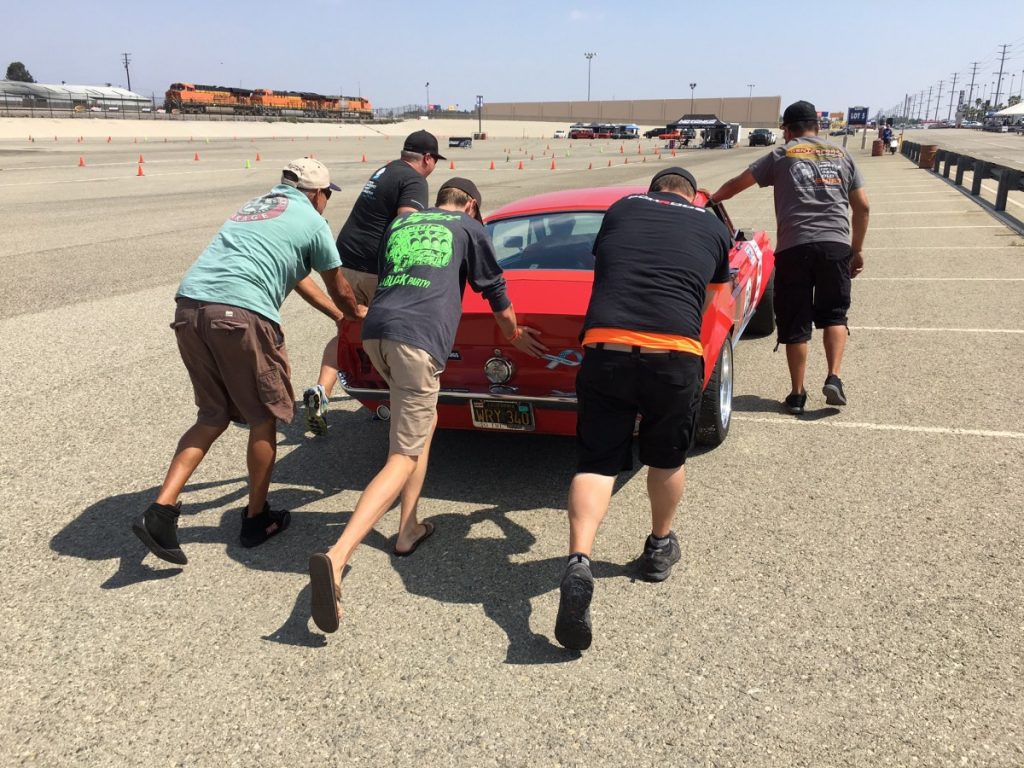 Sunday Autocross Recap
After making some adjustments to our cars on Saturday night Jane and I were excited to get out on the track for Sunday's competition. The course was back to Friday's direction and most of us liked it better. In this direction it had a couple sections where you could get on the throttle hard.
I was able to use the power that Scar has much better than on Saturday. Chad Ryker was doing the same though and jumped out to the lead with a 40.399 in Classic Muscle after the first run session. I had second and Jane had third. At the lunch break I had moved into first with a 40.396, yes that was only three thousandths ahead of Chad. Michael Cuthbertson was in third with Efrain Diaz forth, Jane Thurmond was in fifth and we were all within four tenths of one another.
Ride along with Greg on his fastest run of the day
Mike Hamrick was driving Scar and was right behind Jane in sixth but Jane and Mike had only done their first session while most of us had finished our second session at the break. At this point we all knew it was anybody's race to win. I never stopped thinking about Casey "Coach/Sandbagger" Cronin either. He's capable of coming up with blistering fast last run pretty consistently, like he did on Saturday, but was sitting in eighth at the lunch break with Robb McIntosh just ahead of him in seventh.
The second session brought more changes in positions, Jane Thurmond moved to third and Sal Solorzano into forth booting Efrain down to sixth. The final session gave us four more runs to settle the score. I was the first car out in our class and not knowing what time I would need to beat I went out and gave it my all. I turned a 39.572 which moved me .8 ahead of Chad. It was a still a nail biter watching everyone else go after me hoping my time would hold up, which it did. The final top positions were myself in frist, Chad in second, Michael Cuthbertson moving up to third to putting Jane in forth, Sal in fifth and Efrain in sixth. Thanks to all of you in Classic Muscle for making it such a great event! It could not have been more fun!
Greg Nelson jumped out to an early lead in Modern Muscle with Paul Melina and Don Gonzales close behind in a strong twenty one car field. Paul would end up getting ahead of Greg for the Modern Muscle win with Greg and Donnie in second and third respectively.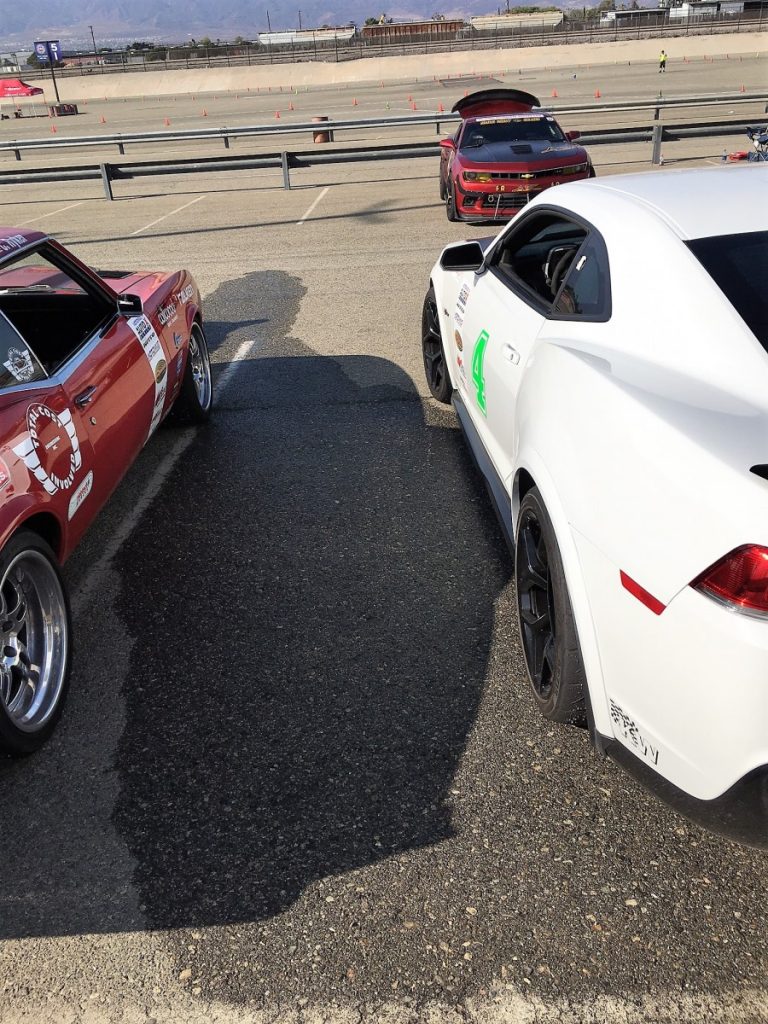 Eric Sheely was on fire again and took off with the lead in Sports Car and kept it all day but not without pressure from Jordan Priestley and John Lazorak III and a tough eleven car field. They finished in that order.
At the break Wes Drelleshak had the truck class lead with Brandy Phillips in second and Mike Sullivan in third. At the finish Wes Drelleshak won, Mike Sullivan moved into second, and Brandy was third in the truck class.
Compacts were led by Troy Lyman again, Caleb second, and Max ended up third.
The Hotchkis Cup
One of the most unusual and fun things about a NMCA/Racing Byrds/Hotchkis event is that all your run times are averaged at the end of the weekend and the coveted Hotchkis Cup is awarded to the driver with the fastest overall average time, and the runner up is also awarded a smaller cup trophy. This puts a great deal of pressure on everyone to not hit cones. One cone hit adds two seconds to your lap time and can cost you several positions in the overall standings. Awards are also given to the drivers with fastest single lap time of each class for each day.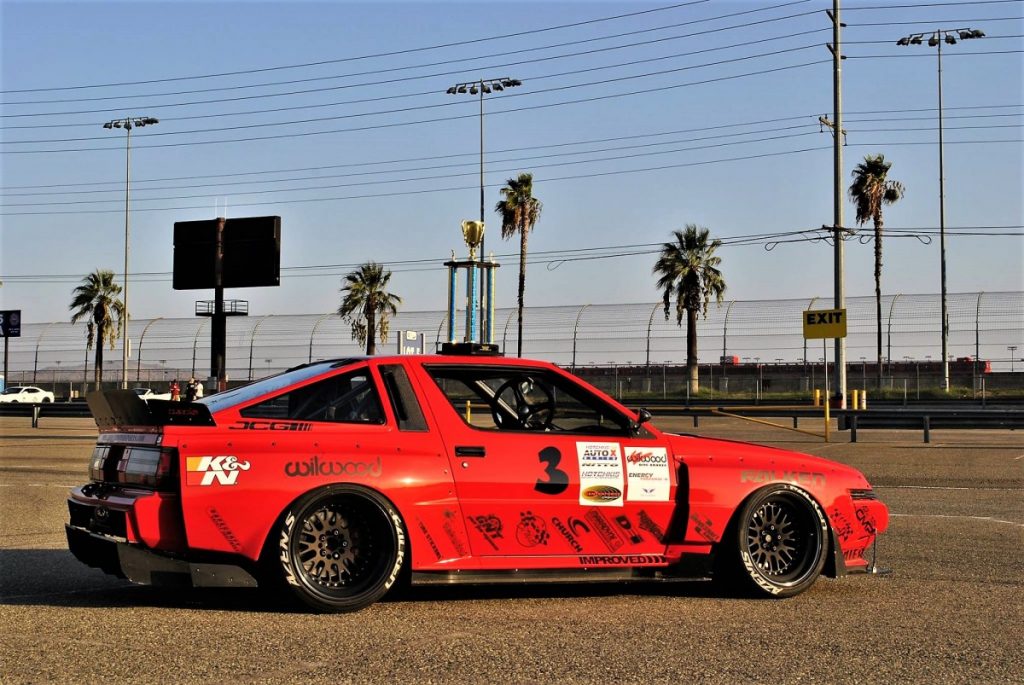 The Hotchkis Cup winner was John Lazorack III, he ran a combined total time of 39.485 which is incredible. Eric Sheely was runner up with a combined total of 39.586. Congrats to you both!
Ride along with John in his Hotchkis Cup winning LS powered 1988 Chrysler Conquest.
Thanks are in order to the Racing Byrds for putting on another awesome event. Each one seems to get better than the last.
Thanks also the NMCA West autocross sponsors, Hotchkis Sport Suspension, Nitto Tire, Energy Suspesion, Wilwood Disc Brakes and Centerforce Clutches for their support.
I also would like to thank all the competitors for making this the premier autocross event in our region! Thank you!
[Final editor's note: My daughter was one week old on Saturday and came to the track to watch Dad do some racing and get introduced to the racing family.  The Byrds were kind enough to give her what I hope is the first of (someday) many autocross awards!]