A Peak Into the Mind of Jake Rozelle and his C5Z Corvette
Jake Rozelle is the June combined featured car and featured driver.  Folks familiar with Optima's Search for the Ultimate Street Car Invitational ("OUSCI") series are no doubt also familiar with Jake "The Kid" Rozelle.  A few years ago the OUSCI morphed into a series sanctioned by the Ultimate Street Car Association ("USCA") with qualifying events.  Around that time, Jake showed up with his Dad's 1969 Camaro and immediately became a force to be reckoned with placing 3rd overall in his first event.
Since then Jake has won the GTV class 7 times at USCA qualifiers as well as the overall GTV class championship in 2016.  Jake has also been active in GoodGuys autocross events where he has won his class three times in three different cars!  Jake won the Street Machine class in the Camaro as well as a C2 Corvette.  As well as winning the Modern Muscle class in his C5.
However, new in 2017 Jake turned his attention to his personal daily driver C5 Corvette z06.  Between the OUSCI in November 2016 and the USCA season opener in 2017 Jake went through a mad thrash to transform his daily driver C5z into "the Ultimate Street Car."
Read on to learn more about Jake as a driver and his current track weapon.
How long have you been competitively driving and how did you get started?
3 years competitively driving cars. I grew up desert racing motorcycles my whole life and transitioned over to cars after high school.
Do you remember your first event?  What was it and how did you do?
The first driving events I did were the Tuesday night open practice sessions at Adams Motorsports Park, a go kart track in Riverside, CA that I drove out to after work in high school. The first major competitive event I did was the inaugural USCA event at Laguna Seca back in 2014, where we brought our Camaro that JCG had just finished swapping an LS7 into the night before. I drove the car part way to the event to break in the motor and we ended up taking 3rd behind Mike Maier and Danny Popp.
Editors note: The story I heard was that Jake and his Dad, Roy, were at Adam's where Jake was needling his dad to drive faster.  Roy gave Jake a chance behind the wheel of the Camaro where Jake promptly slayed his dad and the competition.  The rest as they say is history.  Roy is a huge supporter of Jake and can almost always be seen at Jakes races.  I'm not sure if the story is true, but it's funny so I'm sticking to it.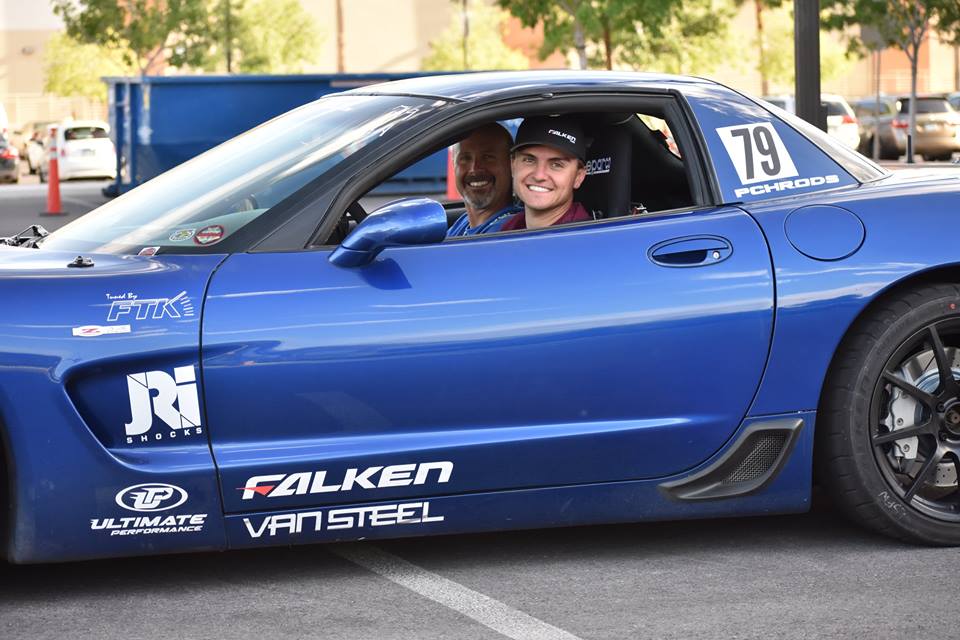 What different series have you competed in?  Do you have any favorites?
I've been fortunate to drive in events including the Optima Ultimate Street Car Association, SCCA Autocrosses, and many different local autocross associations and road course time attacks such as Redline Time Attack. For me the level of competition at the Ultimate Street Car Events is what makes them my favorite. For an amateur racing series the quality of builds and effort put in to win is nothing short of amazing. My second favorite series and probably the one I enjoy the most is the Camarillo Speed Limit Racing Autocross series. There is no competition really and the atmosphere is the most laid back and fun centered of any events I have ever been to. There are some of the nicest people you'll ever meet there every month and I always get more than enough runs in to get whatever testing I need done accomplished.
You have quite a bit of experience doing autocross and road course events.  Do you think there is any crossover?
I believe there is a ton of crossover between autocross and road course, and that it goes both ways. Autocross teaches you a lot of good car control and aggression that definitely benefits you as a driver on the road course. However, I know for me road course driving smoothed out my driving style a lot, it made me really focus on slowing down my hands and getting the car settled before entering a corner. These skills and others such as mastering heal toe downshifting are essential to get good road course times and once you have them they will also help on an autocross.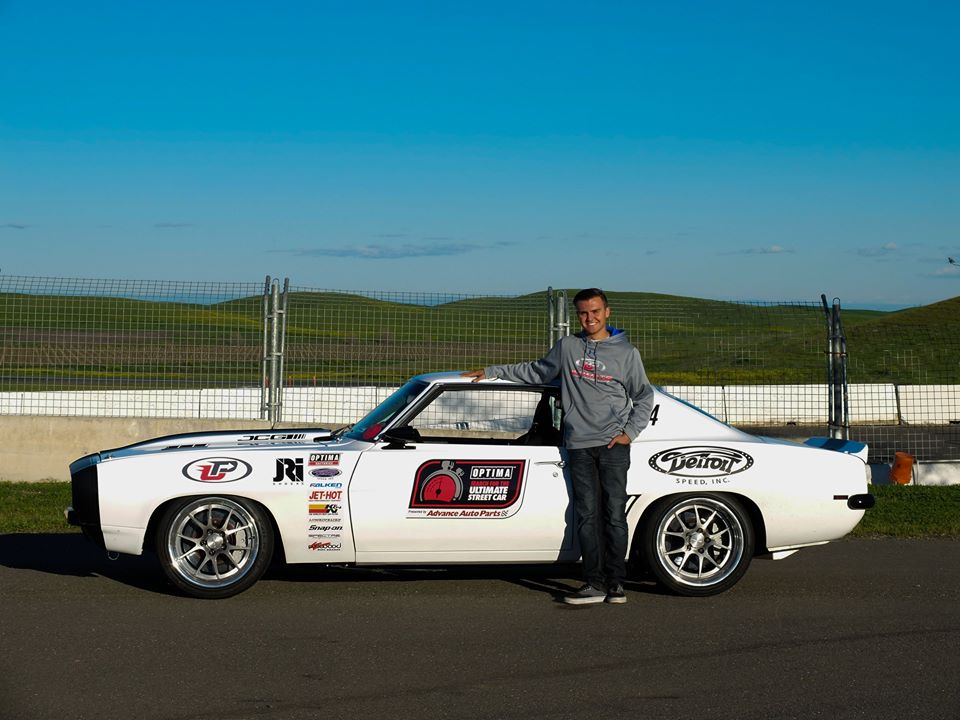 Do you have any plans to try wheel to wheel racing?
No current plans for wheel to wheel racing, my budget is maxed out for the foreseeable future on what I'm currently doing although wheel to wheel always looks like a ball!
Are there any events you want to do in the future that you haven't done before?
I'm hoping to run more big time attack events in the future. With our Camaro I never had a good class to run in but now with my corvette I have a very competitive street class car for events such as the Global Time Attack Series and the Gridlife events.
Have attended any driving schools?  If so, how significant were they in helping you develop as a driver?
No driving schools for me yet, just a ton of practice and learning the hard way. I've also been extremely fortunate to have great drivers like Danny Popp and Mike Maier give me input throughout the year and that has gone a long way.
Please give us your top driving tips for the road course.
Don't ask too much of the car at once and plan for corner exits. You only have so much available grip to use no matter what car you drive. To get the most out of that grip it is imperative to load the weight of your car smoothly onto the tires you need grip from. If you ask too much of the tires at once you will break traction and ruin the corner. Likewise if you unload the tires you will lose traction so its important to plan the corner in a way to set the weight and control it to get the car to do what you need. The most common comment I get from people who follow me is how fast all my cars exit a corner. This is no coincidence, it's because I set up to late apex corners, especially those that lead to a long fast stretch to maximize my drive out of the corner. You can make up hundredths and maybe a tenth by perfecting a corner entry however you can gain multiple tenths or more if you get the corner exit just right as you'll be making up time the whole following section. Thus focus on the exits.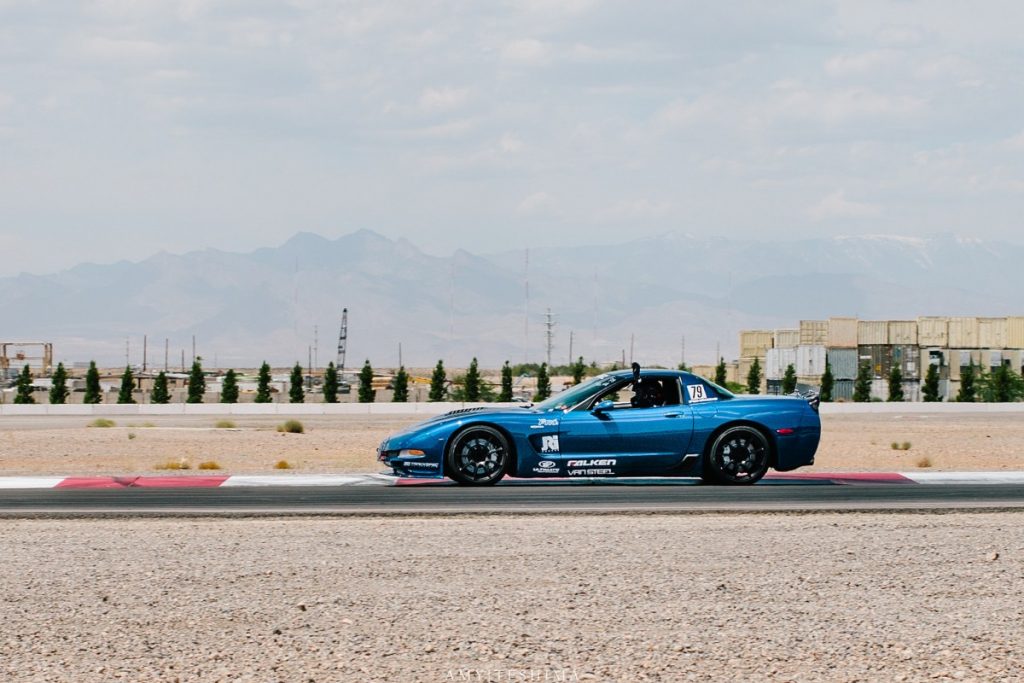 And Autocross.
Again, don't overwork the car! The vast majority of people I ride with are asking too much of the car at one time. If you're braking when entering a corner you have less grip available for turning. If you're able to take the corner while braking you most likely could have taken it faster without the brakes! For most people in most autocross situations they should focus on braking in a straight line, lifting off the brakes to give the car a moment to settle and then turning in and allowing the car to roll through the entry and middle of the corner before picking up the throttle on exit. This will drastically decrease their lap times and allow them to carry much more speed in the corners. Brake, lift off brake, and then turn in. Three distinct actions, not overlapping at all. Then throttle should not be applied until the unwinding of the wheel has begun. Trail braking and using the brakes to rotate the car are things I use occasionally but the basics above always work incredibly well.
As someone with a lot of seat time in a highly prepped pro touring 69 Camaro as well as modern vettes what do you see as the key differences?  With equal drivers do you think it's possible for a vintage pro touring car to keep up with a prepped modern sports car?
The differences never cease to amaze me. The Camaro is fast but in a very blunt, brutal sort of way. To drive that car fast you have to take it by the wheel and throw it into the corners to make it do what you want. The modern Corvettes are totally different. Aggression is still essential but if you try to manhandle them the way I do my Camaro you'll be spun around in every corner. The Corvette's require finesse and a more smooth driving approach that is easier to drive in some ways, because you don't need to be on the edge to go fast, but also more difficult because if you step over the edge it bites you much more than my Camaro would. Thus it's easier to go fast in the newer Corvettes but for me getting that last 5% or so was easier in our Camaro.
With equal drivers a pro touring car will always struggle against a prepped newer corvette. The corvette has so much going for it, from weight distribution and geometry all the way to aerodynamics the pro touring car will be at a disadvantage unless you do something incredibly aggressive like Mike Dusold's tube frame chassis on his 1967 Camaro which most people do not classify as a 'Pro Touring' build.  What the vintage car will always have though is fun. Without a doubt our Camaro is the most fun car I've ever driven. Its brutally fast, a little heavy, and begs to be thrown around since it's not a super precise instrument like the new corvettes.
Related to the question above what was your motivation for switching from the 69 Camaro to the C5 Corvette for Optima OUSCI?
Our 69 Camaro is my favorite car ever. Its fast and it's the most fun car I've ever driven on the street or the track. It's a car I actually run errands in and can take to church on Sundays. Despite everything we've done to make it win races we never sacrificed what a great street car it is by adding an intrusive roll cage or lowering it beyond a drivable amount or anything else along those lines. To stay competitive in the overall however the series has gotten to a point where we were going to have to make changes to the car that would compromise this street ability and redo a lot of the car, more along the lines of Mike Dusold's car. While Mike's car is cool that's not the 1st gen Camaro my Dad and I wanted so we decided to leave our car the way it was and move to a new platform that we didn't mind dedicating to racing.
The C5 is a perfect platform for me because it has the rigid chassis, aerodynamics, and geometry needed to be competitive but is still relatively simple. This has allowed me to do all the work on the car at home which was important for me to be able to win on my budget.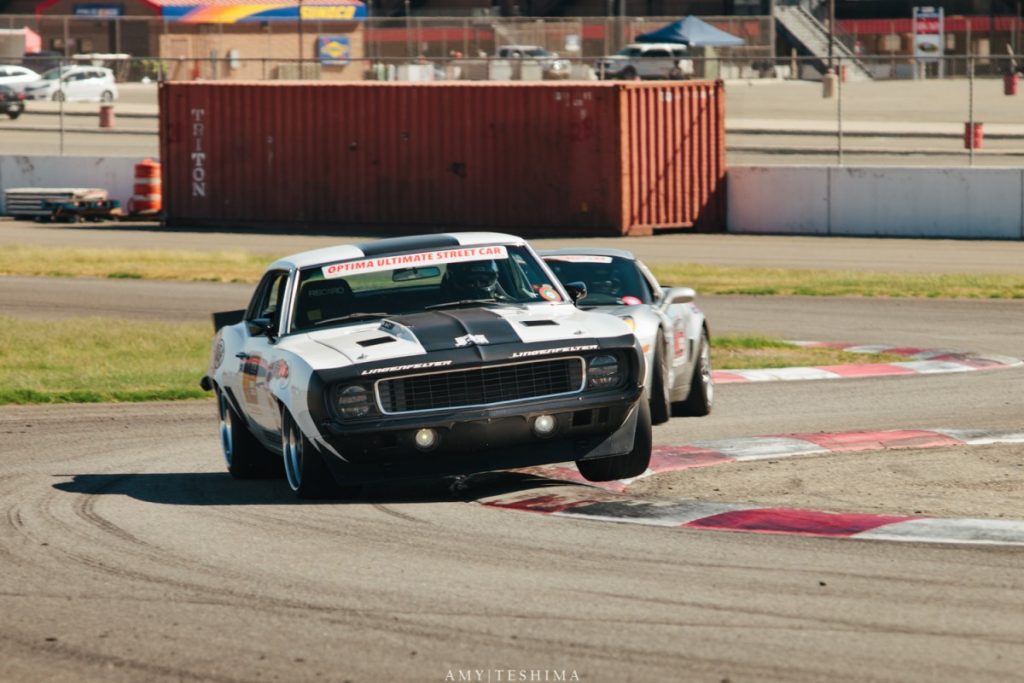 Speaking of your C5…  Please give us an overview of your car.
I bought the car in January of 2016 to be my daily driver while I was in my senior year of college. I also drove it at occasional road course and autocross events as practice, as I often wanted to save our Camaro or not risk breaking something before a big event. At the end of 2016 we decided to retire the Camaro as our primary OUSCI car and I bought a new daily driver, allowing me to start converting the C5 to its current state in early 2017.
Did you have a specific design or build objective when you decided on this car?
The objective was to build something competitive overall in OUSCI and to win whatever class we chose at regular season events. Durability and serviceability are things you come to value above all else after a few years of racing. Thus the C5 was the perfect fit as we have a ton of experience with the LS drivetrain and I can do all the work needed at home to keep the car competitive throughout the season.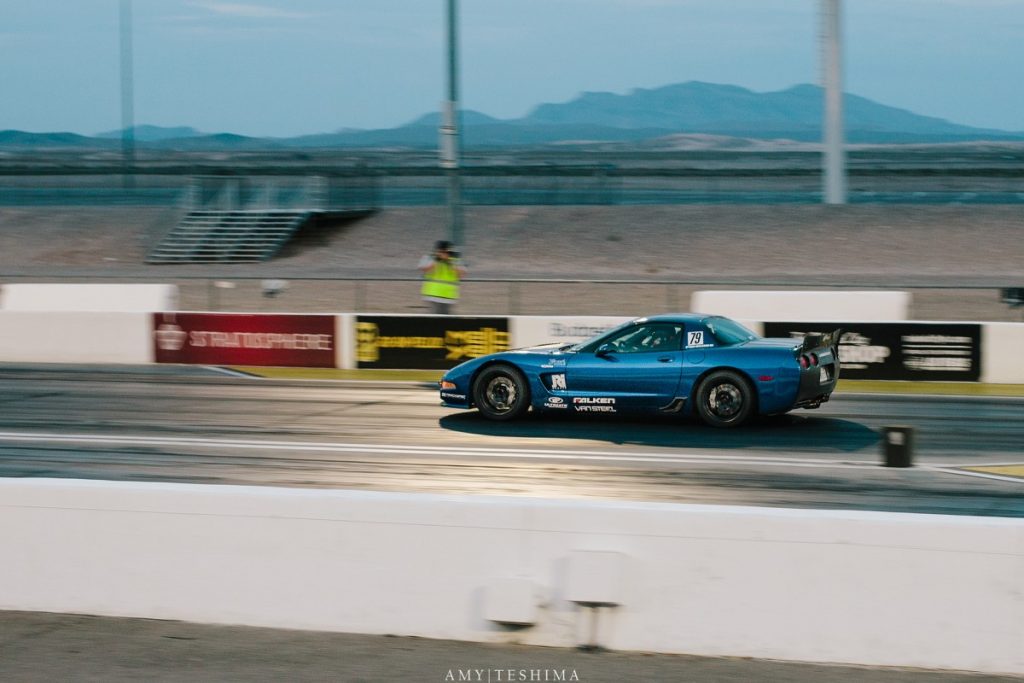 Now that you have several events on the Corvette, any course corrections required with the mods?
I'm still dialing stuff in and making small changes like aero additions and spring rate changes but for the most part no course corrections required.  Being friends with Danny Popp made it so I had good feedback on what works and what doesn't since he's pretty much seen it all, which gave me a huge advantage in building my Corvette right the first time. We are working on getting a set of Forgeline wheels though to replace the TSW's I bought back when the car was my daily driver.
List any and all mods you wish to highlight (no 2 minute limitation, ha)
Engine/driveline
Lingenfelter built LS7. Full forged rotating assembly, Lingenfelter custom ported heads and camshaft package.  620 wheel horsepower, 560 wheel torque.

K&N Air Intake

Quarter master Clutch

ARH Headers with Borla Mufflers

Dailey Dry Sump with a Peterson Oil Tank

Dewitts Radiator
Suspension
JRi Shocks valved by Ultimate Performance

Van Steel Sway Bars

Van Steel Delrin Bushings
Body
Custom Electron Blue paint with Satin Black and Gloss Black accents by Best of Show Coachworks

Trackspec Motorsports hood vents

Custom Rear Spoiler designed by Jake

Eckler's fiberglass nose with splitter

Custom under tray and under tray mounts made by Jake
Interior
Sparco PRO2000 seats

Sparco Suede Steering wheel with NRG quick disconnect hub

Brey Krause Harness bar from JDP Motorsports.
Tires
What is your favorite bang for the buck mod for performance driving?
For any car best bang for the buck is tires. The Falken RT615K+ I love because it gives amazing grip and is super predictable to drive fast on while also wearing well. For C5 Z06's specifically they love a big front sway bar. When my Corvette was still daily driven I had a Van Steel big front sway bar along with Falken 315s and the car was incredible for how little was done to it.
What would you say the Vette's primary strength is?
The Corvette's ability to maintain speed especially in high speed corners is what I would say its primary strength is. It has incredible front end grip that allows it to turn in and roll through the corner at a high rate of speed.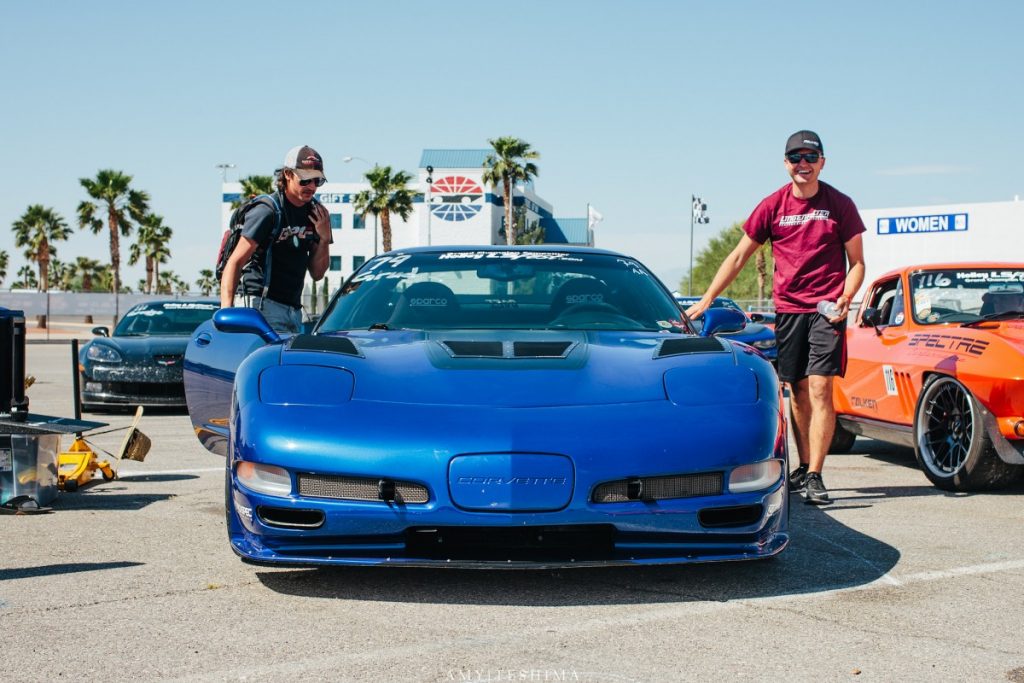 Are there any sponsors or others you would like to acknowledge for their assistance to you or your car?
Lingenfelter Performance Engineering has been huge in getting this car to this point. We have a LS7 they built in our Camaro and it has always run flawless so going with them again was an easy choice. Not only has the motor been awesome but their tech support with getting stuff like the injectors in the C5 adapted for the LS7 and other electronic conversions figured out has been incredible. I would also like to thank Ray at Full Throttle Kustomz in Fillmore, CA who always amazes me with the job he does tuning our motors.
Falken tire has been part of our program from the beginning and the new RT615K+ tire is a huge reason our car is competitive. K&N has also been there all along and its nice knowing our motor is flowing as much air as possible and our fluids will always be clean.
JRi and Ultimate Performance are another pair of sponsors that were on our Camaro and they made the transition to the Corvette super easy with quality stuff that was fast off the shelf.
Powerstop Brakes brake pads are something I recently started using and have been super happy with their engagement with the series and how well their product has worked.
Van Steel Corvettes have also been super helpful and approachable with this project and my dad's C2.
And last but not least thanks to TrackSpec Motorsports who make the hood vents that are the first thing most people notice on my car.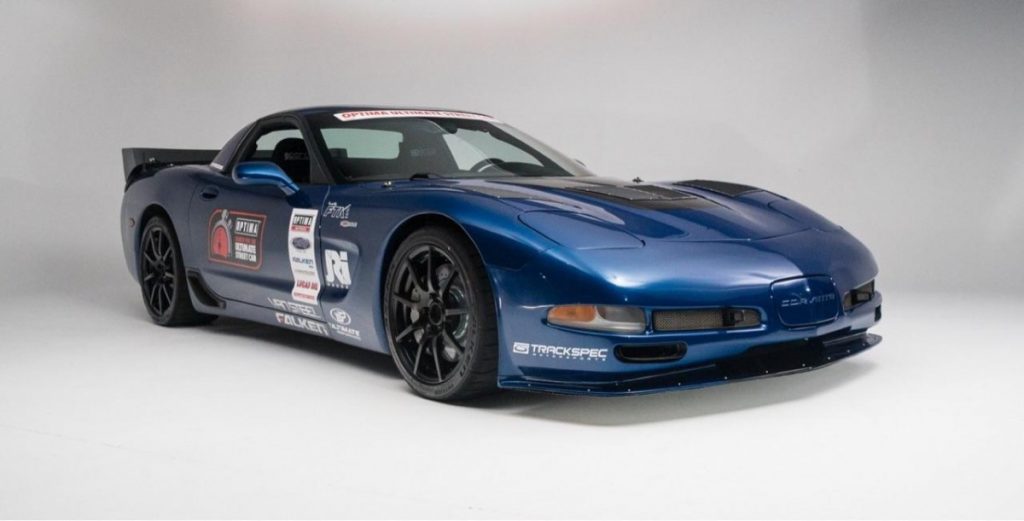 Primary photo credit to Amy Teshima.  Click her name to check out more of Amy's amazing work on her flicker account.