Crows Landing 2019 CAM Challenge Recap
Mustangs, Camaros, Corvettes Oh my! Recently, the Badboys of autocross kicked off one of two West Coast CAM Challenges. Taking place on the premier autocross surface on the West Coast, Crows Landing. Located away from any major cities out in the farmland of the central valley, Crows Landing is a relic from WWII. The former Navy and NASA airport is home to two 200′ wide concrete runways that seem to stretch forever into the distance. The abundance of the deliciously grippy surface making this a mecca for West Coast autocrossers who seek the adrenaline rush of high speed and high lateral Gs.
Descending on this site was a hoard of over 200 drivers seeking glory at the joint SCCA CAM Challenge and Champ Tour. However, it's the 37 drivers behind the high horsepower Classic American Muscle ("CAM") classes that this author came battle and report on. Divided into three classes, Sport, Contemporary and Traditional, CAM gives a home to just about any American made RWD muscle car.
Modeled after the SCCA Solo Nationals competition each driver would get three runs on Saturday and 3 runs on a modified course going the opposite direction Sunday. Fastest Saturday time and Sunday time are added together to decide the class victors. And because this was a CAM Challenge event Sunday saw a shootout between the fastest 4 drivers of each class.
CAM-C
The largest of the CAM classes with 14 drivers kicked off the show in heat 1. Mustang fans will be pleased to know that they outnumbered Camaros more than 2 to 1 with 9 Mustangs and 4 Camaros (technically one was a Trans-Am). Though, there was one shinny white Dodge Charger completing the Big 3 trifecta. In fact, Rusty Henderson came all the way from Missouri and showed up in the rented Charger.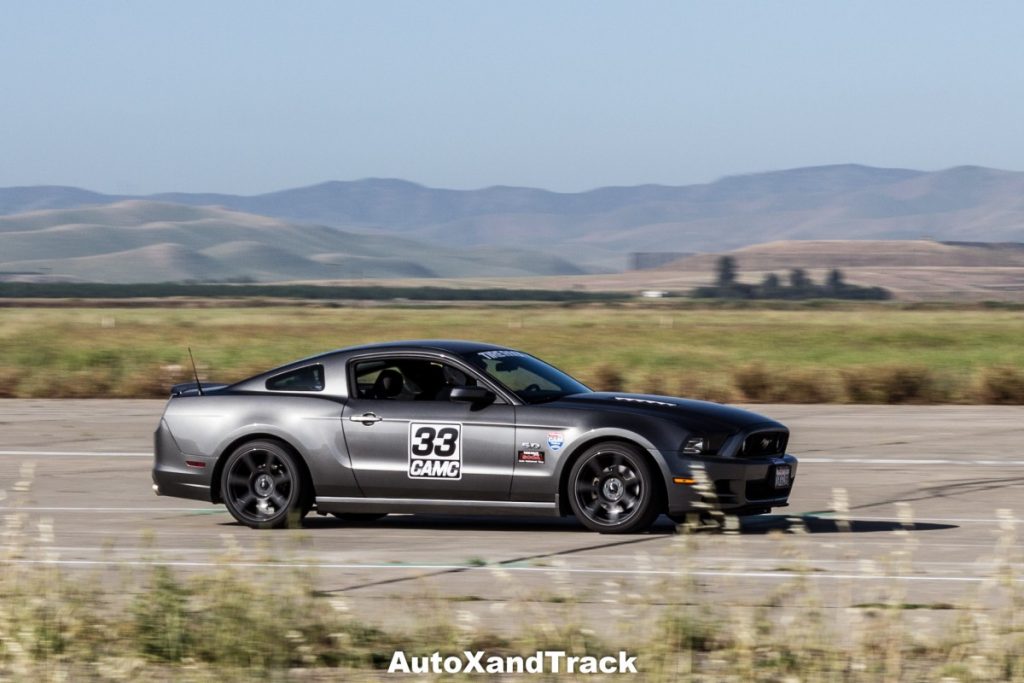 Dennis Healy is no stranger to CAM-C competition and finished 2nd in CAM-C at Solo Nationals in both 2017 and 2018. And I believe he was the CAM long hauler at this event driving his 2015 Mustang over 600 miles each way to come and compete. Doing so without a trailer or even air conditioning! Though, not without incident as Dennis did suffer a cracked windshield which warranted a quick replacement on Friday before competition.
Despite fighting a supercharger water pump issue Dennis led the class from his first lap to his last. However, looking at the final results at the end of day Saturday or Sunday is a bit deceiving. There were trophy and position changes throughout the competition with many of the spots not being decided until final runs on Sunday. As the final roar of the modern V8s echoed across the central valley it was a clean sweep of the podium by Mustangs.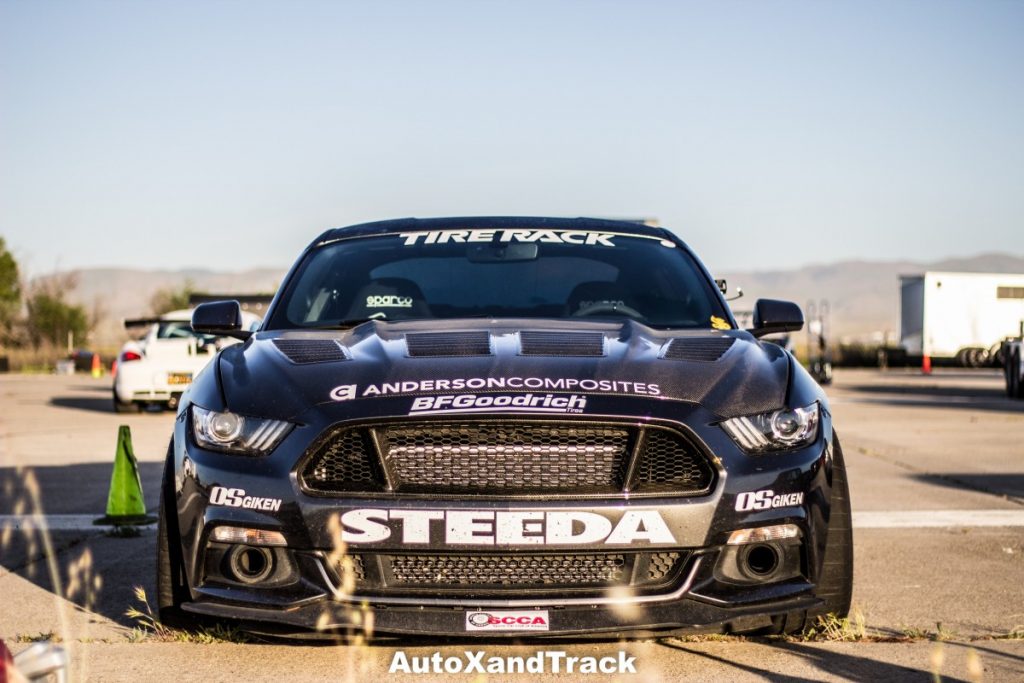 CAM-C Trophy winners:
Dennis Healy – 2015 Mustang
Steve Wynne – 2015 Mustang
Todd Cameron – 2018 Mustang
John Lawrence – 2017 Camaro
James Boller – 2015 Mustang
CAM-T

Gentleman, we can rebuild it, we have the Technology!
Building a CAM-T car can kind of be like the bionic man. Replacing worn out and outdated junk with sleek modern technology has never been so fun! Featuring 1988 and older model year cars weighting a minimum 3k lbs this class brought a diverse group of cars to the CAM grids. Though Camaros were driven by half of the 12 driver field each car exuded their own personalities.
Dare to be different
In fact, among rumbling visceral exhaust notes reverberating through your chest was David Carroll's 73 Vega. This car was spouting half the cylinder count and powered by one of Chevrolet Performance's 2.0T crate motors as seen in the current generation 4 cylinder turbo Camaro. David's builds tend to focus on fitting large power into the lightest cars. If minimum weights are lowered in CAM-T or David can bump the power even further watch out for this car!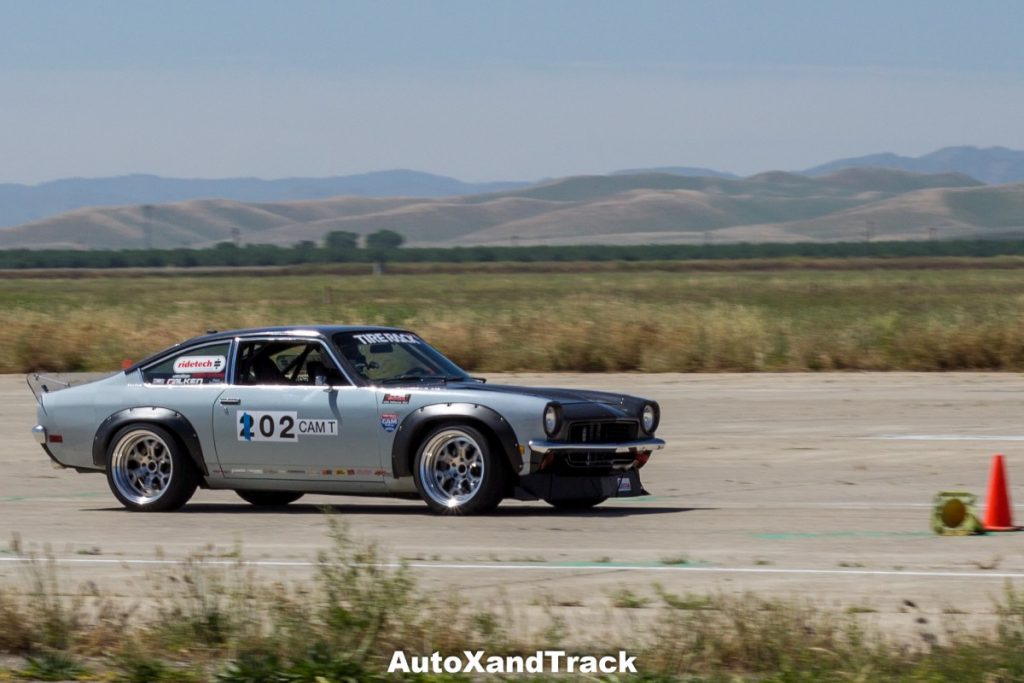 The other car vying for dare to be different is the 4 door Chevelle of Michael Erickson. The list isn't short of classic muscle car drivers who have underestimated how fast a big block 4 door Chevelle could be as they watched Erickson post physics defying autocross times.
But it was the 1973 Camaro of Brian Hobaugh and 1965 Mustang of Mike Maier that I was most focused on. I've looked up to these drivers and their cars since getting into autocross. As my own skills have grown I've looked forward to opportunities to test myself and the AutoXandTrack Camaro against them.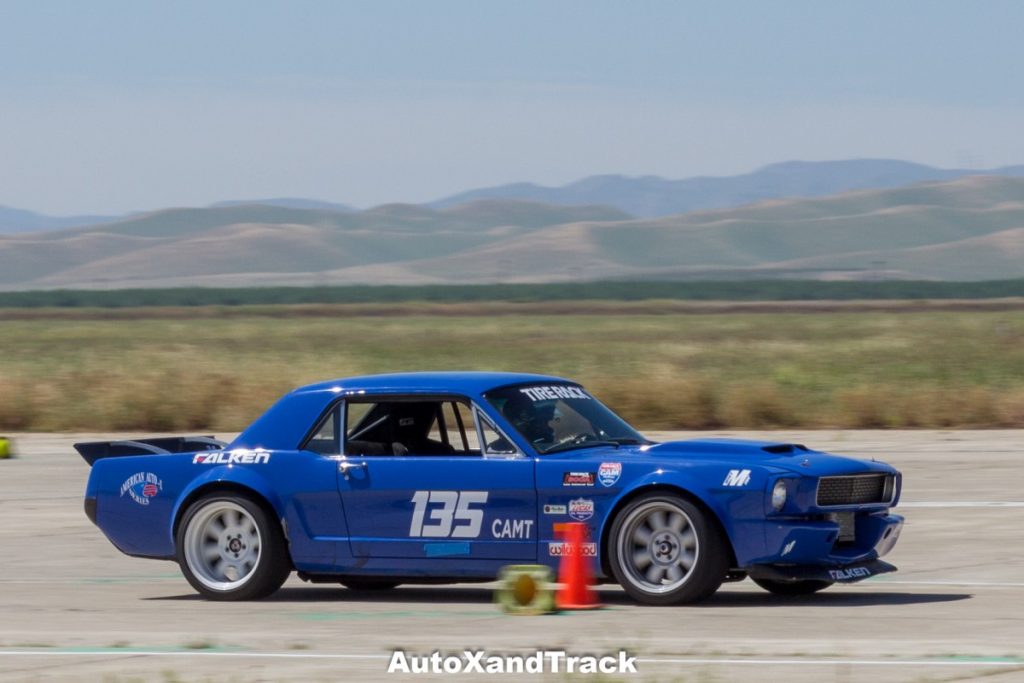 CAM-T, a battle to the End
However, after the initial two runs on Saturday, it was Manny Ruiz in one of the few cars still on leaf springs and an old school small block that was sitting in 2nd place with one run to go. 3rd runs saw Brian clean up his dirty runs and take a commanding lead to finish Saturday competition. While, I was able to sneak ahead of Manny by a little over a tenth.
Sunday's course was even faster than Saturday and I was determined to adapt my driving to the level of grip available. Again it would come down to 3rd runs. I ran first and was finally able to produce an excellent lap and leapfrog Brian for first. It proved short lived though as Brian put in a quick lap and took back the lead for the class win. My consolation prize was having a faster lap on Sunday.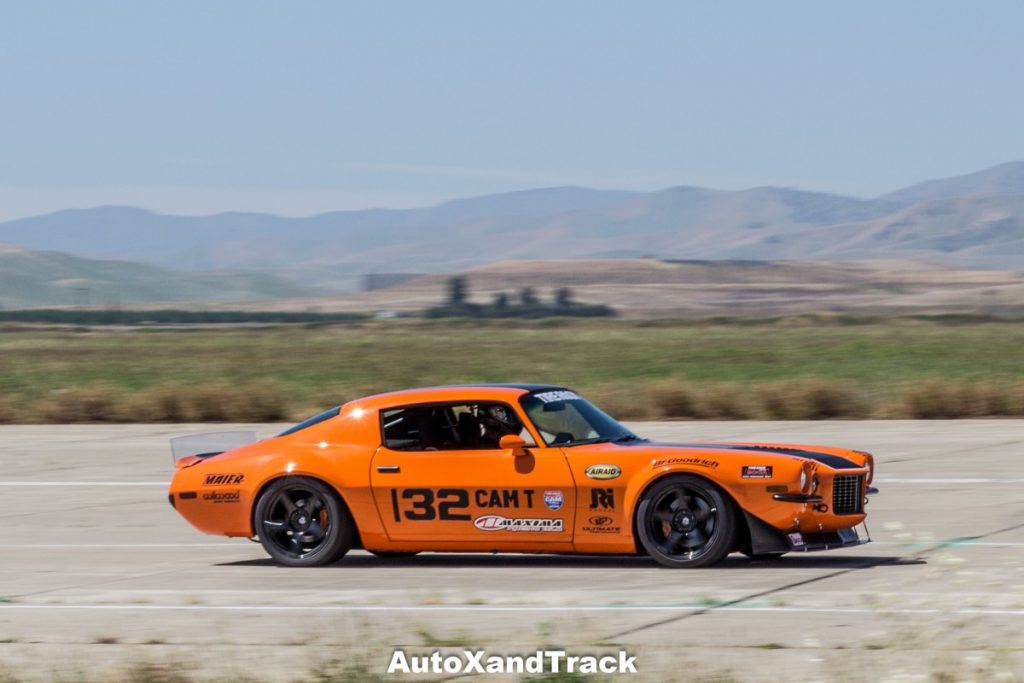 I have to give a special shout out to Brian and his Dad along with Michael Hamrick for the hospitality in the pits. We all want to win but it's great to leave it on the track and hang out too!
CAM-T Trophy Winners
Brian Hobaugh – 1973 Camaro
Chad Ryker – 1968 Camaro
Manuel Ruiz – 1970 Camaro
Michael Erickson – 1967 Chevelle
Mike Maier – 1965 Mustang
CAM-S
Maybe CAM-C should be changed to M for Modern so that CAM-S can be renamed CAM-C for Corvette. Because, at this event it was 10 Corvette drivers from 4 generations vs one lone Viper. As CAM-S ran when I was getting ready for my next runs I didn't get to watch the competition as closely as I'd like. It seemed that the standings solidified early in competition. Though, similar to CAM-T in that Karlton Lew as the class winner had top time in class Saturday. While 2nd place driver David Rock took top time in class Sunday.
It was great to see Tom Kamman come up from San Diego in his C4 Corvette to support the CAM Challenge series. With SDR boasting one of the largest CAM-T classes in the country I suspect we might see double the total CAM turnout at the CAM Challenge in San Diego in June.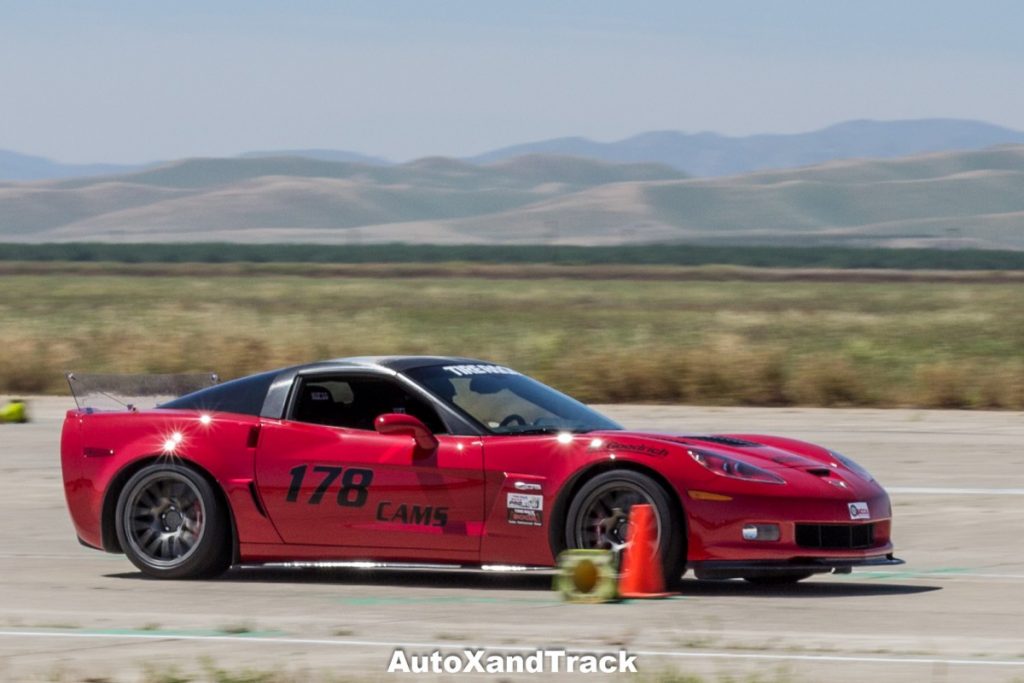 CAM-S Trophy Winners
Karlton Lew – 2006 Corvette
David Rock – 2001 Corvette
Dan Bullis – 2015 Corvette
Bryan Stewart – 1989 Corvette
CAM Challenge Shootout
One to rule them all. The CAM Challenge format for this event differed a bit than past years. The top 4 drivers from each CAM class regardless of time were entered into the challenge. If a driver chose not to participate the entry would roll down the list in their class. However, nobody declined their spot. There were three rounds to the shootout. Each round would eliminate the slower half of the drivers using the PAX index system. 12 to 6 to 3 with the final round deciding 1st, 2nd and 3rd places.
After running the whole weekend cone free I coned away the win in the final round to end up 3rd. But that's the way the autocross game is played. Top 3 shootout finishers were:
Karlton Lew – 2006 Corvette
David Rock – 2001 Corvette
Chad Ryker – 1968 Camaro
CAM Challenge Sponsors
Special thanks to the Following companies who sponsor the CAM Challenge series and help make it possible! The AutoXandTrack Camaro has parts on it from over half these vendors. Think of them the next time you are purchasing something for your car!