Original Owner 1968 Mustang; Continuously Autocrossed Since 1969
John Fendel and his 1968 Mustang have a long and amazing history together.  There aren't too many true one owner 1960's muscle cars left.  That in itself can make a worthy story.  However, the fact that John not only has owned this car since new, but has also autocrossed it every single year since 1969 is awesome!  John didn't even start keeping track of his wins in the car until 1986 but he has accumulated a truck load of first place trophies and Top Time of Day (TTOD) finishes over the years.   He also won 6 regional class championships and is currently sitting in 6th place for lifetime points in the SCCA Cal Club region.
John, his Mustang and autocross have changed over the years.  Read on to learn more about the special history this car and owner have.
Please give us an overview of your 1968 Mustang.
I came home from Viet Nam with $2000 in my pocket and $1000 saved during my teen years.  So, when I was discharged in 1968, I got a job and went car shopping.  In March I looked at both the 68′ Camaro and Mustang.  Having driven my Father's 67′ Mustang coupe to job interviews, I decided on the fastback Mustang in dark green with a 302 engine with a 4 barrel carb, 4 speed trans and a positraction rear end.  It also had manual steering and brakes.  I ordered it from the dealer and waited 6 weeks for delivery and I started customizing it immediately.  This included dual exhaust with glasspak mufflers, 14×7 American Racing 5 spoke wheels and Goodyear Polyglass tires.  I've been modifying the car ever since (it never stops).
Take a ride in John's Mustang (driven by Tom Berry):
When you first bought the car did you intend to autocross it?  If not, what sparked your desire to use it in Autocross? 
I had run some gimmick rallyes and seen an autocross or two before going in the service, so I was aware of them.  The Northern California Council of Sports Car Clubs (NCCSCC) ran autocross events at the Pleasanton Fairgrounds every month.  They were the go-to guys for autocrossing at the time.
Shortly after I bought the car, I received an invitation in the mail to join the Golden Bear Ford Mustang club.  Ford was big into the National Council of Mustang Clubs that ran drag races, autocross and rallye events all over the country through the participating dealers.  There were a half dozen clubs in the bay area and they had free use of the parking lot at the Ford plant in Milpitas. [Editor's note: such a thing is hard to imagine nowadays!]  It was an 1/8 mile wide by a 1/4 mile long with just 5 light poles in it and we could run open headers.  So I joined the Mustang club and started autocrossing in 1969 and I have autocrossed every year since.
Do you remember your first event in the car?  How did it do and how does it compare to today? 
I don't remember the first event specifically, but I still have a 1st place trophy from an event in 1969 and 1970.  My recollection is that I was competitive right away.  But I was just competing against other Mustangs and almost all of these cars were daily drivers, including mine.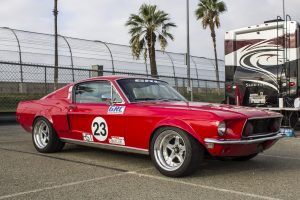 What we have today is way above what was available back then, both in new cars and parts availability.  There wasn't the factory and aftermarket parts available like there are today.  If you wanted to stiffen your car or wanted a stiffer sway bar, you had to buy factory parts from a heavier car or make it yourself.  I knew of a guy that wanted a bigger front sway bar.  He mounted two 1″ bars together. [Editor's note: Autocrossers still try this!  I know someone in the SDR region that did this not long ago.]
I wanted stickier tires so  I took Polyglass casings to Bruce's tires in Oakland and they retreaded the tires with a softer compound and 2 grooves  on the inside to make them street legal.  They were called cheater slicks and were a lot cheaper than Goodyear Blue Streaks which couldn't be run on the street.
With nearly 50 years of history, please share a favorite story or two with your Mustang. 
Funny story: In December 1968 the family were on vacation in Hawaii.  It was a rainy day and I and some friends decided to go to the movies.  We had just sat down and the previews came on.  There on the screen was the rear view mirror of a Dodge showing a certain green Mustang.  It was the trailer for the new movie Bullitt, starring Steve McQueen.  McQueen's Mustang looked exactly like my car and I briefly thought they had stolen it.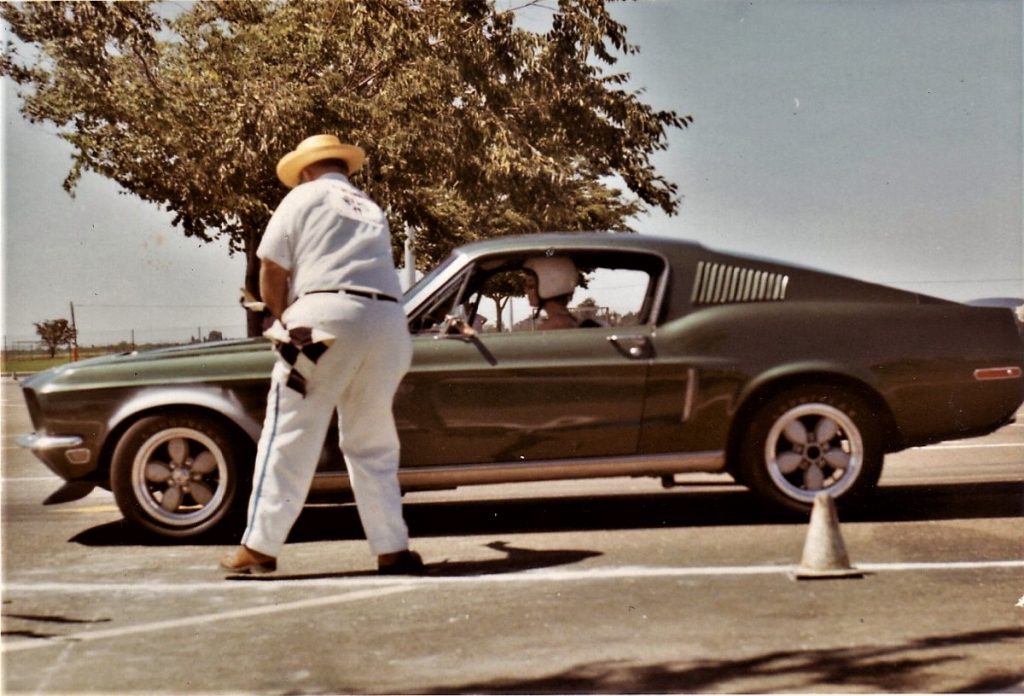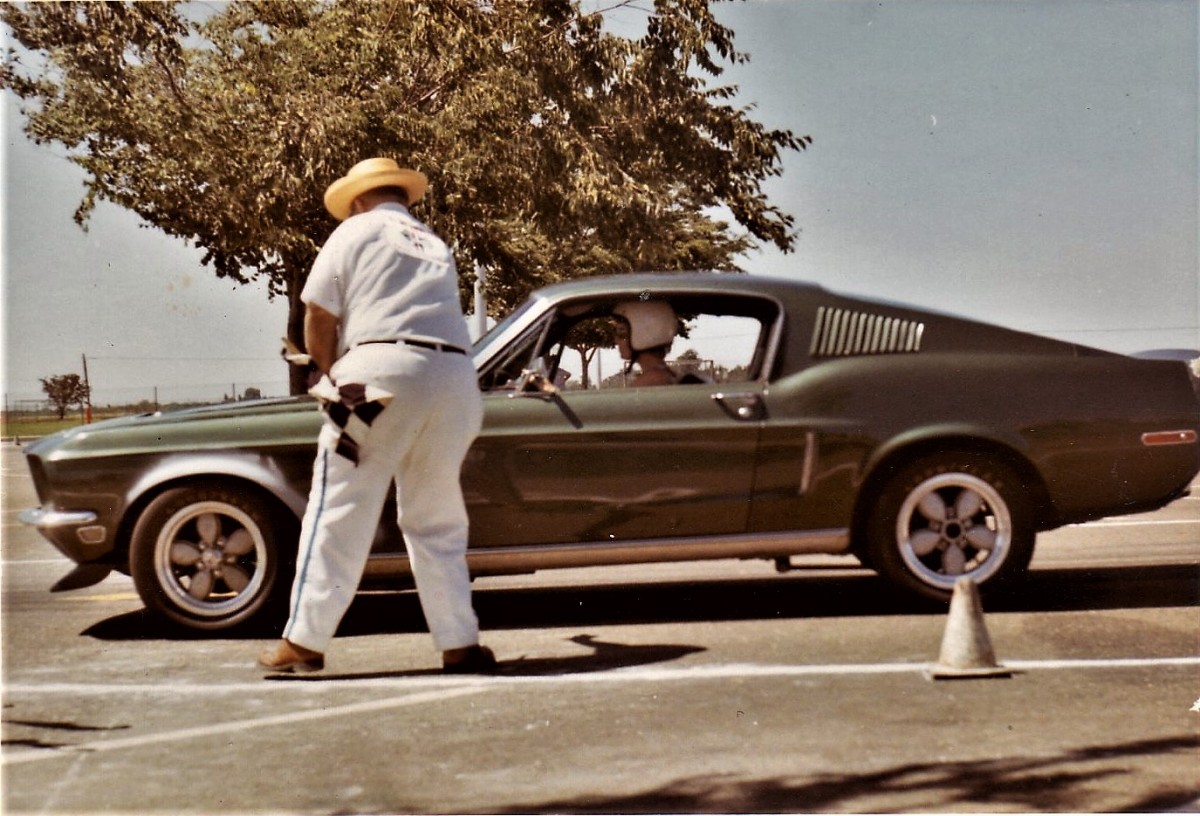 There was one time at Pleasanton where I was racing with SCCA and it was overcast.  CP ran in the morning, they didn't have Street Prepared classes at that time, and all the hot shoes liked to sand bag so they could see the time that they had to beat.  I made my runs in the first part of the group and set a good time.  Right as I finished my runs, the sky opened up with a down pour and all the other CP  cars were running on big slicks.  The other drivers were slipping and sliding all over the place.  Then, despite running in the wet, a multi-time national champion ran a time in his Camaro that just beat me.  That was an amazing feat of driving to watch.  So I was second in CP and in the top 10 fastest times of the day.  That is the only time that happened at Pleasanton.
I had come back to school for my junior year and we were putting on the first race for the college sports car club.  We were using the battery in my car to power the timing equipment so I would have to make my runs at the end of the day.  A friend and I had been competing all the previous year for top time of day at our races and he hadn't beaten me.  He had a 240 Z which should have been better suited to our small courses.  This day he had set TTOD early in the day and had mentioned that during the summer he had installed the Datsun competition kit on his car, stiffer springs, shocks and sway bars.  He was so confident that he would win, that he bought a nice German beer stein for the TTOD trophy.  At the end of the day we moved the timing equipment to another car and I made my runs.  My first run beat his time.  I made my other 2 runs to show it wasn't a fluke and I went faster every run.  I still have the beer stein.
How has the Mustang changed or evolved as you campaigned the car?
As  new ideas and technology have been introduced to the automotive market, I have evaluated the new parts and, if I think they can benefit me, I have adopted them.  This was true with the center mount torque arm, the fuel injection and performance chips.  I have gone through 4 or 5 different configurations of fuel injection manifolds and 3 different performance chips before settling on the ones I am using today.
The Autocross Mustang Mod list: 
Engine/driveline
The engine is a 68′, 302 cu. in. small block, bored .030 over with the 4 bbl heads and was assembled by Kaufmann Products.  The intake is an Extrude Honed, fuel injection manifold off a 95′ Mustang.  The throttle body is off a 95′ Cobra R, it has a 65 mm mass air vane and a K&N filter.  A Mallory distributor with a remote ignition sensor manages the spark.  A Bosch fuel pump provides pressure to matched flow, 24 lb injectors and the tune is provided by a DiabloSport Predator chip messaged by GRC Performance on their dyno.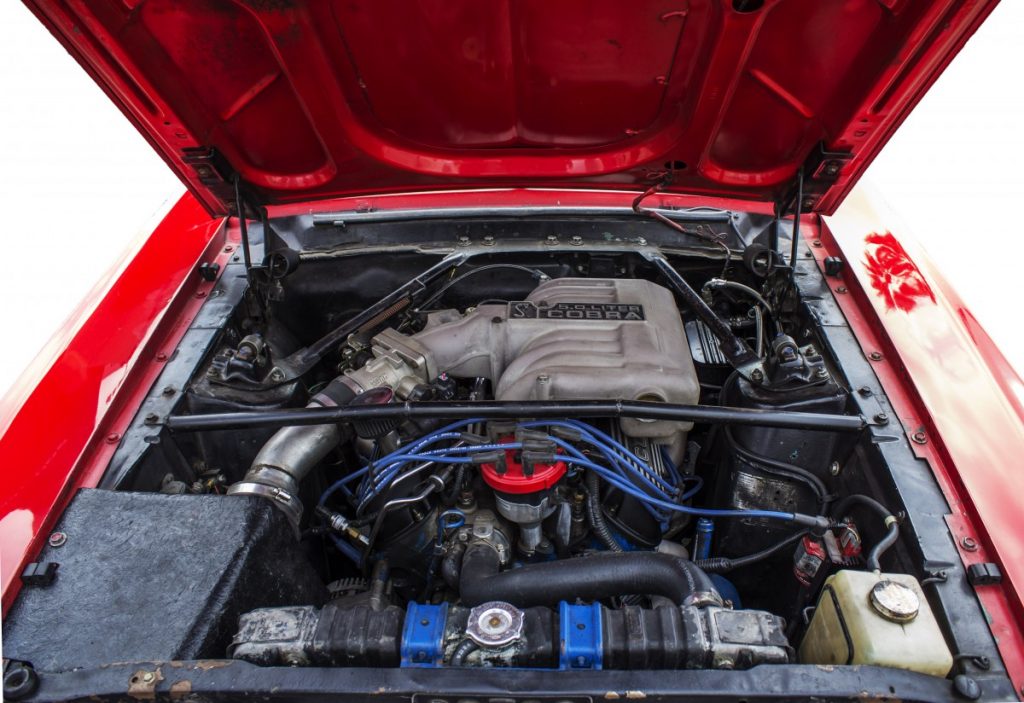 Power goes out through a McLeod aluminum flywheel, clutch disc and pressure plate to a close ratio top loader with a modified Hurst Competition Plus shifter to a 9 in. Detroit Locker TruTrac with a 3.89 gear.  Custom, stainless steel 4 tube headers feed 2 1/2 in. exhaust pipes with an X-pipe and Flowmaster mufflers.  The engine is cooled by a high efficiency cored, cross flow, big block radiator with a 16 in., thermostatically controlled fan.  I mounted the battery in the rear using the 70′ Ford Trans-Am Mustang kit.  Red Line synthetic engine oil, gear oil and grease are used throughout the drive train, with Water Wetter in the radiator.
Suspension
The front suspension uses 890 lb/in. springs with Koni double-adjustable shocks.  These are the same shocks that were used on the 70′ Trans-Am Mustangs.  I mounted a 1 1/4 in. hollow sway bar, Energy Suspension bushings wherever possible, a custom camber eliminator kit and tower-to-firewall and tower-to-tower bracing.  I used the Ford power steering pump with a cooler and a Flaming River worm and sector steering box.  The front brakes are the 67′, 4-piston calipers with cross-drilled rotors.
The rear brakes are Baer single piston and a Hydro Boost system supplies the pressure.  The rear leaf springs are center-pivot, 250 lb/in. with Koni double-adjustable shocks using a CobraJet staggered mount.  Pro Chassis fabricated a center-mounted torque arm and a Watts linkage.  There is also a Stambar 5/8 in. adjustable rear sway bar.  Custom fabricated subframe connectors are installed.
17×10 Bogart aluminum 3 piece wheels with 275/40ZR17 Falken Azenis RT615 tires are used on the front end.  17×11 Bogart aluminum 3 piece wheels with 315/35ZR17 Nitto NT05 tires are used on the rear.
Body
The all steel fender flares were made by my friend Skip McConnell over a month of nights and weekends.  I de-chromed much of the badging, tail light bezels and the antenna.  Replaced trunk lid with a Shelby fiberglass lid and corner pieces.  Recessed front license plate and added ducting.  Prukop Auto Body extended the front flares, made the side scoops and painted the body with Dupont Centari Super Red.  Lucas driving lights in the front grill.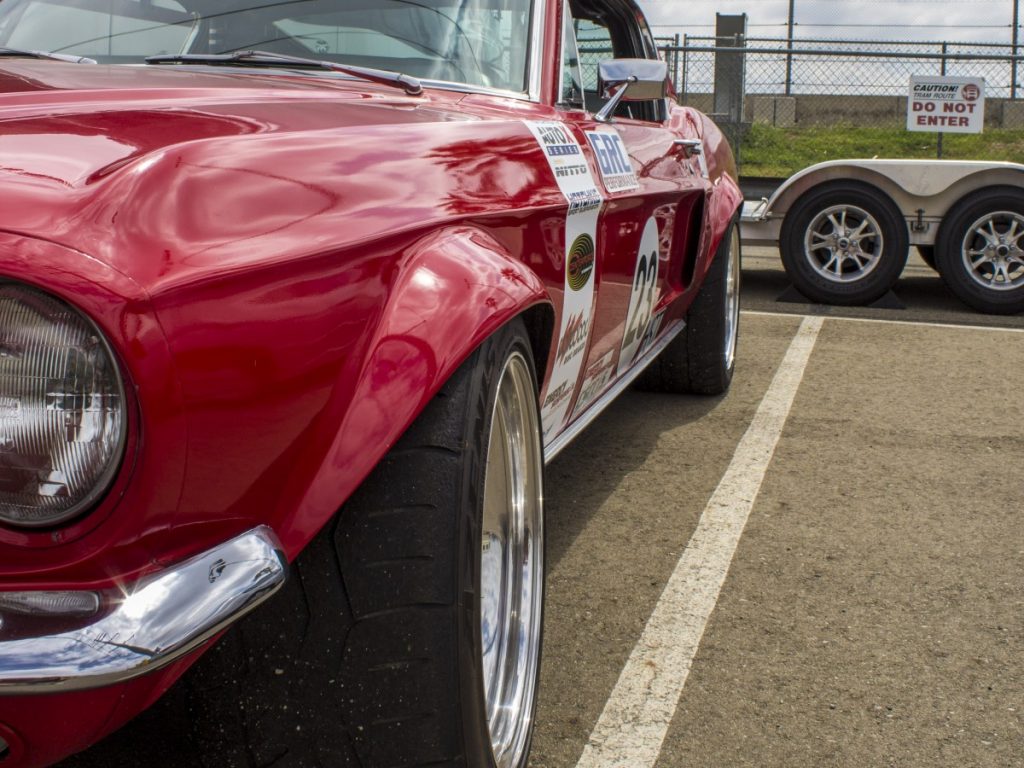 Interior
Basically stock interior.  I added a Sun Super Tach recessed in the dash, Auto Meter gauges below the radio bezel and a shift light on the steering column.  The seats are reupholstered in leather by my brother-in-law at Sproule Services.  I also exchanged the stock steering wheel for a smaller Grant wheel.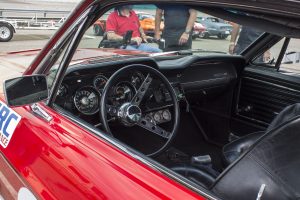 What was your favorite modification to your Mustang?
The fuel injection made the car much more reliable and drivable and the Hydroboost finally made the brakes work well.
What does the Mustang do best or what would you say the car's primary strength is?
Lots of vendors now make stock and/or high performance parts for the car.  You don't have to take just one manufacturer that makes some part, there are multiple vendors making parts.
When so many autocrossers constantly trade up to the newest and fastest factory offering what made you stick with this Mustang over the years?
Over the years I have fallen in love with this car, it is just a lot of fun to drive.  A lot of people that I have talked to at shows and on the street have said "I used to own a Mustang and I wish I had never sold it".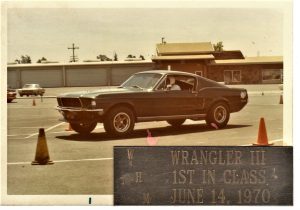 Are there any sponsors or others you would like to acknowledge for their assistance in getting your car to what it is today?
GRC Performance has helped me with a lot of the mechanical work and tuning the multiple configurations of fuel injection manifolds and performance chips on their dyno.  For a few years BF Goodrich and then Kumho have sponsored me with tires.  Red Line Oil sponsored me for many years and I still use their lubricants to this day.  Energy Suspension has helped me out with bushings.
I understand you want the car's legacy to continue and that upgrades might be in store?  What do future plans include and what do you want to see accomplished with the car at this point?
I want to install a rack and pinion steering assembly to finally get rid of the dead spot on-center with the factory worm and sector power steering box and reduce the number of steering wheel turns lock to lock.  I also want to change the wheel size to 18's so I have a better selection of tires to try.  There may also be a more powerful engine in the cars future.
[Editor's note: As John said these kinds of cars are never done.  Its a testament to the passion these kinds of cars generate that after 49 years of ownership and 48 years of racing John still has more upgrades planned!]
I'm running in a new race now.  After being diagnosed in January 2015, I'm racing for a cure for ALS.  You can learn more or support ALS research here: http://www.alsa.org/