Sean Fogli's 1968 F100 Track Truck: Built to Handle
Sean Fogli may be newer in the world of road courses and autocross but he isn't new to building badass cars and trucks. I first met Sean last year at the Optima Ultimate Street Car Association qualifying event in Thunderhill. Before meeting him, I had already read about Sean's F100 truck in a build thread on Lateral-g.net. So when I got to see it in person, Sean and his garage built truck's performance was impressive, especially for the first shakedown event. And since I got to see Sean drive the wheels off this truck two more times at the Las Vegas & Fontana qualifying events and again at the OUSCI this past November I knew I wanted to feature it on AutoXandTrack.com. Plus Sean is a super cool dude, so read on as we learn more about his killer pro touring F100.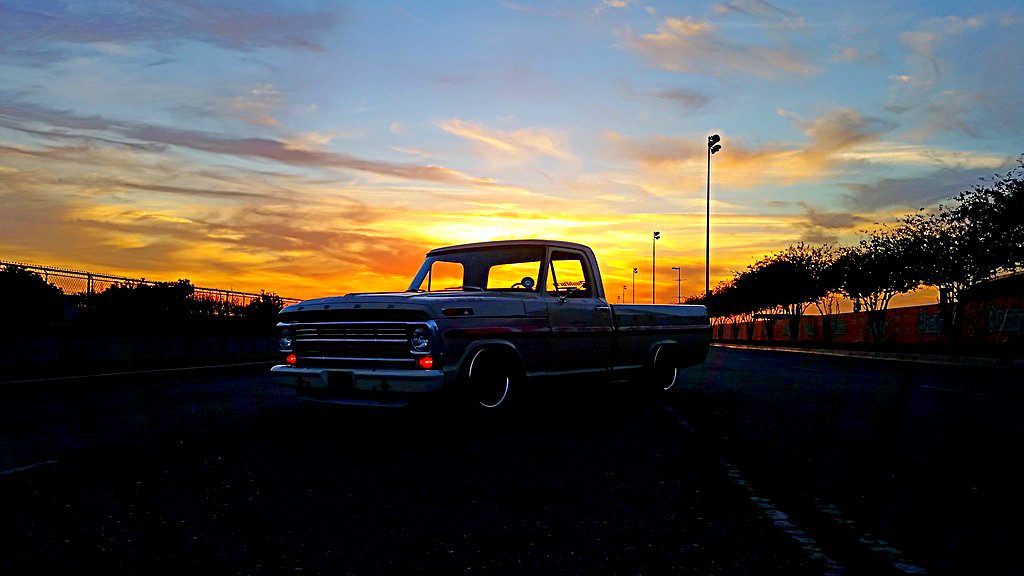 Please give us an overview of your truck (mod list later on in the questionnaire).
Well, it's a 1968 F100. I found the truck behind a friends of my dads shop in September of 2015, it was a mess, had been hit in the front and had moss everywhere. It had not been run or driven in years, four flat tires, brakes were all locked up but it had pretty good bones to it but for $500.00 including delivery to my house I figured it was a great start. I built another 68 f100 but it turned out to be more of a cruiser than anything and I get pretty bored standing around looking at stuff so I decided I wanted something I could do something with.
This isn't your first F100 truck build. What inspired you to turn it into a corner carver and is this your first corner capable build?
Dan Basher and Jason Rushforth….See I had a cool little 1981 Volvo 240 that I had swapped an LS and t56 into, it was a great little car, 30 mpg, 300 hp some nice 3 piece wheels and used it for some fun stuff, cruise ins and the like. Then I started on the turbo truck, it was a super fun project and met those two along the way through Lateral G and a lot of other great folks. As the turbo truck got near the end of the build, I already knew that it was way too nice for what I really wanted to do with it……drive it and drive it hard.
So I began to look at the next build, I figure that is the only way I am going to get better at building stuff is to keep doing it. After attending a few autocrosses and track days as a spectator, my buddy Dan told me about the Optima Search for the Ultimate Streetcar and that it was coming to Portland. I took the half of a Friday off work and went down there to check it out. And I got hooked. From that point on I knew I was going to build something to go fast around a track and that it was going to be a pickup.
I have a number of corner carving cars under my belt, a handful of Volvo 240's, a couple of fox body mustangs, BMW 135i and just finishing up an E46 wagon with an entire M drivetrain swap as well as another F100 for a friend.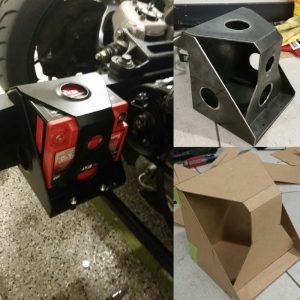 From your original vision for the truck how has the build evolved as you campaigned it?
Oh man, It started off simple, crown vic, coyote, 6 speed and three link, cheap wheels and get to the track. Then I learned that I needed to be a better driver so after the truck successfully made it through the Thunderhill event where I had about 60 miles on it before proceeding to beat on it for 2 days straight, I signed up for a few driving schools. First upgrade was to the brakes, I ditched the stock crown vic stuff on the front and retrofitted some C5 Corvette Calipers and 14" mustang GT500 rotors, replaced the stock rear mustang brakes with some larger GT500 brakes and vented rotors.
The next track day, the truck was better and I kept going to track days, autocrosses and some Optima events. Then it was time to upgrade to some bigger wheels and tires. The EBAY mustang wheels were gone and on went some 18×11 Rushforth Rated X wheels and Falken 295/40/18 615k's. The added grip was great, though it took a little getting used to. I started to get the hang of driving and really was pushing the suspension, the truck was leaning a lot through the corners so right before SEMA 2016 I pulled the suspension apart and swapped in some stiffer springs front and rear and rebuilt the track bar mount to get the track bar lower. It helped a lot.
Last year was crazy, I made it to 4 Optima Events, 2 local auto cross events, 3 instructor training schools and 5 SCCA Track Night in America events. Not to mention, a Ron Sutton Class in Colombus and of course the Optima Invitational and SEMA. [Wondering what it's like to drive in the Optima Invitational?]
Sean Fogli's F100 Mod List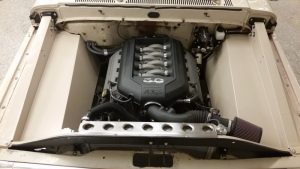 Engine/driveline
2014 Crate Coyote engine with Ford Motorsports Coyote control pack and electronic throttle pedal

MT-82 6 speed manual

Mustang 8.8 rear axle assembly
Suspension
2005 Ford Crown Victoria front suspension, mated to 1968 f100 frame

Custom 3 link rear suspension, based roughly off of the S197 Mustang but with optimized geometry
QA1 Double adjustable Coilovers, 550 lb springs front, 450 lbs rear
14" GT500 brakes on all four corners
Wheels & Tires
Squared Rushforth Rated X 18×11 wheels with custom metallic brown centers and polished inner and outer lip

Falken Azenis RT615K 295/40/18
Body
1968 F100, which still has hooks on the tailgate for tying down your hay =)

Munssey Speed front air dam and custom aluminum splitter
fenders all trimmed and rolled to fit the wide Falken tires
Interior
Completely custom restitched interior in dark brown

Double French stitch on dash

Custom center console, arm rests

Mustang seats for street duty, Kirkey Low Back Vintage buckets for track duty

5 point harnesses with a properly built and installed harness bar for tack duty

Fully functional Dakota Digital dash that looks like OEM gauges but is the VHX setup. They connect to the Coyote ECU through the OBDII port
Retrosound radio with Bluetooth and Pandora, custom speaker panels with hand built speaker grilles, one off from custom buck molds made by myself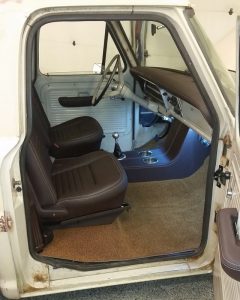 What is your favorite bang for the buck mod for the autocross or track?
Crown Vic front suspension with Lo Buck C5 front brakes and C5 calipers. It made a world of difference of how the truck performs and has really helped get my braking zone dialed in.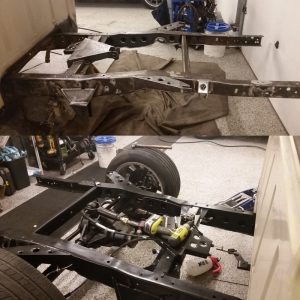 You have started a new BMW build recently. Is the truck considered "finished" or are there any changes planned for the future?
Its far from done, but I knew I did not have a full off season to build it this year. It needs even stiffer springs and new sway bars front and rear. It is in need of a full cage as well as some more power….you guys all have big power, my little 430 hp is not going to hang with the super cars running in Optima these days.
No build ever goes perfectly. What was the biggest challenge you faced in either getting this truck on the track or keeping it on the track?
Originally I bought a wrecked 2012 Mustang GT for the drivetrain, but after getting it fired up it had a slight tick that we could not figure it out. Even on the dyno you could not really pinpoint where it was. I drained the oil 2 weeks before Thunderhill and found metal in it. However, 4 hours later, we had the engine on the ground and I ordered a new one from Ford Racing. The new motor was installed and running less than a week before leaving for the Thunderhill Optima event. Later, we figured out that when the Mustang was wrecked it probably took out the thrust bearings in the bottom end. I still have the old motor…it will get built to handle some real boost in the future.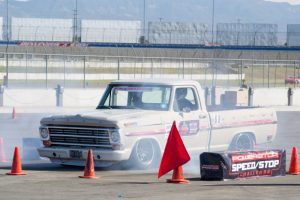 I've seen you race this truck in the Optima USCA and do open track days. Have you done any other events with it? Do you have a favorite?
I have done a driving school with Team Continental out at Oregon Raceway Park, 2 driving schools with Cascade Sports Car Club at PIR and received my HPDE Solo license, 5 SCCA Track night in America events and one ORPCA Autocross.
I love track days, it's something about the speed and multiple laps, I feel like I get a good bang for the buck. In the future I'm going to try my hand at more Autocross events with the truck and stick closer to home.
And is there anything you haven't tried with the truck yet?
I would love to try my hands at a hill climb event.
Have you tried the SCCA CAM class with your truck? If so how did you like it? If not, any future plans to do so?
Yes, this season I will be trying it, not a very big turnout in my area for the CAM class, but let's see if I can change that. [Editors note: I strongly encourage Sean or anyone to do this. In Cal Club, my local SoCal region, in one year we have gone from no CAM to it being one of the biggest classes!]
What is your proudest accomplishment with this truck?
Getting the K&N Spirit of the event award at Thunderhill and representing the garage builder at SEMA and the Optima Invitational have to be up there on the list. Additionally, I absolutely love the looks on peoples faces when I go to a track day and they pay no attention to me, then we go run a few laps and people have all kinds of questions. Definitely a fun truck at a track setting.
What advice would you give someone considering trying to make their truck competitive on the track or autocross?
Build a well-balanced truck, build the best braking system you can and get a lot of seat time. Learn from watching, riding and getting coached by fast experienced drivers. There is far more speed to be gained by seat time than there is with the newest fancy tires. Especially, if you are new to this. If you are a gifted driver or have a ton of seat time, give it more power than you think you need. Trucks are like a sail, get it low and spend the time and money on a properly setup suspension. It makes all the difference.
Are there any sponsors or others you would like to acknowledge for their assistance in getting your car to what it is today?
K&N Air Filters and Spectre Performance, Rushforth Wheels, ACT Clutches and Munssey Speed were a big help last year. Also a big shout out to Ron Sutton who has been helping me to get the truck rotating right and all my friends and family for the support. Looking forward to seeing what 2017 brings for the truck.