2017 NMCA Hotchkis Autocross Season Finale Recap
Written by Greg Thurmond. Saturday pictures by Arlo Oner of Aseyeseethings and Sunday pics by Laura Mckernan.
If you love autocross and live in socal you wouldn't of wanted to miss the NMCA West Hotchkis Racing Byrds Autocross season finale. People came from all over the southwest to participate in this premier event.  A few of them even made the trip from as far as Colorado and Arizona.  In fact, with finale sold out well before the event, Rob and Trish Byrd had people begging to get in.  But as they say "if you snooze you lose."
The event takes place at the Auto Club Speedway in Fontana CA where it tends to get warm and sometimes windy. While, the temps weren't too hot this time, the winds definitely took out a few easy ups on Saturday. It didn't stop the fun though or keep anyone away.
A bit of Background on NMCA Hothckis Autocross and this weekend's course.
The course was fast with a couple of technical sections as well. It didn't favor any car in particular as you will see in the recap all the different classes ran very close times to one another. Rob always does a great job setting up the course, and this was no exception. There are always areas where you can accelerate with full throttle and then brake as hard as you can to make a tight turn. Usually followed by a tight technical section that tests your patience and your car's ability to hang in a tight slalom. Rob's courses are easy to find your way around because all edges are clearly marked with chalk and cones and if you go two wheels off course you'll get a DNF (Did Not Finish). The chalk helps make it easy to see the next turn as well as alerting the course workers to an off track excursion.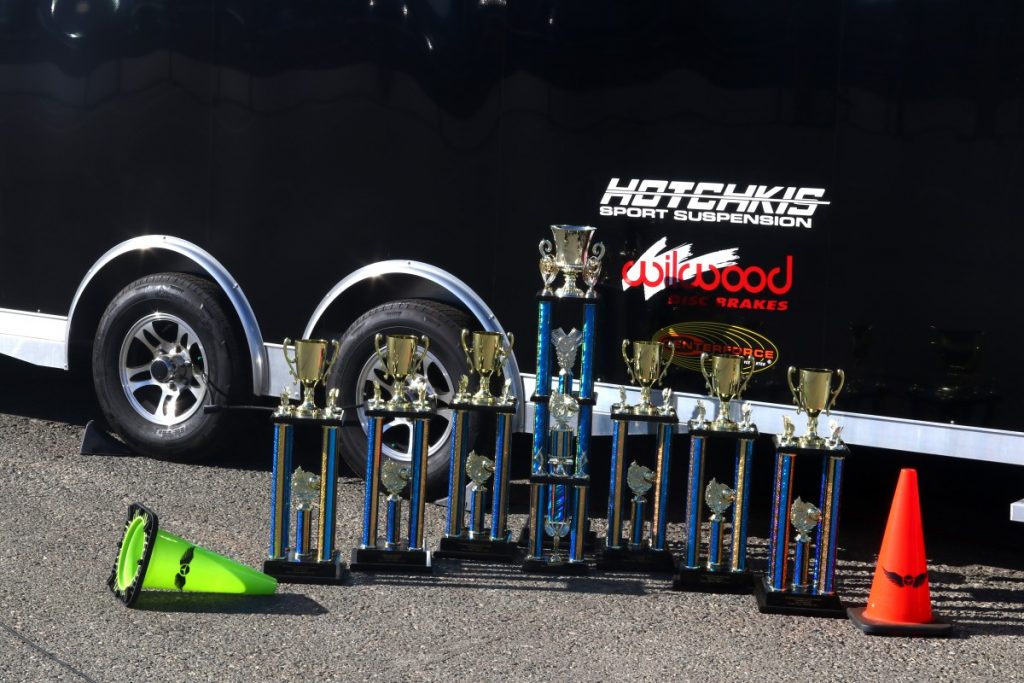 Rob likes his cones and appreciates those who don't demolish them. In addition to class winners, NMCA/Hotchkis events use an average of all runs to reward an overall winner for the weekend.  This system is also used for season class winners. They call this the Hotchkis Cup and this is what many of the competitors are going for. This adds a great aspect to the event knowing that every run is important to do well on, you don't want cone penalties (one cone hit equals two seconds added to your time) or an off course excursion that gives you a DNF, the dreaded 99.9 second run that will take you out of the cup competition completely. Every run counts in your average and this saves the lives of a lot of Rob's cones. Daily class winners also receive awards using the fastest single lap times.
Friday was available for a smaller group to do some practice runs if you signed up early enough. Friday is really meant for first timers to come out and get a feel for autocross. Now it's being called "cheaty Friday" by many because it does give the experienced drivers a chance to run the course in the direction it will be run on Sunday. Saturday the course is reversed from Friday and usually has a completely different feel to it.
Saturday NMCA Hotchkis Autocross Recap
Classic Muscle
Anyway onto the racing, It's Saturday and we were divided into ten run groups and told at the drivers meeting we'd get to run three laps each session, with three sessions for the day. There was about eighty cars participating so that's a pretty good number of total laps in one day. I race in the Classic Muscle class and it was a tight battle all day. Chad Ryker in his awesome 68 Camaro set the bar high in the first session with a very fast 31.4, I was in second with a 32.1 and Casey Cronin in his C3 was in the third spot with a 32.4. On my third run my ABS brakes stopped working and I skidded off course after the finish line and received my first DNF of the season. I have become more reliant on the ABS system than I ever realized until this weekend. And not having it was like learning how to stop again, which i never really figured out.
In the second run session Casey got ahead of me with a 31.9. And Chad secured his lead with an even faster 31.3 Our third run session got a little exciting as I took the lead from Chad with a 31.2 on my last run but Chad's run group was after mine so he still had a chance to beat my time. So Chad goes out and doesn't do it on his seventh run, or his eighth run but pulls a rabbit out of his hat with his ninth and final run and gets a 30.8 for the win and is faster than all Modern Muscle cars and only two tenths behind Eric Sheely's all wheel drive focus in the Sports Car class. The top cars in all three of the fastest classes were only separated by three tenths of a second at the end of the day.
Modern Muscle
In the Modern Muscle class Kurt Robinson went out and killed it in his first session with a 31.4 close behind in second was Paul Molina with a 31.7 and Greg Nelson in third with a 32.0. During the second session Paul gets a 31.3 and gets the lead but no sooner Kurt goes out and gets back in first with a 31.2. Finally, in the third session Kurt goes out a runs an even faster time of 30.9 solidifying his top spot with Paul getting slower in his third session, but he remained in second, Greg gets down to a 31.6 and remained in third. It's worth noting that Don Gonzales came in fourth with a 31.9 and Chris Stoner in fifth with a 32.2, this was a close battle between the top five all day.
Sports Car
Eric Sheely in his all wheel drive Focus was the car to beat running in the Sports Car class. This class is filled with C5 and C6 Corvette's, a 350z and some Evo's too, so don't think that Eric had it easy in his Focus. Scot Spiewak and Tom Kamman in their C5's kept the pressure on Eric as they continued to get closer and forced him to go even faster. Eric's fastest time was 30.6 which was the fastest time of the day as well. Scot was second with a 30.9 and Tom was third with a 31.3. Close behind in fourth was Dannie Pinard and Caesar Martinez in fifth.
Compact Class
The Compact class didn't have much of any battles going on. Sammy jumped out in the lead in his Miata early on and stayed there all day by bettering his times all day. He was able to get down to a very respectable 31.8 on his last run. Frank Farace in his Miata ran just behind Sammy and Troy Lyman held on for third in his Sky. [Editor's note: I've been wondering and we finally saw our first mildly prepped Miata show up to an NMCA Autocross and it took the win…]
Truck Class
The Truck class was lead by Wes Drelleshak followed closely by Mike Sullivan in second and Brandy Phillips running in third. Their times stayed about a half second apart all day. Not much drama there unfortunately.
That's it for Saturday and as you'll notice all of the class winners times were very close to one another. The fasted time by Eric Sheely was 30.6 in the Sports Car class and the slowest winning time being in the Truck class was Wes Drelleshak with a 32.1 with all the other classes falling somewhere between those two times. That's only 1.5 seconds between the winners of all of the classes. It just shows the the course leveled the playing field. The sections that favored high horsepower vehicles were equalized by the technical sections and the less powerful vehicles made up time with their handing.
Free Saturday Night Dinner Social
Saturday night there was a taco party at the track hosted by PCH Rods. It was a great chance for everyone to hang out and talk about their day or just stay and enjoy a nice meal. The dinner was a very fun evening that if we had thought about bringing some lights would have lasted much longer. Next time we'll bring lights! Thanks go out to the PCH Rods crew for their hospitality.
Sunday NMCA Hotchkis Autocross Recap
Sunday the course was reversed now we were going clockwise. Unfortunately it was not as exciting as Saturday. It seemed most of the competitors went out on their first run session and did their best times and sat on those for the rest of the day. For whatever reason the track just went away in the afternoon, might have been the warmer temps that caused it.
Classic Muscle
Tom Berry driving Michael Cuthbertson's gnarly 68 Camaro (aka "Killer Smurf") set the bar in Classic Muscle in his first session with a 33.1 and no one in Classic Muscle could touch him. Chad Ryker did his best time in the first session as well running a 33.4 and Michael Ericson ran a 33.9 and that's how they finished with the exception of Tom going even faster on his last run to get a 32.928. That run put Tom within .006 of the fastest time of the day by Eric Sheely in his Focus with a 32.922. Richard ["I'm still on leaf springs"] Trujillo wound up in fourth and Jane Thurmond finished in fifth which earned her the fastest Lady award for the second day in a row. I did my best run in the first session too and ended up eighth in Classic Muscle. Yes, Jane beat me and I couldn't be happier about it.
[Ride along with Jane on her fastest competition lap on Sunday]
Modern Muscle
The Modern Muscle class saw all three front runners getting their best times in the first session as well, and none of them changed positions after that. Paul Molina was king of the Modern class on Sunday with his first session time of 33.2, Kurt Robinson followed him with a 33.5 and Greg Nelson was third with a 33.7. It was all over after that as none of them would get any faster as the day went on. Sorry guys that was just boring. [Editor's note: Greg Thurmond said it, not me!] Congrats to all of you for your podium finishes but can you please make it more exciting next time. Pat Sheely and Greg Biddlingmeier rounded out the top five.
[Editor's note: There was some great action in modern muscle in the mid pack.  With emotions running high this battle led to a new term "autocross suicide" being coined.  Also, a certain 2015 white Z28 may have had another "accident" after losing to Paul's Mustang on Sunday]
Sports Car
Eric Sheely was fast man of the day again with his win in Sports Car class for the second day in a row. Eric also ran his best time early, a 32.9 with Scot Spiewak in his C5 Corvette grabbing second in his first session and Ceasar Martinez was third in his 350Z. Those positions held for the day and in fourth was Chris in his EVO and Dannie Pinard in his C6 Corvette made it to fifth.
Compact Class
The Compact class wasn't much different with the fast guys getting out in front first and staying there. It was Tommy Maiesca grabbing first followed closely by Sammy Valafor, both in Miata's, and Max Sigwart coming in third.
Truck Class
The Truck class had some changes in the early runs but Wes Drelleshak got into first right away with Brandy Phillips grabbing second only to later be passed by Mike Sullivan again.
Hotchkis Cup and Season Champions
There was an amazingly close battle for the Season Grand Champion. A three way tie between Scot Spiewak, Eric Sheely and Chad Ryker. All three of them had 188 points. Robert Byrd had to go back to the results from each event and count cones from the entire season to determine the winner. The driver with the least amount of cone hits would be the champion. It turned out to be Scot Spiewak [only 6 cones over the course of ~80 autocross runs]. Congratulations to Scot for the big victory!
The weekend Hotchkis Cup winner is Eric Sheely with Chad Ryker runner up.
[Midpack winner was Jason Flaherty]
Classic Muscle season Champion is Chad Ryker.
Modern Muscle season Champion is Greg Nelson.
Sports Car season Champion is Scot Spiewak.
Compact Car season Champion is Mark Allison.
Truck season Champion is Wes Drelleshak.
Season Grand Champion is Scot Spiewak.
Congratulations to all of the winners!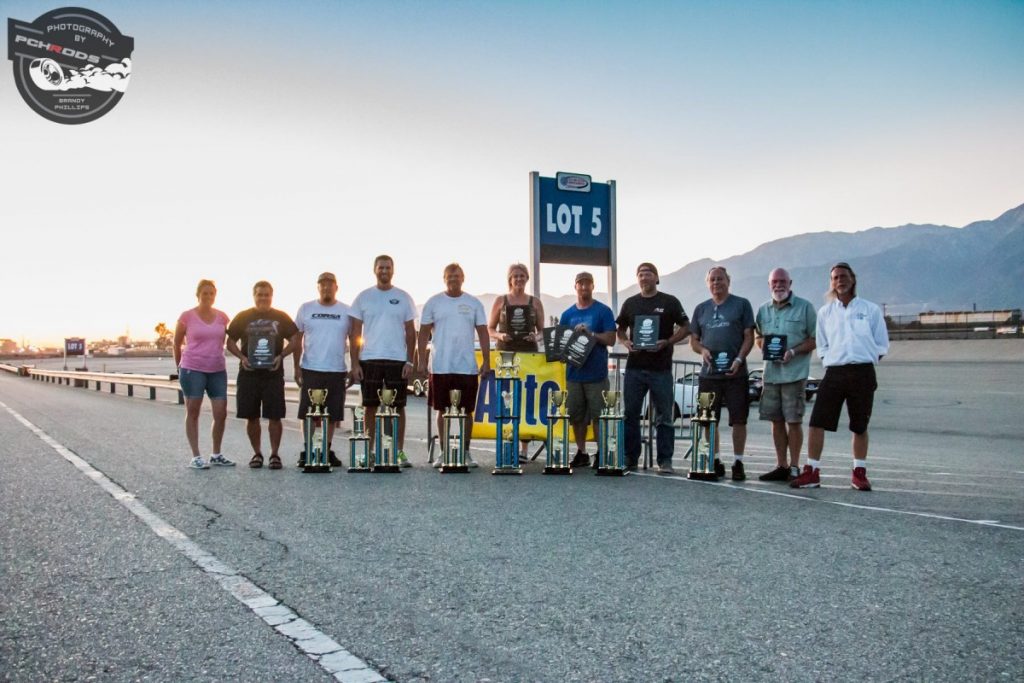 In case you missed it be sure to check out the September NMCA Hotchkis Autocross recap.