Street Machine Nationals Autocross Event Coverage
Street Machine Nationals Autocross
Pomona, CA
April 8-9 2017
Article written by Greg Nelson
The Street Machine and Muscle Car Nationals is an annual car show held in Pomona, CA.  Similar to Goodguys there is a spectator friendly autocross held within the event but without the model year restrictions.  A "Street Machine Challenge" was added in 2016 where for an additional $50, competitors could score points in the Autocross, Speed Stop and the Dyno Challenge to become the overall winner.  The logistical challenges of adding the Street Machine Challenge and switching autocross organizers last year may have scared some competitors away in 2017.  However, as you read on below, missing this event may have been a big mistake!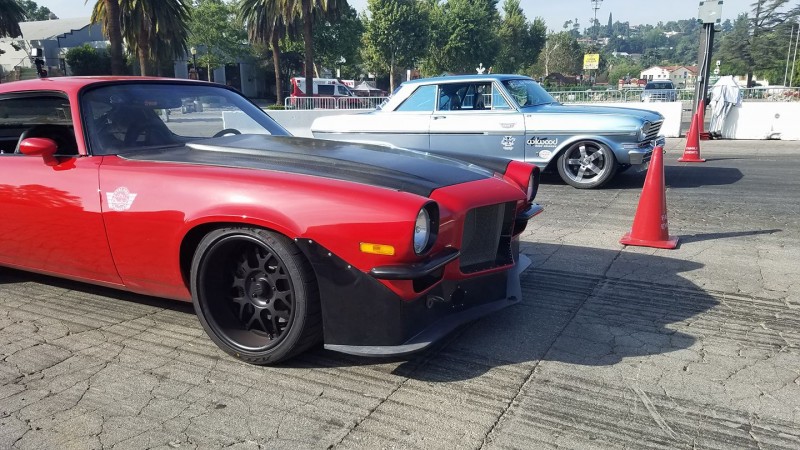 Autocross Layout
One would think an autocross would consist of many turns and slaloms with sweepers and some technical line to be followed but not this weekend. Instead, it was a Martinsville like course with a kink in the middle of a straightaway and a near death finish line. And, it was totally awesome! Roughly 9:30am on Saturday morning the voice of Justin Banner boomed out of the PA and was accompanied by the awakening roar of American Muscle.  Spectators ran for that precious front row spot to see the show and boy did they get one! Despite the lack of run groups nor some form of organization, we had no problem getting 30+ runs a day. Damn right, you read that correctly, 30+ runs a day! No run groups, no problem!
The folks from Jaycom Services laid out the most basic course possible on the roughest surface possible in the smallest area possible and I will say it again, it was awesome! Cars were divided up into five classes: Modern Muscle, Mid Muscle, Classic Muscle, Sports Car and a Pro class. You run when you want to and give up when you are too tired to go on.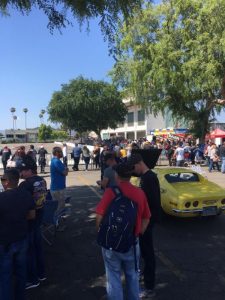 What It Was Like
Staged at the starting line, you can see the car before you run the whole course. Your mind is racing with trying to remember all 6 turns, go fast here go fast there, brake sooner, brake later… GREEN FLAG ! Hammer down out of the gate, make your left then foot to the floor as you scream by the grandstands with all of the cheering fans. Make your left 180 then into the single cone fake slalom, around the 180 sweeper and HAMMER DOWN across the back stretch for the fans again clinching that wheel to make sure you make the left turn to go through the lights. BRAKE, BRAKE, BRAKE !!!! Damn that fence is right there. Justin Banner screaming over the PA, you just ran a 30 second run, your worst time of the day but you have no clue because he made it sound like you just ran your fastest time of the day! What do you do now? Get back in line of course, you get to run again and again and again!
Video courtesy of Don Gonzales in his 2010 Camaro.
Saturday Class Winners
By lunch time Saturday, many drivers were scrambling and making adjustments. With such a bumpy surface the only course of action for some was to do more runs, drive harder and get better times. The day ended without an issue and it was soon time for the custom awards made by the autocross sponsor TCI Engineering.  Class winners: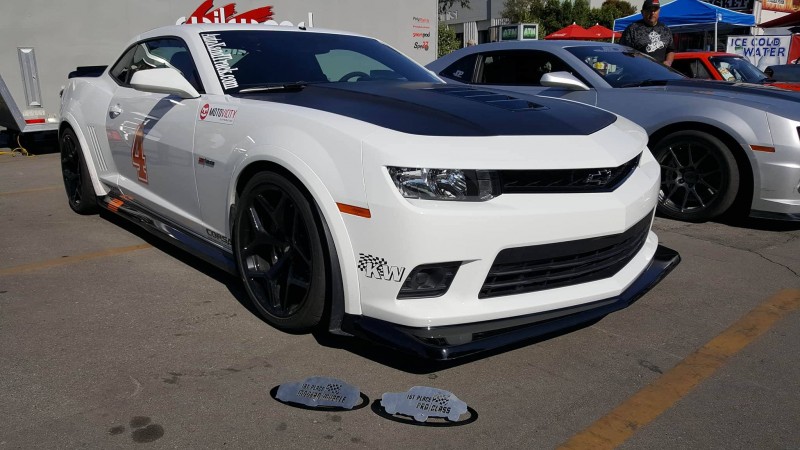 Greg Thurmond in his 1965 Corvette took both Top Time of Day and the Classic Muscle class
Ken Farell in a 1979 Trans Am won Mid Muscle
Greg Nelson in a 2015 Camaro Z28 won Modern Muscle
Gene Buell in a 2011 Corvette won Sports Car
Mike Heintz in a 2013 Mustang Boss 302 won the Pro Class
Sunday Class Winners
Sunday, the last day for redemption! Justin Banner called on the drivers to start the show and it was clear the drivers were pushing even harder. Saturday saw two drivers with times in the 24's and Sunday saw three drivers in the 24's. 25 second runs were still rare, but the 24 second runs were glorious! In this fight for low times and bragging rights drivers were pushing it to the limit. Including a small delay as a 2013 Boss 302 wanted to do Mustang things and spin out at the finish line.  The severed leg of a timer light and all 15 cones were quickly resolved and put back in their places. Bill Speed roasted his S10 tires until the metal cords were exposed. Also, the crowd looked on as a 1955 Belair did a big smokey burnout, came to a stop and proposed to his new Fiancee. Sunday results ended with: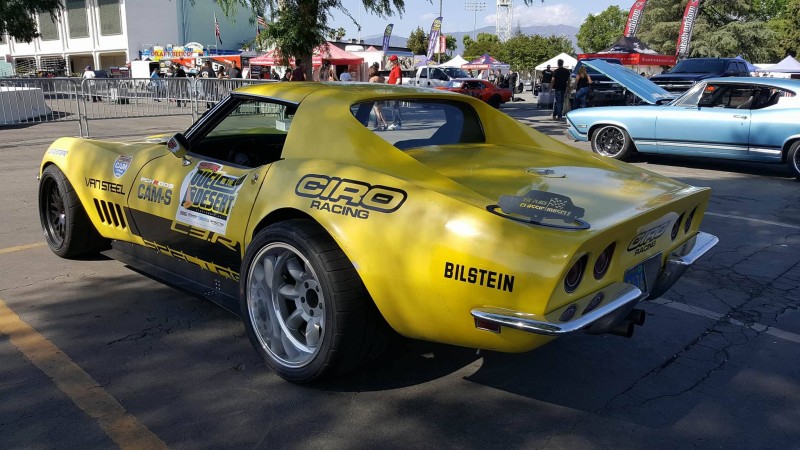 Rick Jung in his 1968 Corvette won Classic Muscle
Ken Farell in his 1979 Trans Am won Mid Muscle
Steve Pierik in his 1998 Camaro won modern Muscle,
Greg Thurmond in his 1965 Corvette again took top time of the day and this time won the Sports Car class
Greg Nelson in his 2015 Camaro Z28 won the Pro Class .
Did Someone Say Drift?

Team Sheely and Evan Dalley of TCI Wins the Street Machine Challenge
You know the night before an event, when you are looking over your fleet of badass American supercars and you settle on just bringing one of your 2017 ZL1's and that one Z/28 stashed in the corner? Ugh, gotta move both of the GT350-R's just to get to the Z/28. Yeah, Pat's a badass guy with some badass cars and this weekend he brought along hot shoe driver Wes Drelleshak in hopes of taking over the top 2 spots on the podium for the Modern Class in the Street Machine Challenge. Did he? Damn right he did! Pat scored the top spot by taking the autocross and speed stop points while Wes' hot shoe only worked on the dyno challenge. Rumor is that Wes held back on the other challenges in hopes of being allowed to return to compete "against" Pat at the next event. Congrats to Team Sheely!
Evan Dalley of TCI Enginnering won the Classic Muscle class in the Street Machine Challenge.  Despite the fact Evan works for the autocross sponsor TCI, we have it on good authority everything was on the up and up!  Congrats Evan.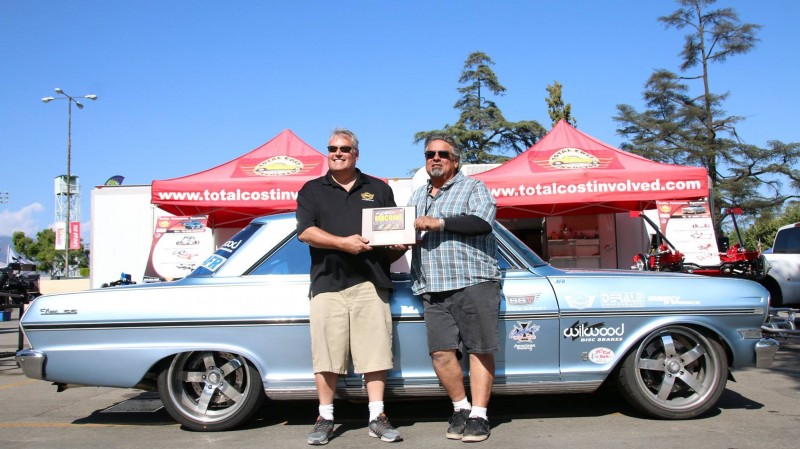 Notable drives
Every event has that one person that really just comes out of the gates and sets the pace for the rest of the field. This weekend we had the opportunity to see they dynamic duo of Greg Thurmond and his amazing 1965 Corvette in action. Greg's very first lap was blistering fast and he quickly laid out an unheard of 24.769 on Saturday. Of course, on Sunday he had to do better and ran 24.495 but he hit a cone!!! Due to this he had to settle with another top time of the day of 24.799. Congrats to Greg Thurmond and thank you for gracing us with your ninja like driving skills!
Camaroverhere and check this out
The Camaros definitely took advantage of the opportunity to run lap after lap. Also, there is a certain group of Camaro's that go to every event they can and push each other to the brink of full meltdown in order to find out who gains the bragging rights that week. Sleeper Steve Pierik and his 1998 Camaro reigned supreme on this one. Steve showed up on Sunday determined to smash on some ZL1's, Z/28's and a certain SS and he did it with class. Not a peep from this guy, Steve rolls out and nails a blistering hot lap of 24.878, second only to Greg Thurmond's 65 vette. Steve did this on lap 9 and was content with that and parked it for the remainder of the event while he watched the scrambling and desperation of adjustments from the other competitors. Congratulations on your Modern Muscle victory, Steve Pierik!
Wes Drelleshak and Greg Thurmond enjoying eachother's company