SCCA CAM Challenge at Crows Landing Recap
The Badboys of Autocross returned to the West Coast SCCA CAM Challenge last weekend at Crows Landing.  New for this year, the West Coast CAM Challenge was combined with a ProSolo event rather than the Match Tour format.  This attracted 26 ground pounding v8 powered muscle cars looking to prove their might on the concrete runways.
For those unfamiliar.  The ProSolo format is an adrenaline-pumping autocross where solo isn't solo. Drivers still run a course by themselves, but start off side-by-side drag racing style using a "Christmas tree."  You're run starts at the green light rather than when you break the start beam.  Which means, reaction times matter, red lights are possible, and 60′ times are measured.
Oh, and ProSolo is the only format with a tire warming burnout box!  In other words its a great match for Classic American Muscle cars!
Additional features of a joint ProSolo and CAM Challenge.
Want to know what's different between a regular ProSolo and a Joint CAM Challenge and ProSolo?
Individual class wins and trophies for CAM-T, CAM-C and CAM-S rather than just the overall CAM class winner.
A separate bracket on Sunday for CAM.  The bracket size with events fewer than 31 CAM cars is 8 and with more than 31 cars the bracket size is 16. The winner of the CAM bracket is declared the overall CAM Challenge winner and receives a large unique trophy.
Wilwood raffle for 50% off a Wilwood brake kit
Forgeline raffle for $2k off a set of Forgeline Wheels
Rosco Racin' Spirit of CAM award which includes a one day entry for the Evolution Driving school
Hospitality event on Saturday night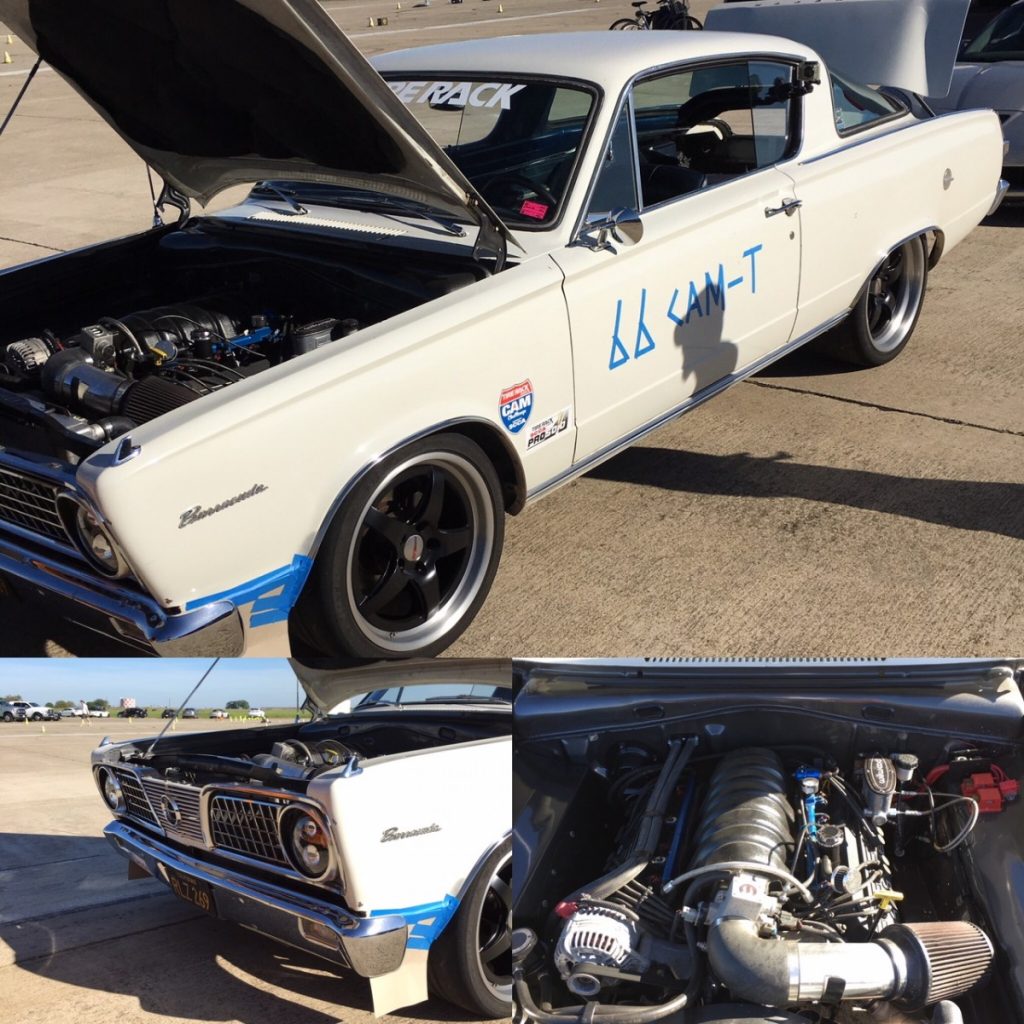 CAM Challenge Class Competition
Class competition takes place over 3 heats in 1.5 days.  Drivers get 4 runs (2 left and 2 right) during each heat for a total of 12 runs.  You're fastest left and fastest right time are added together to determine you finishing position.
Heat 1 – Saturday Morning
During the morning heat Dennis Healy in his CAM-C 2015 Mustang took the early overall CAM lead.  He was followed by Chad Ryker in the CAM-T 1968 Camaro in 2nd and Jordan Priestley in his CAM-S 2017 Corvette in 3rd.  After the first heat, the top 3 spots were represented by each CAM class!  In fact, the top 10 CAM rankings had multiple cars from each of the three classes.
After the morning CAM heat one of the announcers proclaimed Dennis Healy too fast to catch!  $5 and a beer was offered to anyone who could top Healy's times!  Healy won CAM in this event the year before and was the CAM Invitational winner at Nationals last year so it wasn't like he didn't already have a target on his back!
Heat 2 – Saturday Afternoon
Upon the completion of the Saturday afternoon heat there was some movement in the CAM ranks.   Chad Ryker and his 1968 Camaro managed to jump into the overall CAM lead with Dennis Healy and his 2015 Mustang slipping to 2nd.  Brandon Porambo rounded out the top three spots in the CAM-C 2017 Mustang GT350R.  The top 10 CAM ranks still had strong representation from each class with David Rock in his 2001 Corvette taking the top CAM-S spot.
As the sun set on a beautiful day at Crows Landing folks headed over to the Hospitality Event courtesy of Mike Maier Inc.  There were plenty of Nachos and Girl Scout cookies to go around.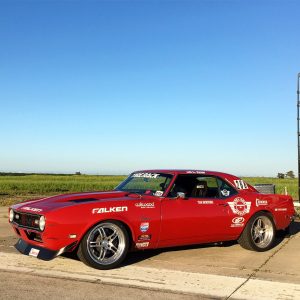 Heat 3 – Sunday Morning
Sunday morning is when most folks get their fastest times.  As other classes ran their heats some drivers were dropping big chunks of time.  CAM drivers would have 2 more chances on each course to try for a coveted trophy spot or a class win.  With a pair of red lights and a .9 reaction time on another run, Chad Ryker would fail to improve and have to stand on his runs from Saturday.  Dennis Healy coned 3 of his 4 runs and also failed to improve.  This left the door open for David Rock who dropped about a second off his combined time to jump into second place!
The overall CAM podium spots saw Chad Ryker taking 1st, David Rock taking 2nd and Dennis Healy taking 3rd.  Once again, the overall CAM podium saw representation by all three CAM classes.
Top three finishers in each of the three classes were:
| | | | |
| --- | --- | --- | --- |
| CAM-T | Driver | Car | Index time |
| 1 | Chad Ryker | 1968 Camaro | 49.18 |
| 2 | Michael Erickson | 1967 Chevelle | 51.012 |
| 3 | Todd Lilly | 1966 GTO | 51.023 |
Mustangs swept the podium in CAM-C!
| | | | |
| --- | --- | --- | --- |
| CAM-C | Driver | Car | Index time |
| 1 | Dennis Healy | 2015 Mustang | 49.802 |
| 2 | Brandon Porambo | 2017 GT350R | 49.919 |
| 3 | Mike Maier | 2017 Mustang | 50.05 |
| | | | |
| --- | --- | --- | --- |
| CAM-S | Driver | Car | Index time |
| 1 | David Rock | 2001 Corvette | 49.709 |
| 2 | James Carothers | 2002 Corvette | 50.865 |
| 3 | Jordan Priestley | 2017 Corvette | 50.951 |
CAM Challenge Bracket Shootout Results!
The top 8 fastest CAM cars qualified for the CAM Challenge Bracket.  ProSolo shootouts are just like bracket racing from drag racing.  In other words, each competitor has a dial and its the competitor that gets closest to their dial in that wins a round.  Consistency is key.  And to make things more interesting, the dial in time is your fastest time from the class competition, so sand bagging isn't easy if you want to win your class.  Finally, if you breakout you can still win that round but the dial in for your next round will be 1.5x lower than your breakout.  Aka, if you breakout by half a second your dial in will be lowered by three quarters of a second.  The winner of this bracket would take home the biggest trophy from the event and be the CAM Challenge winner!
The top 8 qualifiers in the CAM Challenge bracket were:
| | | |
| --- | --- | --- |
| | Driver | Car |
| 1 | Chad Ryker | 1968 Camaro |
| 2 | David Rock | 2001 Corvette |
| 3 | Dennis Healy | 2015 Mustang |
| 4 | Brandon Porambo | 2017 GT350R |
| 5 | Mike Maier | 2017 Mustang |
| 6 | Chris Cox | 2015 GT35oR |
| 7 | Paul Molina | 2017 GT35oR |
| 8 | James Carothers | 2002 Corvette |
Unfortunately, James Carothers bowed out of the challenge due to a failing water pump.  Instead number 9 qualifier Jordan Priestley took his spot.  The CAM Challenge had more than its share of of red lights and breakouts.  This made the CAM challenge exciting to watch but also hard to predict a winner before hand.  However, Jordan Priestley proved to have nerves of steel and won the Challenge!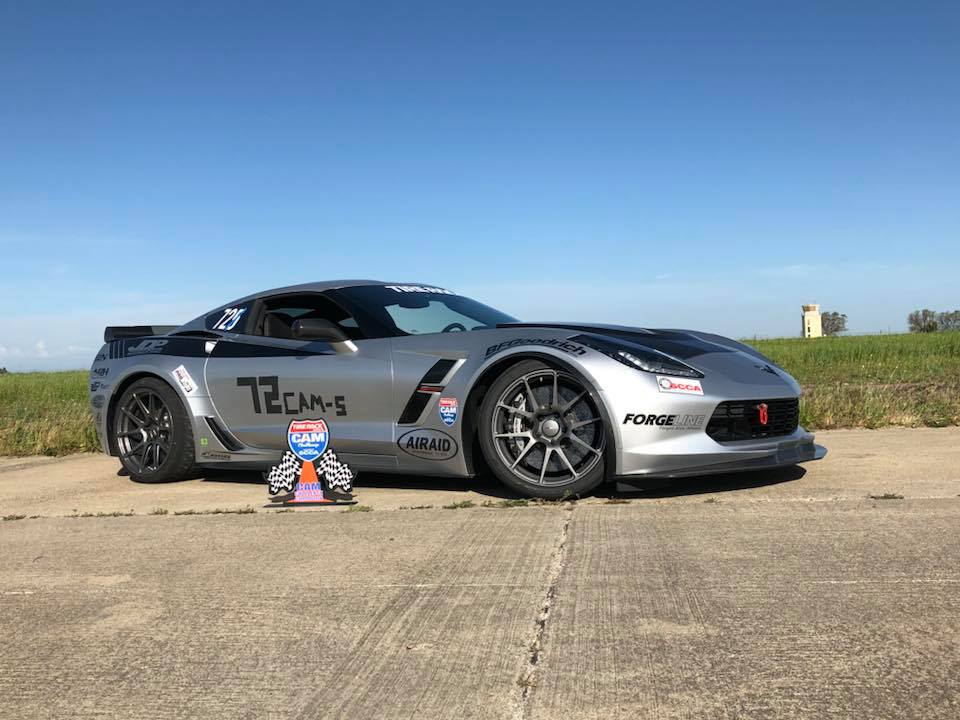 Cool trophies and bragging rights weren't the only things up for grabs at this CAM Challenge.  Other cool prizes included the aforementioned raffle prizes and Rosco Racin' Spirit of CAM award.  Glen Hernandez won the $2,000 off Forgeline Wheels.  Kim Jennings and Aaron Norton won Wilwood Brake 50% off certificates.  Crows Landing drivers nominated Ed Runnion for the Rosco Racin' Spirit of CAM Award.  This award includes a free entry to an EVO Driving School.
Check out the full results of the combined CAM Challenge and ProSolo here.
The next CAM Challenge takes place in Mineral Wells Texas June 2-3.  If you have a CAM car you owe it to yourself to check it out!
Special thanks to the CAM Challenge Sponsors: