Autocross Fox Body on a Budget
Danny Leetch's autocross Fox Body Mustang is the antidote to the claim that you need an unlimited budget to have fun or be competitive in series such as GoodGuys Autocross or the SCCA's Classic American Muscle (CAM) class.  Danny started regularly competing with his Mustang in local Socal autocross events about two years ago.  Mostly with the San Diego Region of the SCCA.  During that time both he and his Mustang have evolved from looking for a top 10 finish to becoming a regular winner and podium finisher.  It's worth noting that the San Diego Region consistently sees around 20 CAM-T drivers racing each month so Danny gets plenty of competition!  Since Danny's first love is the desert and high horsepower sand rails, his first foray into autocross needs to be done on the cheap.  Currently, his Mustang won't win any beauty contests but check out what a bunch of DIY elbow grease, craigslist shopping with $5k and a bit of luck can do.
Please give us an overview of your autocross fox body Mustang.  
A good friend of mine owned the car previously.  He had done a head and intake swap a few years back and couldn't get it to run.  During an unrelated phone conversation he casually mentioned that he had Ecology Auto Wrecking coming at the end of the week to take the car away. "CANCEL THEM! I'll be there tomorrow!"  I purchased the car for the exact amount that the wrecking yard had offered. Had the car running within 30 minutes of it being home. And then I tried to give it back to my friend for cash plus beer, but he was still over it.  From there, the build has basically consisted of parts that "found me."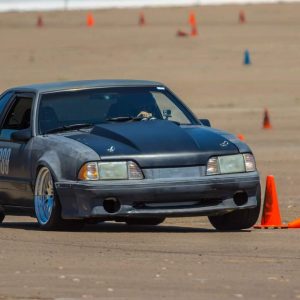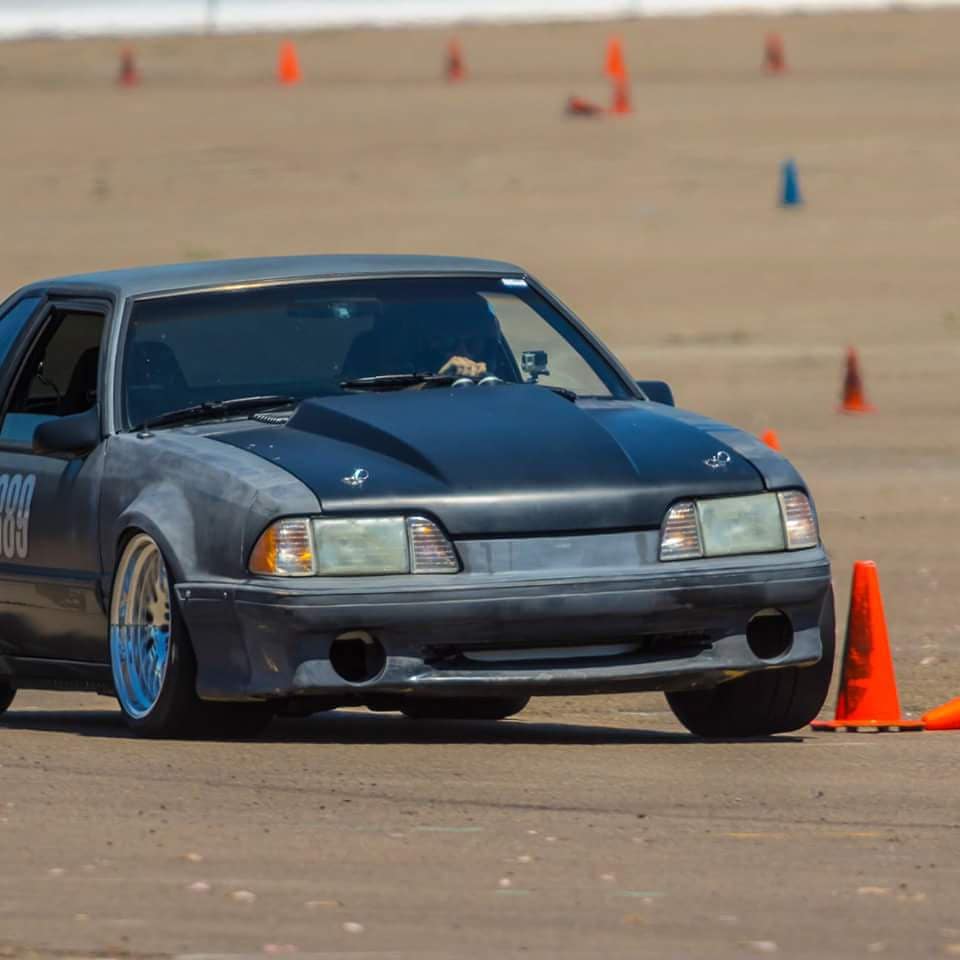 Did you plan to autocross the Mustang from Day 1 or what drew you to try it?
I frequented the "Race Legal 1/8th mile Drags" with my last couple mustangs, but I had always wanted to try autocross.  With the previous cars, I was always waiting for big brakes, better tires etc. Of course, those are the common excuses for those new to the sport.  I was determined to not let that happen this time around. My first autocross day was on rock hard tires, cooked shocks, stockish brakes, and it was a blast.  Wish I had tried autocross sooner.
Take a ride along on one of Danny's first place runs! (Sadly he hasn't read my article on an external mic to make your autocross videos sound awesome!)
How has the car changed or evolved as you campaigned the car and how does keeping it a budget built affect your plans?
There's a ton of work to do still, but the Mustang has changed pretty drastically over the last 3 years.  Suspension was revamped twice, multiple axle width and gear changes, brake system, all the steering etc.   The most visible change is obviously the "obnoxious" flares and "compensating for something" 315 front/335 rear tires.  All project cars and raced cars especially are ever evolving. The budget just means i'm shopping Craigslist instead of the Maximum Motorsports or the Ron Sutton catalog.
Autocross Fox Body Mustang Mod List:
Engine/driveline
Stock bottom end 302

SVO aluminum heads with 1.7 rockers

Trick Flow manifold

All the usual 5.0 bolt on goodies (TB, EGR Spacer, cold air, pullies, exhaust etc)

T-5

8.8 with trac-loc and 4.10s
Suspension
FRONT:
Barts Works SLA with AJE tube-K

Koni Coilover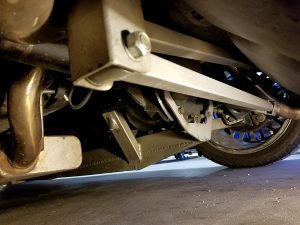 REAR:
Griggs Torque Arm and Panhard bar

Rear Springs are currently no-name drop springs, with tired Tokico shocks, but I've acquired some 2nd hand Koni SA Coilovers that will be installed within the week.
Wheels Tires
XXR 513's 18×11 with BFG Rival S 315's in front and 335s in back
Body
Glass' Cowl Hood

GT front bumper wtih Cervinis Cobra bumper extensions

Chicane23 Tiger Racing fender flares

The front fenders have been cut and pulled significantly in addition to the flares.

Full length welded subframe connectors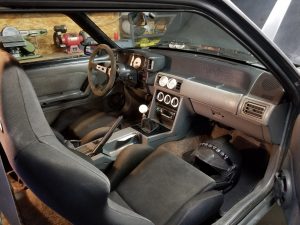 Interior
Tenzo R seats (with the foam cut out of the DS bottom… real custom like)

Crow Harness (lap belt only until I find time to build a cage)

E-bay dished steering wheel (a bit boy-racer looking, but helped seat position)

Autometer gauges/ pods
Do you mind sharing the budget and build up of major components?
Initial Purchase of the Car $300

18×11 XXR's $400

Current Tires $700

SLA $900

Griggs Rear $300

8.8 with Cobra disc $350
Including the cost of the racing consumables, and misc items I am about $5k into the entire project.  That is of course considering the "few hours" I spent are worth zero dollars.
What advice to you have to anyone else looking to build a budget oriented autocross muscle car?
Don't wait any longer than is necessary to come racing.  If your car is roadworthy then its autocross worthy. Racing is the only way to work on the "driver mod," even if that means getting your butt whooped sliding around with a spongy unprepped car.  Talking with the experienced guys at the track will prevent you from spending money in the wrong direction as well.
What has been your favorite bang for the buck mod?
Tires.  Without a doubt, going to the stickier tires made the biggest impact in my times.  I went from consistent top 10, to top 3 at our local events. Better still, the sport just gets more fun as the car starts to do what you tell it to.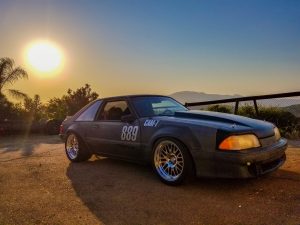 Is the Fox Body Mustang the best bang for the buck car in CAM-T?
I frequently hear that a Fox Mustang is an "easy car to make fast."  For me, it took swapping out everything under the car to make it competitive. Maybe i'm doing it wrong?  They are light cars, with a huge aftermarket community. I guess in that sense they are a good candidate for a CAM-T build.  That said, I think any car could be a potential for a fun budget build. I keep dreaming about an LS powered 2nd Gen Camaro.
What do you think the minimum mods are to make a Fox Body Mustang competitive in autocross?
The triangulated 4 link thats stock on a Fox Mustang is known for binding and suddenly unloading.  The front struts offer minimal adjustment and a poor camber curve. From the factory, chassis rigidity is "wet noodle" at best.  I would be very surprised to see a competitive Fox car that did not have at a minimum: Adjustable Caster Camber Plates, a stiffer spring and shock combo, subframe connectors, a "poor mans three link mod", panhard bar and of course some proper tires.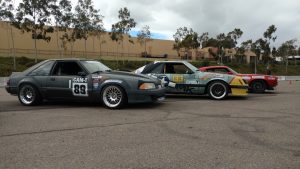 How big of a difference did adding the flares and making the fox body a widebody make in autocross?
I don't know that I gave the car a fair chance without the flares. Even with the most recent suspension, I was running an outdated tire (Nitto NT05's).  The car absolutely transformed with the more modern BFG Rivals S, but part of me wishes I had tried a 255 re71 before I jumped to the big tires, especially since I don't feel my skill level is allowing me to use the 315/335's to their full potential yet. [Editors note: sounds like a future testing opportunity…]
What types of performance driving to you use the car for? Do you have a favorite? And is there anything you haven't tried with the car yet? 
So far I've only raced autocross with this car.  I would love to run some open track and time attack type events once I have some proper safety equipment (i.e. cage, proper fixed seat, neck restraint etc.). Standing mile racing isn't out of the question either, even if it meant a second engine/gear combo.  I can't help but wonder what 200 mph feels like.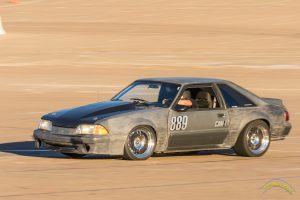 Are there any sponsors or others you would like to acknowledge for their assistance in getting your car to what it is today?
First, the SCCA San Diego Region CAM guys have been very helpful.  There are zero secrets about car set up, driving techniques, Carne Asada marinade etc.  Those guys are awesome. Last but not least, my beautiful wife does not share my enthusiasm for autocross or even our ugly mustang for that matter but she is nothing but supportive.  Without her sense of humor regarding my 1001 projects I wouldn't get to have all this fun.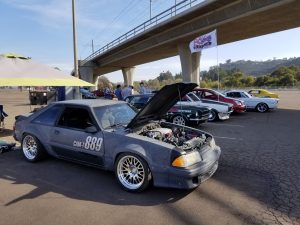 What are your future plans for the car?
Cage (collecting cans to fund 4130 tubing)

Paint-  Ford "Kona Blue"… I think…

More Power.

Beat one of those damn Skittles colored 1st Gen Camaros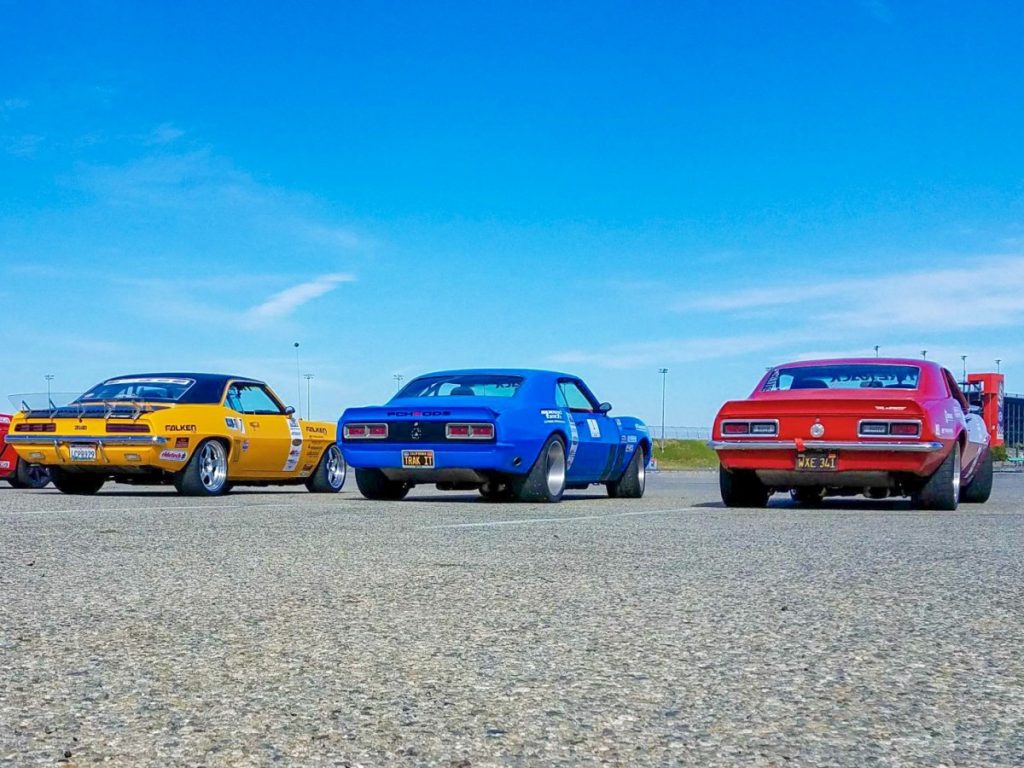 Like Mustangs and Autocross?  Check out our new YouTube Channel!
Featuring new episodes at least monthly with autocross or track action.  See the AutoXandTrack 1967 Mustang or our pro touring 1968 Camaro as well as some of the cool cars I find at events!  Here is a sample episode: