1993 Mazda RX7 Ultimate Street Car
Brian Johns and his Mazda RX7 are fresh off a GTC class win a week ago at NCM Motorsports Park. It's amazing to think that before last year, Brian Johns had never competed in an Optima's Search for the Ultimate Street Car event. Not only did he do his first event last year but he took home the 2018 GTC Season Championship.
In a very short time Brian and Tinkerbell have come to be a dominant force in the Optima USCA GTC class. Though, his first Optima USCA event was only last year, Brian has a long history of winning in this car. Brian, his wife, Tara, and best friend Dan form a trio of drivers who have won numerous SCCA National level autocross events. These include Champ Tours, Pro Solos and Solo Nationals itself. Dan won the 2009 SCCA SSM National Championship and Tara won the 2012 SCCA SSML National Championship.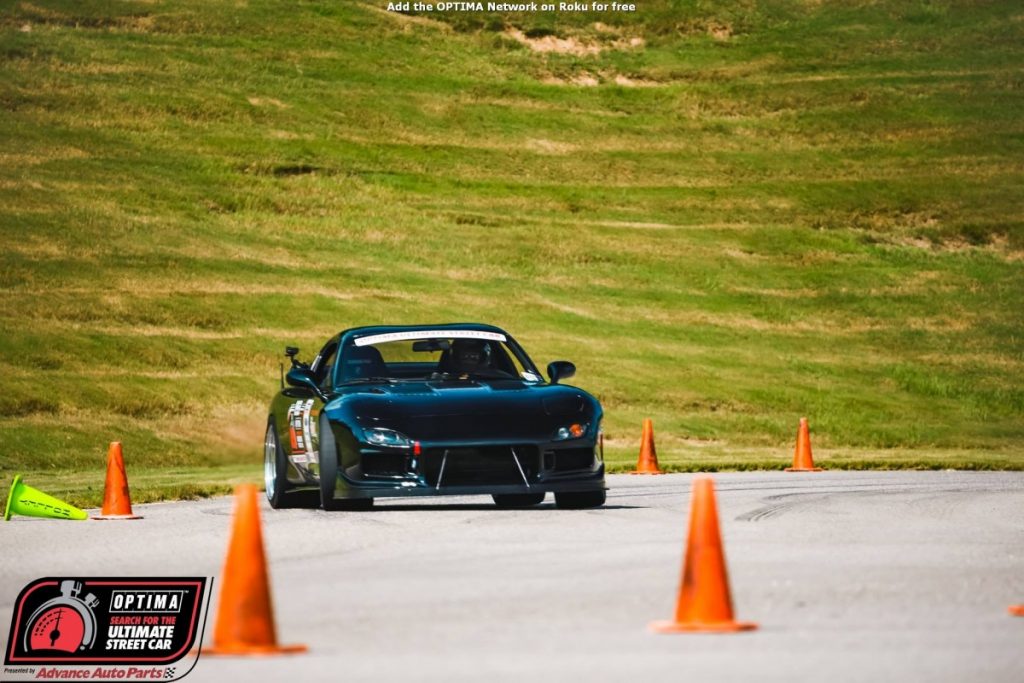 Please give us an overview of your 1993 Mazda RX7 Tinkerbell.
That first Optima USCA event was also at NCM Motorsports Park in 2018, where Brian took the GTC class win and placed 5th out of all cars across all classes. Which means he handily won the first timer award and got his entry refunded courtesy of series sponsor TCI Engineering. Brian followed up that first event with GTC class wins at Barber Motorsports Park and Road America as well as the 2018 OUSCI GTC Cup. By my math, Tinkerbell is now undefeated in in all 5 USCA GTC class appearances!
The RX7 is owned by my best friend, Dan Chadwick. He has owned the car since 1996 and started autocrossing the car a few years later. After some parking the car and campaigning a Corvette, he decided it was time to bring the RX7 out of retirement. He and I began building the car for SCCA's Street Modified 2 (now Super Street Modified) class in 2007. I drove the car for the first time in 2008 and began co-driving with Dan in 2009.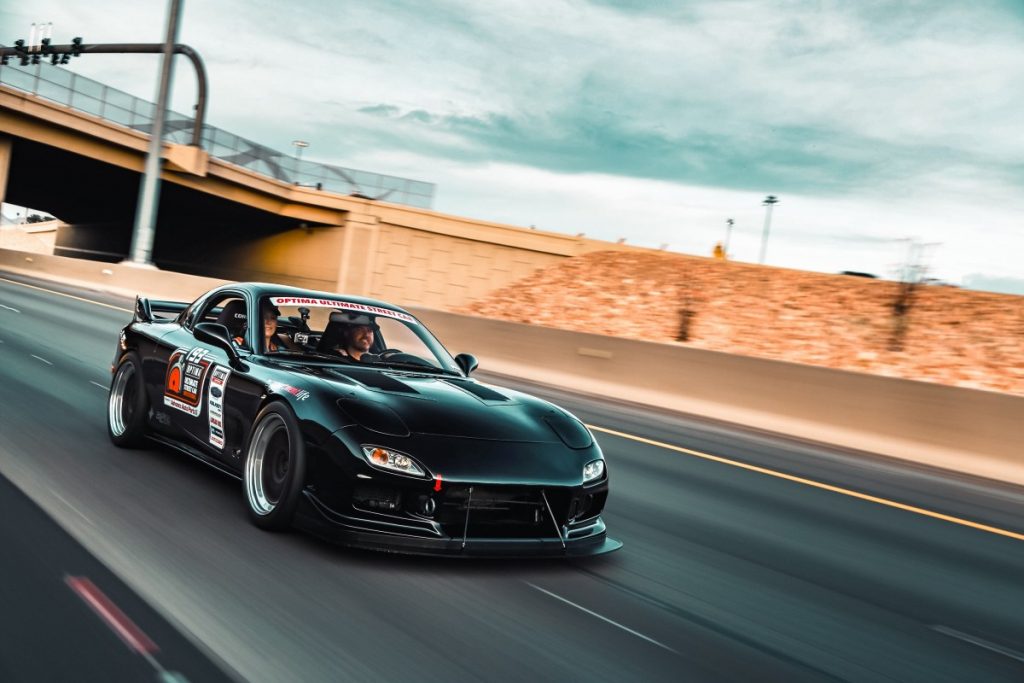 We competed in the car through the 2014 season, when Dan had some health issues that no longer allowed him to drive the car. My wife Tara and I continued to compete with the car halfway through the 2015 season, when we determined it was too much work for just the two of us and purchased a Corvette.
The car sat for the next several years, when I approached Dan about competing with it in Optima's Search for the Ultimate Street Car, so we began the transition to what you see today! The car has been stored in my garage since 2017 and there have been talks of me purchasing the car at some point in the future. I couldn't bear to see it go to another home after all of the blood, sweat, and tears we have poured into this car.
How did an autocross RX7 come by the nickname Tinkerbell?
It is actually a pretty entertaining story how Tinkerbell got her name. During one of the early engine builds, on first start the car began to make a "tink" sound as we came up on the revs. As it turned out, a small screw had gotten dropped into the turbo manifold during the rebuild. As the revs would come up, it would blow the screw into the turbine wheel creating the "tink" sound. Luckily, we found the screw and there was no damage to the engine or turbo. We decided then her name would forever be Tinkerbell.
How has it changed or evolved as you campaigned the RX7?
There has been a continuous evolution of the car over the years. In the early days, it weighed just over 2700 lbs., had a twin turbo setup, revalved Koni Yellows with fairly light springs, and 315 rear and 275 front tires on 17" wheels with modest aero. We worked to drop the weight on the car, getting it down to 2522 lbs. at it's lightest in SSM trim. The Koni Yellows were later replaced with Koni 2812 Double Adjustable race shocks and the spring rates were increased at the same time.
One of the biggest changes to the car was the switch to a Borg Warner EFR 8374 single turbo. That not only allowed the car to have as much low-end power as the twins but also allowed us to make far more power up top along with simplifying much of the complexity under the hood. Reworked front fenders and a C-West front bumper allowed us to go to 315mm tires on all four corners and we made the change to 18" wheels around the same time.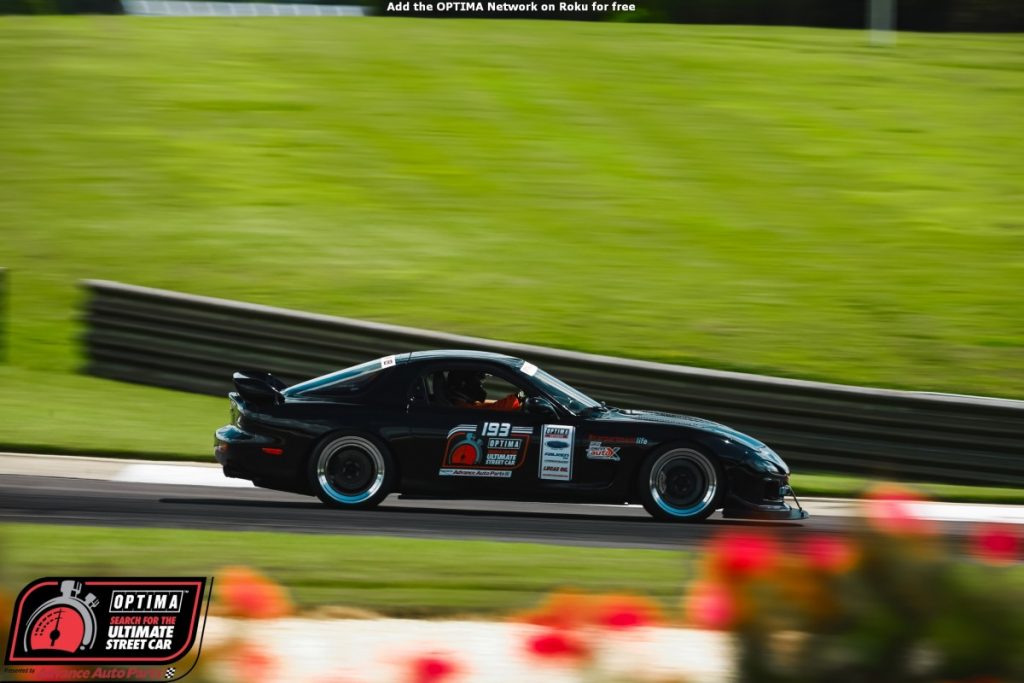 A more aggressive front splitter was then fabricated to help with the front aero. We always kept the car as presentable as possible. But when the decision was made to compete in the Optima events, we upped our game. The large dual element wing had to go in favor of a '99 spec Mazda RX7 adjustable unit to meet the rules. Also, we added many of the creature comforts back which aided in getting the car to our minimum weight of 2650 lbs. Custom upholstered race seats and other interior accents along with a complete clean-up of the engine bay bring the car to the point it is today. We recently added a sub-woofer in the hatch and a carbon fiber rear diffuser as well.
Can you share any initial impressions on the aero and engine changes you recently made and used for the first time at NCM Motorsports Park?
The new engine feels really strong, and that became very evident on the road course as I went across "table top" the first time at NCM. Last year I was able to flat foot that section without much drama, but this year on my first full lap, let's just say I'm still pulling seat fabric out of my rear! The speed that the car had was startling. The rear diffuser was not as noticeable, but the car did seem very stable. Road America will be a better test for both of those I'm sure.
What is your favorite bang for the buck mod on this car for Autocross or Track?
I would have to say my favorite is the Borg Warner EFR 8374 turbo. That coupled with the Full Race manifold cost more than a few bucks but created a lot of bang. The power delivery of the single turbo makes the car so much better to drive and allowed us to get to a power range we would have never been able to get to with the twins. It also greatly simplified everything in the engine bay allowing a much cleaner look. Not to mention the ease of troubleshooting problems is so much better now.
What would you say the car's primary strength is?
I think the car's primary strength is its light weight and agility. It has proven to be very competitive with the top cars in the series on the autocross and speed stop segments. And that's despite sometimes having a fraction of the power that those cars make. I attribute much of that success to the weight and agility. Physics tells us that changing directions of a lesser mass requires less force. That is how we are able to achieve equal results with less power.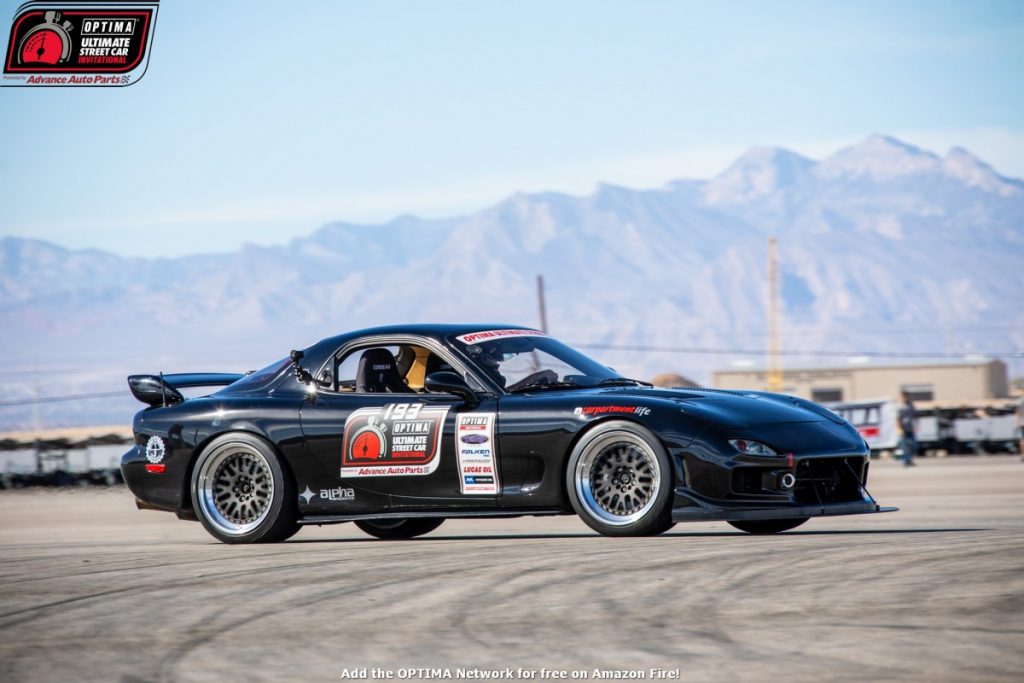 Do you still use this car in any other series? Do you have a favorite? And is there anything you haven't tried with the car yet?
As mentioned before, the car was primarily used as an SCCA autocross car in SSM up until 2015. But since has been used in the Optima USCA series as well as Optima Drive AutoX. I personally like the Optima USCA series the best because it showcases the car in several different ways. In the future, I would really like to see what the car is capable in the quarter mile.
What's it like bringing a Rotary powered RX7 against all of the high powered V8 cars in Optima? Has this changed how you build the car?
With so many people swapping RX7s to LS power, I get a lot of thumbs ups and pats on the back for keeping the car rotary powered. Many people may not know that I am not just a rotary guy or an import guy. I'm just a car guy. I have vehicles in my garage with engines ranging from old school Big Block Chevys, to LS power, turbo and N/A 4 cylinders, an inline 6 and of course the rotary.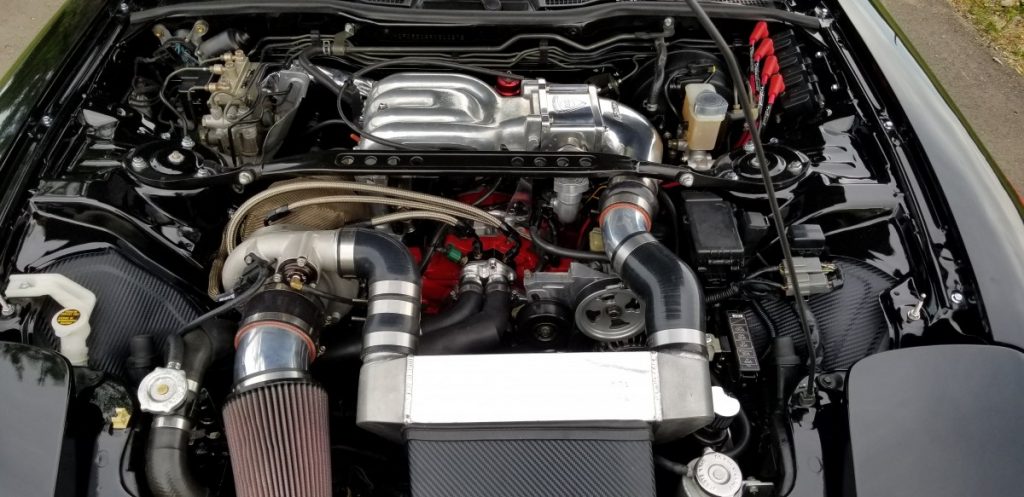 The rotary will never have the low-end grunt of a V8 which changes the way you have to drive it. Some autocross courses aren't as friendly to us if they do not allow the car to get in the power band. Honestly though, it hasn't really changed our approach with the car. We built what we think is the Ultimate RX7 in hopes that it can compete as the Ultimate Street Car.
What are your future plans for the car?
Future plans include continuing to make the car present better in Design and Engineering. That includes some more interior upgrades, fine details that stand out and potentially a full respray of the car. Other areas that we feel can be improved are the braking on track. And maybe adding a bit more boost to close the gap to the high powered cars on the road course.
List any and all mods you wish to highlight
Engine/driveline
1.3 Liter 13B-REW Rotary Engine
Balanced Rotating Assembly
Xcessive Lower Intake Manifold
JDM Upper Intake Manifold
Rotary Works Throttle Body and Turbo Manifold
Borg Warner EFR 8374 Turbocharger
Davies Craig Electric Water Pump
Sakebomb Garage IGN-1A Ignition
Upgraded Fuel Pump, Regulator, and Injectors
Devil's Own Water Injection
Greddy Profec B Spec Electronic Boost Controller
APEXi Power FC ECU
K&N Air Filter
Custom Intake Pipe, Intercooler Piping and Intercooler with Air Ducting
3" Stainless Downpipe and Exhaust with a Burns Stainless Ultra-Light Race Muffler
Exedy Clutch and Lightweight Aluminum Flywheel
Aluminum Driveshaft
Kaaz LSD with 4.44:1 ring and pinion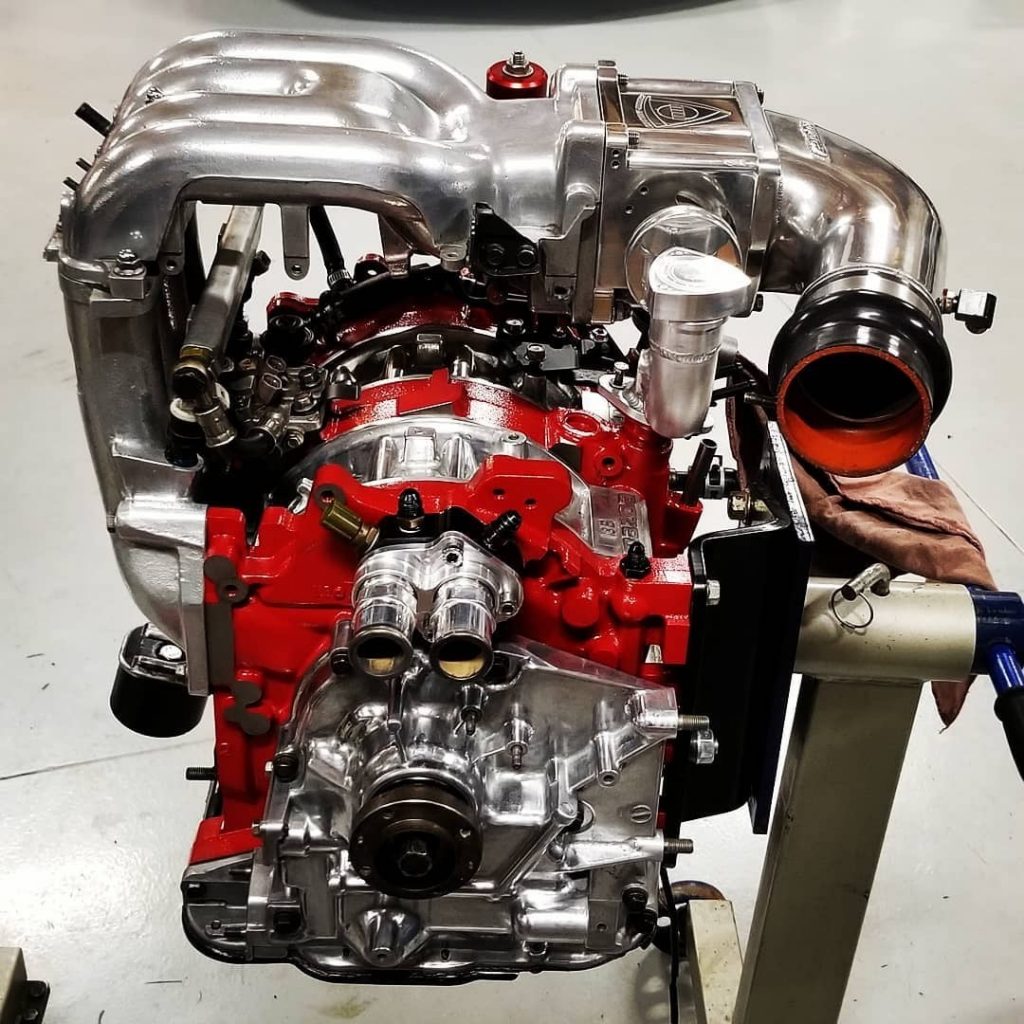 Suspension
Koni 2812 Double Adjustable Aluminum Race Shocks
HyperCoil Springs
Tripoint Front Sway Bar
Wide Foot CNC Front Sway Bar Brace
Heim Jointed Tubular Front Upper and Rear Lower Control Arms
Heim Jointed Tubular Rear Toe Links
Nylon Suspension Bushings
R1 Front Strut Bar
CCW Classic 18"x11" Wheels
315/30-R18 BFGoodrich Rival S 1.5 Tires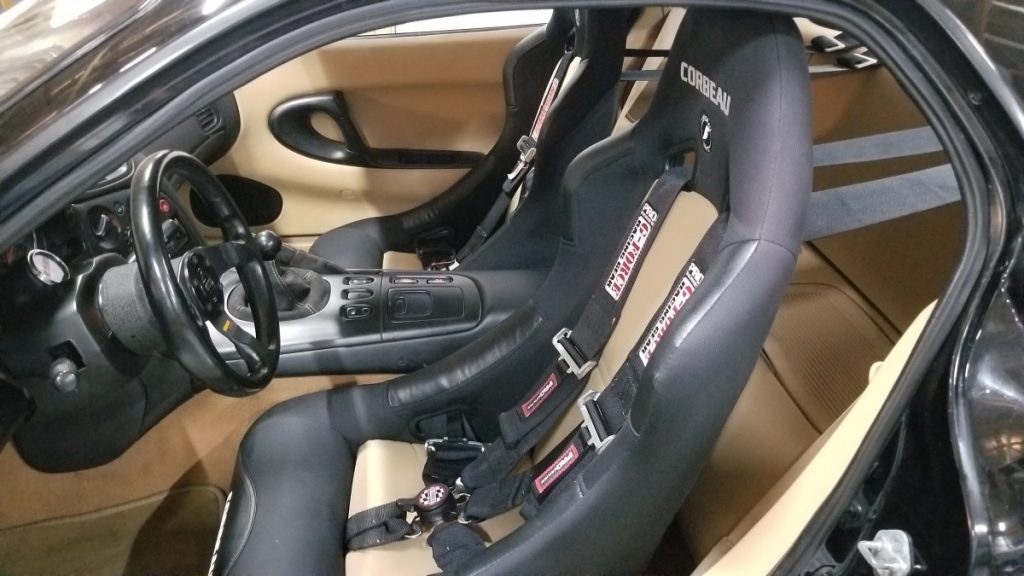 Body
Brilliant Black Paint
Flared Fenders Front and Rear
C-West Front Bumper
'99 Spec Combination Lights
Front Splitter
Carbon Fiber Rear Diffuser
Run Cool Hood Vents
FEED Side Skirts
'99 Spec Wing
Quik Latch Hood Pins
Custom CNC Machined Tow Hooks
S2000 Antenna
Interior
Corbeau Forza Race Seats
6 Point Race Harnesses
Pettit Boost Gauge Pod
Tri-Power Center Gauge Pod
Autometer Boost and Fuel Pressure Gauges
Innovate LC1 Wideband O2 Gauge
Momo Steering Wheel
Alcantara Shift and E-Brake Boots
JVC KD-X255BT Digital Media Bluetooth Receiver
Rockford Fosgate Prime Component Audio Speakers
JL Audio 10" Sub-Woofer powered by 300W Amp
I think if I recreated Tinkerbell with a 600+ hp LS, that the car would be a stellar GTL car. Maybe someone should try that?
Any tips you care to share with anyone contemplating an RX7 build for autocross or a series like Optima?
My advice would be to keep things as simple as possible. These are complex cars with complex engines and anything you can do to simplify things will help you in the long run. Focus on getting as much tire under the car as possible and work on the suspension first. These cars are still really fast without getting big power out of them right away. I think if I recreated Tinkerbell with a 600+ hp LS, that the car would be a stellar GTL car. Maybe someone should try that?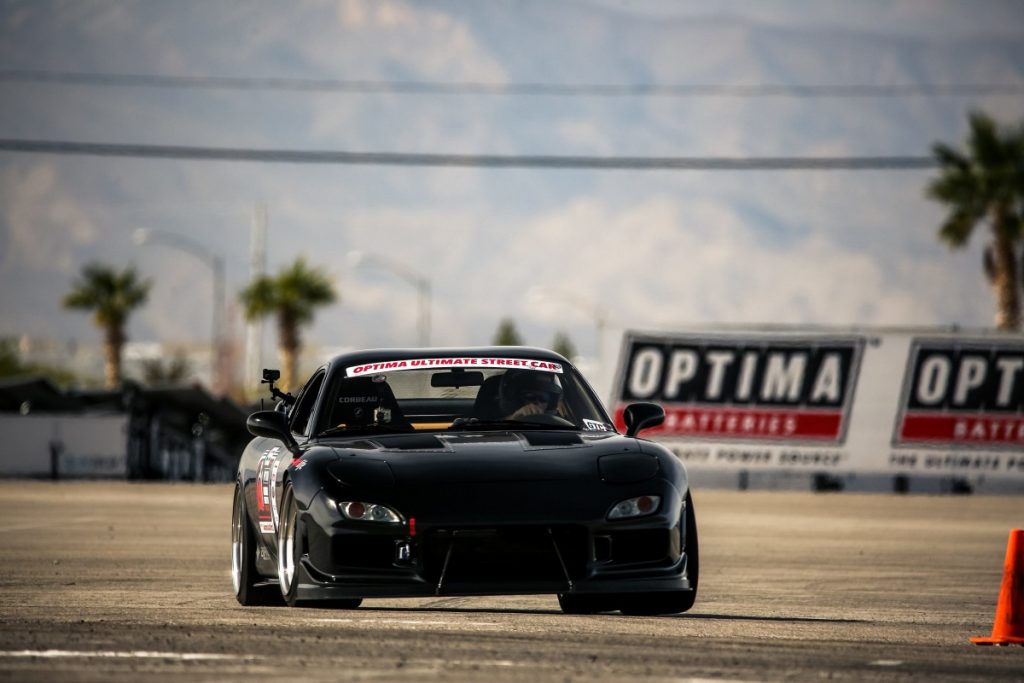 Are there any sponsors would like to acknowledge?
Of course we can't do this without support from great companies like BFGoodrich Tires, Ultimate Performance, Wilwood Brakes, Corbeau Seats, and Mazda Motorsports. I'd also like to thank Optima Batteries and USCA for giving us such a great playground to enjoy and showcase our cars.
Did you know that Optima's Search for the Ultimate Street Car is on TV?
Check it out on the MavTV channel or online via the Lucas Oil Racing TV subscriptions service.