DIY Splitter for Autocross and Track use
Want to make an effective DIY splitter that is a composite material, easy to work with, cheap and durable?  If you answered yes then you have come to the right place.  After a lot of internet searches, reading track forums and talking to people at the track I decided to go with the tried and true birch 15/32nd's composite splitter material.  Also known as plywood.  Before you laugh away this article consider the following items in support of a birch composite splitter:
Why make a DIY splitter from birch plywood?
Ligher than 1/8″ aluminium plate.  My piece of Birch weighed in at 1.22 lbs per square foot.  1/8″ aluminum plate weighs 1.78 lbs per square foot.  In other words, the 1/8″ aluminum plate is 46% heavier than a 15/32 birch splitter.
Cheap.  A 4'x8′ piece is $35-40 from "home depot racing."
Easy to work with.  I used a jig saw and skill saw to cut it to shape.
Durable.  I've hit lots of cones, scraped driveways and even hit a parking curb.  It still looks good and is fully functional.
Strong and stiff.  Despite a 4.5″ lip I did not need strut rods and have tested it at speeds of 130 mph.
Making a template
I wanted my splitter to follow the contour of my 1968 Camaro and look good.  I also wanted it to extend all the way back to the cross member and control arms to keep as much air out of the engine compartment as possible.  On a modern car you can usually trace a partern out using the front air dam.  For my 68 Camaro, I removed the front bumper and traced the outline onto cardboard.  I then measured the width of the car and finished off the side shape with a straight edge. If you look closely at the bumper outline in the below pic (above the ruler) you can see where I shifted from the bumper outline to the desired width.  Because I compete in the SCCA CAM autocross class I couldn't have the splitter protrude beyond the perimeter of the body.
Finished cutting out of cardboard
Test fitting the cardboard template.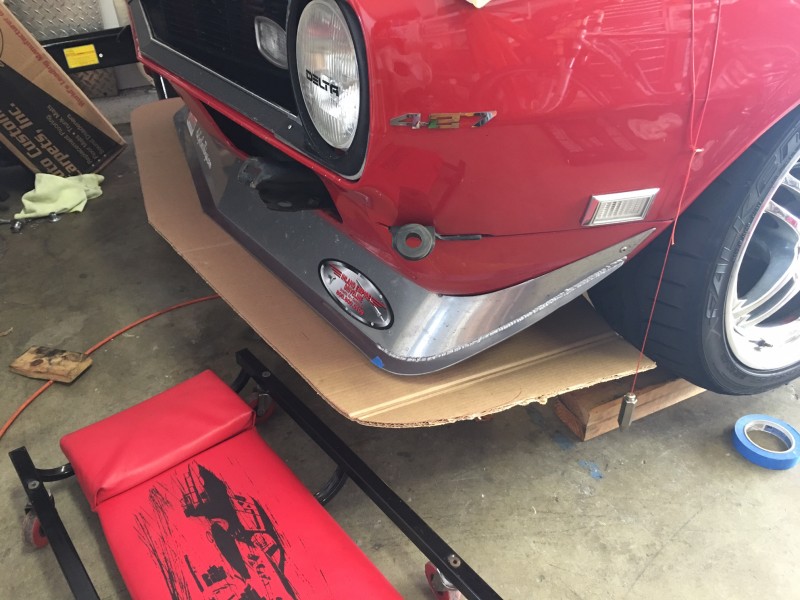 Cutting the splitter from plywood
Once you have the cardboard template where you want it, simply trace the outline onto the plywood.  One thing I'm glad I thought of was to go back over all the straight lines and retrace them with a straight edge.  Further, I cut all straight lines with a skill saw as it gives a superior edge.  I used the jig saw for the curved sections.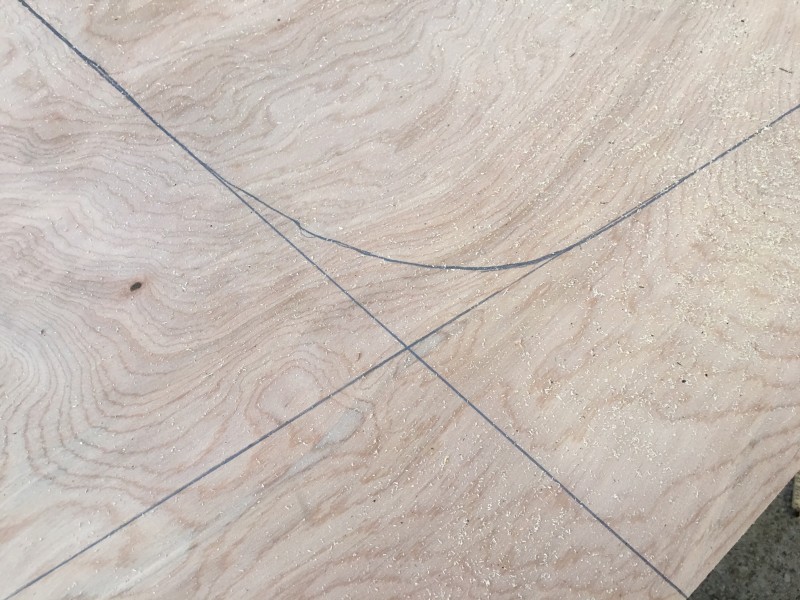 All cuts finished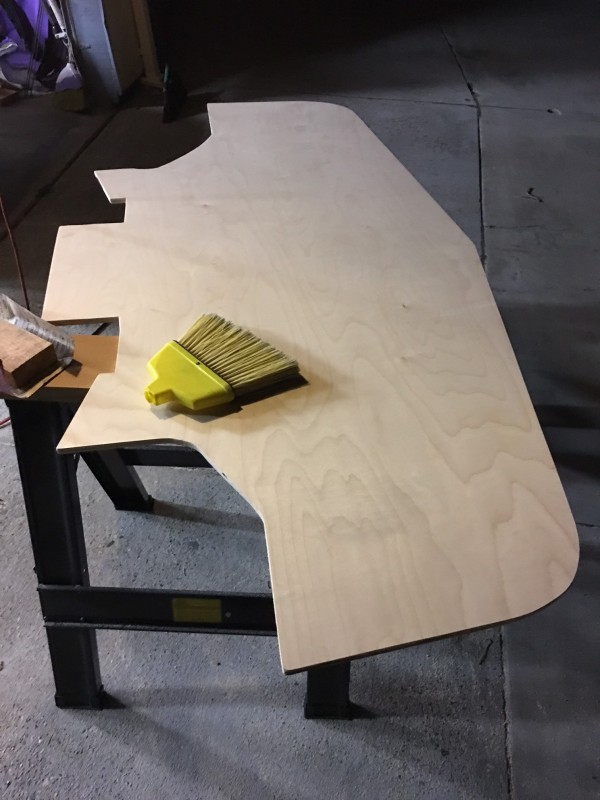 Finally, I used general purpose primer and semi gloss black paint from a spray can to finish up the splitter.  The average enthusiast can't tell that its a plywood splitter.  In addition to being bolted to my super strong Spectre Performance front spoiler I added 5 additional mounts made from 1″ 1/8″ aluminum strips that I bent into brackets.  I used the bumper mounting points and roll bar mounting points on the frame for four of the brackets.  And for the fifth bracket, I tied it into the center valence bracket to radiator core support.