Gregg Biddlingmeier's Autocross Fox Body Mustang
Gregg Biddlingmeier's Fox Body Mustang has been tearing it up on the track and autocross courses all over the South Western US for a couple of years now.  Following Gregg on Instagram (Autoxstang) and seeing him at a bunch of the same events with the 
AutoXandTrack Camaro
, I've been a big fan.  Gregg and his autocross Mustang have been on the podium at a variety of different events.  He received an invite and competed in the Optima Ultimate Street Car Invitational and most recently he took the classic muscle win and fastest lap of the day at the Muscle Cars at the Strip autocross event in Las Vegas!  Fox Body Mustangs have long been popular with the drag race crowd but they are showing up at more and more corner carving events.  Check out the below Q&A to learn about Gregg and his autocross Mustang!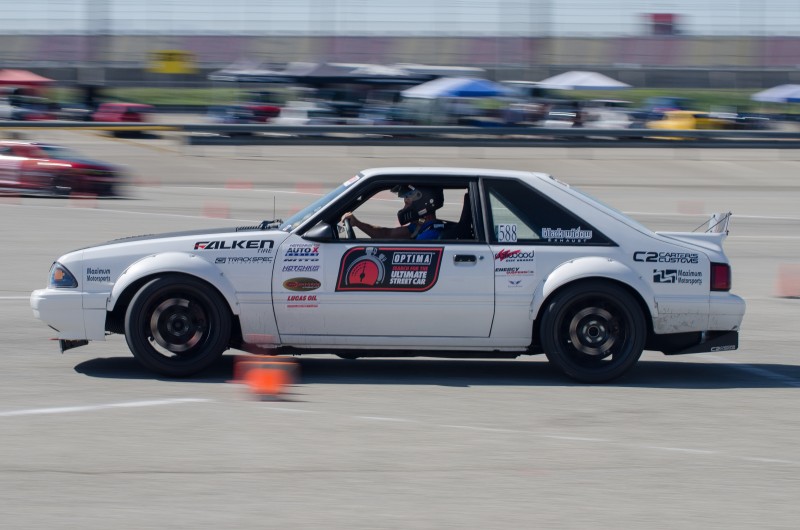 Please give us an overview of your Mustang.
I bought the car in 2010 shortly after moving to Arizona from the Midwest.  I had owned several Fox Body Mustangs in the past and was very familiar with them.  With the great weather in Arizona, I thought it would make a fun daily driver that could be driven year round, not to mention they were plentiful, cheap, and rust-free.   I settled on a running, driving, 4 cylinder car with a nice body for $800.  Quickly followed by a swapping in a V8,  some basic suspension and brake upgrades, and daily driver duties for 2-3 years.  After wanting to try autocross for a while, I finally gave in at the November 2013 Goodguys in Scottsdale, AZ.  I was instantly hooked and never looked back.
Did you have a specific design or build objective when you first decided on building your Mustang?
I've always been a fan of Pro-Touring themed cars, particularly 1st Gen Camaro's.  With a vast amount of bolt on parts available for Fox Body Mustangs, everyone seemed to be building these cars the same way.  I knew I wanted to take a different approach.  I took inspiration from a wide variety of cars from Pro-Touring to modern sports cars trying to make it functional while maintaining a clean look and keeping it street worthy.   One thing I quickly learned was the need for more tire!  In the beginning, I had no intentions of flaring the car, but with the tight clearance up front and the desire to run a bigger tire, I had no other option but to go wide.
List any and all mods
Engine/Drivetrain
Suspension

Maximum Motorsports K-Member, control arms, and coil-overs
Self fabricated torque arm and Watts link

Body

4 inch fender flares to fit 315/30-18 tires on all fours.
Trackspec Motorsports hood vent
Carters Custom's rear diffuser
Self fabricated lexan rear spoiler.

Interior

Rear seat delete, cover, and custom roll cage
Procar racing seats with DJ Safety 5 point harness
Momo Tuner steering wheel
White face Autometer gauges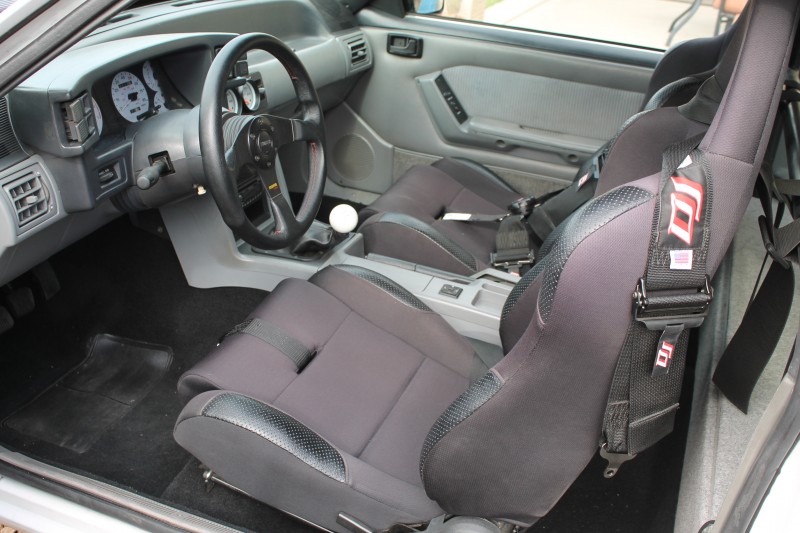 What is your favorite bang for the buck mod done to your Mustang?
The biggest bang for the buck would have to be the self-fabricated torque arm/Watts link rear suspension.  It has worked flawlessly for the 3 years it has been on the car and it only cost me time and materials.
If you could go back in time and change anything about the Mustang (including the car itself) what would it be?
Initially it started as somewhat of a budget build, so free performance was had by removing the HVAC system, sound deadening, rear seat, etc.  Now that I have been running the Optima series in the GTV class that has a 3200 lb minimum, I have added ballast back into the car.  This has been great that I can add the weight back to where I want it, but the car has suffered in the Design and Engineering portion of the event because of some of the missing amenities.  Now that weight is no longer that much of an issue, I will be adding some of these components back into the car.
What types of performance driving do you use the Mustang for?  Do you have a favorite?  And is there anything you haven't tried yet?
The car is mostly used for autocross events.  I do compete in the Optima Ultimate Street Car series which includes a speed stop and road course segment in addition to autocross.  I am looking to gain more road course experience at some HPDE events especially after a future horsepower increase.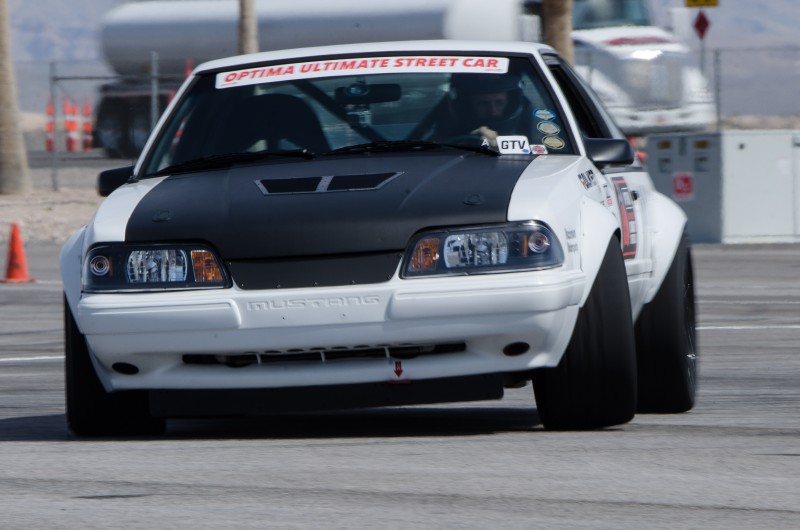 Have  you tried the SCCA Cam class?  If not, any plans to?
I have not tried running SCCA Cam class.   I do not think the local Phoenix area has a large turnout, but I may consider checking it out in the future. [
Editors note: If CAM partiicpation doesn't exist in your region, start showing up.  If you build it they will come type of thing.  In my local region we've started to see record CAM turnout this year
]
You have done a number of Optima USCA events now.  What do you like about the series and what keeps you coming back?
The Optima events are great.  Tons of seat time and the competition is fierce, that will push you to become a better driver.  The variety of segments keeps it interesting and there is something for everyone.   One of the controversial segments of the series is  Design & Engineering.  In this segment, your car is judged based on objective and subjective categories.  I feel that the Design & Engineering segment has made my car a better car keeping it functional and looking good.  Without Design & Engineering, and the never ending quest for speed, it may have ended up a gutted out jalopy. [
editors note: read about the 2017 USCA season opener here
]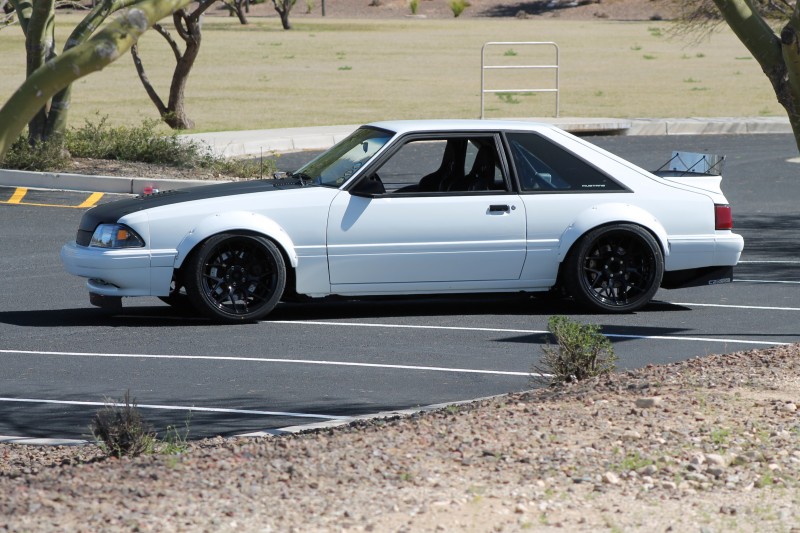 How does your Mustang compare to the C5 Z06 you recently acquired and do you think you will ever retire the Mustang?
The Corvette is truly an incredible car.  I bought it with the intention of doing some track events and getting some additional seat time, but really just enjoy it as a daily driver.  The true "hot rodder" in me keeps going back to the Mustang.  I can't leave anything alone and love the challenge of trying to make something go around corners that was really never intended to do so.  The Corvette is very precise and smooth, it almost feels like it drives itself; whereas in the Mustang you feel like you are an extension of the car.  It has that raw, hot rod feel to it.  It requires a lot of corrections and I feel like I can throw it into the corners and sling it around at will.   At this point, I am having too much fun with the Mustang and have no plans to retire it.
Are there any sponsors or others you would like to acknowledge for their assistance in getting your autocross Mustang to where it is today?
I would like to thank Falken Tire for keeping fresh rubber on the car and the opportunity to use the amazing new
Falken RT615K+
tire.  A special thanks to Jonathon Bradford at Falken.   Brian and Jack at Maximum Motorsports for the suspension and the chassis setup support they provide.  Bill and Tim at Black Widow Exhaust for the wicked sounds and horsepower increase.  John Nguyen at
Trackspec Motorsports
for the high-quality, sweet looking hood vents that keep everything cool.   Adam Carter with Carter's Custom's for the rear diffuser.  Ben at DJ Safety for keeping me safe and planted in the seat.  Terry from Protouring.com for the awesome photographs of the car at the various events I've attended.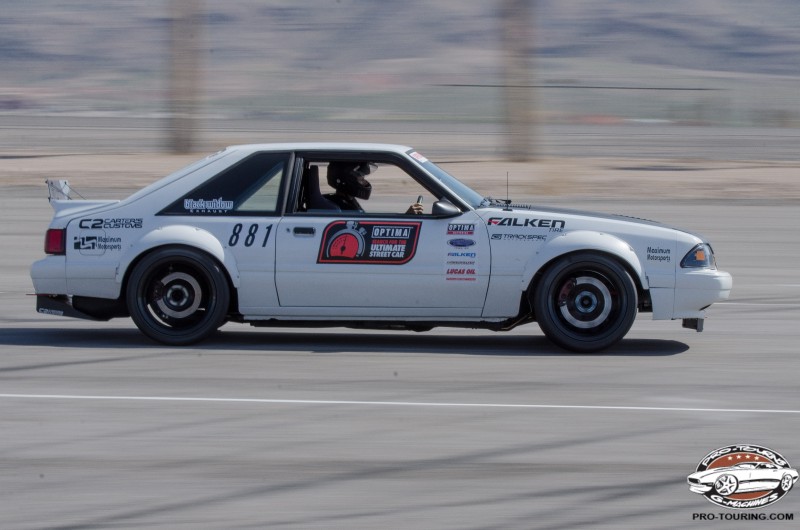 Any future plans?
Definitely more power in one way or another.  Suspension wise, the car is very close to where I want it, I just need more time behind the wheel and continue to work on optimizing the current setup.  I plan on adding back some of the creature comforts that were removed like the HVAC and sound deadening material to make it a more pleasant car to drive.   After all, it is a Street Car.
Photos supplied by Gregg Biddlingmeier