Kevin Dunn's 1967 Widebody Firebird
This month's AutoXandTrack feature car is Kevin Dunn's 1967 widebody Firebird.  This was Kevin's first car and after owning it for 35 years some things have changed a lot and some haven't changed much at all.  After a long hiatus from the world of autocross Kevin was bit by the bug again and has done quite a bit of work on the car to make it competitive.  Including the widebody look it carries today.
One of the coolest things is that 33 years ago this car took Kevin to see his first Indy car and trans am race at Road America.  And a short while ago the car was back at Road America.  Only this time, Kevin was driving on track and competing with the Optima Ultimate Street Car series!  
Please give us an overview of your Firebird.
My 1967 Firebird was my first car. My parents purchased it for me in January 1982 for $700. I think I was drawn to the Pontiac Firebird because my older brother owned a 1967 Sprint Firebird.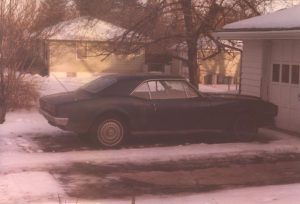 After 35 years of ownership, why have you stuck with your Firebird so long?
I have fun with this car no matter what I do. Including great memories with this car, from doing stupid stuff as a teenager that probably should have killed me, to driving it 12 hours to Road America when I was 19 to watch my very first Indy / Trans Am race. In fact, I even slept in the car that weekend.
How has your Firebird changed or evolved?
The car was originally a 6 cylinder OHC with a 2 speed automatic.  When you are 16 years old that was not cool so I quickly found a 1967 400 from a GTO that I rebuilt myself and put in the car. Initially it had a TH400 transmission, followed by a Muncie 4 speed which I installed when I began to run local autocrosses (we called it Solo II in those days) 🙂  I ran in it for close to 20 years in that configuration and stock suspension. About 13 years ago I installed a Richmond 6 speed which is what I am currently running. For most of those 13 years the car saw limited use, just driving it occasionally on nice days.
In 2014  I started a new job and noticed a coworker of mine had pictures of his Miata running autocross, I mentioned I used to autocross as well. It turned out that there were a couple of guys there who ran autocross.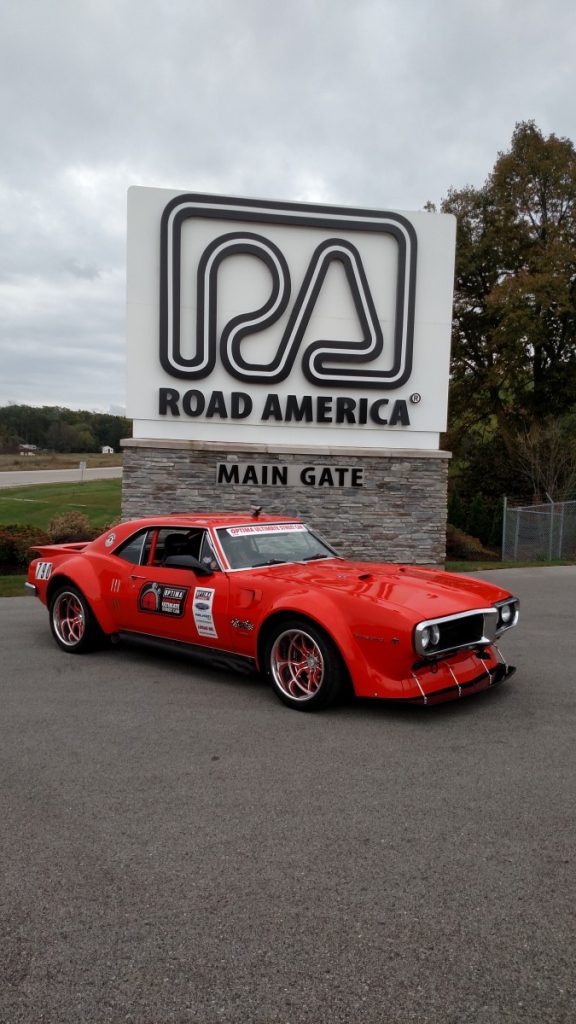 They tried to get me to come out and compete, but I politely  declined….I hadn't competed in the car since I was in my early 20's and was now pushing 50.
After some goodnatured ribbing from my coworkers saying "come on old man, bring that car out…or are you afraid?" I pointed out, be careful what you ask for… this 49 year old man just might get his 47 year old car out and kick your asses"
Well attending one autocross was all it took and I was hooked all over again. I quickly jumped into new suspension components, converting the car to coil over suspension, improved control arms, adjustable shocks and a floater rear end. During this time I had been watching the Optima series on TV and told myself….someday. In June 2016 I did my first Optima event at NCM, followed by Pikes Peak and Road America that same year.
1967 Widebody Firebird Specs
Engine/driveline
The engine is a 1967 Pontiac 400 from a 1967 GTO with stock 670 heads and 11:1 compression. I built this engine when I was 19 and it's never been apart, save for a camshaft change 2 years ago. After hammering this same engine all these years it owes me nothing.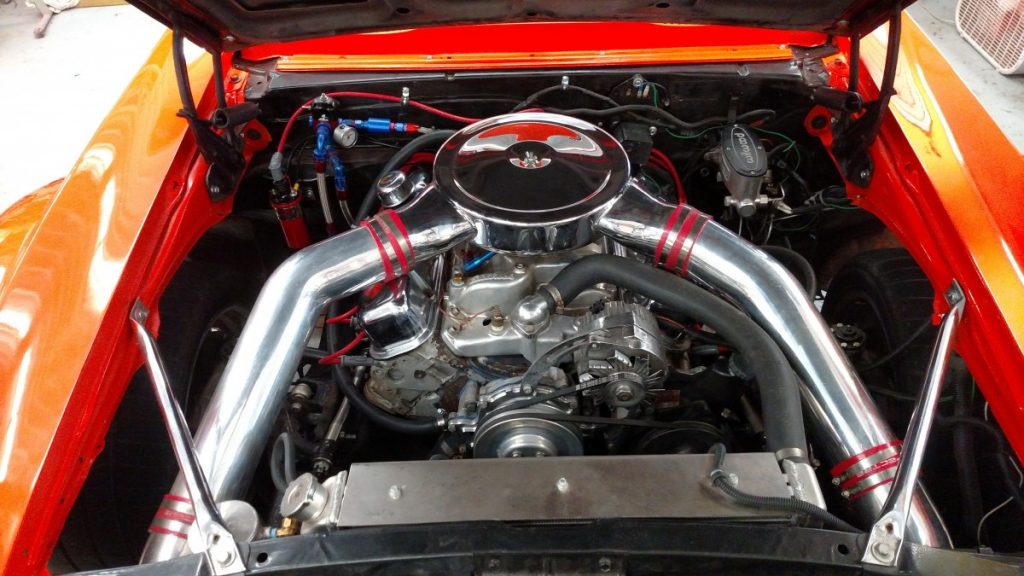 Suspension
In the front, Speedtech control arms on a stock subframe.  While in the rear, is a Speedtech torque arm setup.  All four corners have Ridetech coil over shocks with Ron Sutton Race Technology valving. Finally, custom front and rear sway bars setup by Ron Sutton Race Technology.
Body
The body has a theme to it….I wanted to incorporate a design element from all 4 generations of Firebirds into one car. It is a first Gen Firebird, with fender extractors from a 2nd Gen Trans Am and a 4th Gen Trans Am rear spoiler….as for the 3rd Gen, well it was the 80's and design was….well it was the 80's 🙂 I have not yet found a design element from the 3rd Gen, but I hope to add something in the future. In the mean time I DID add the cheesiest Firebird related icon from the 80's I could think of…..that would be Knight Rider LED lights in the grille.
All the body and paint work has been done by myself. Recently the body underwent considerable changes when I added the fender flares which I hand built and laid up.  The front grille has been hydrodipped in carbon fiber. Additionally, I modified the front bumper, welding in pockets for LED driving lights, the change is very subtle but purist will notice them.
Interior
I installed a 6 point roll cage, Corbeau racing seats, 5 point harnesses and a custom console covered in a carbon fiber wrap. All modern Autometer gauges.
The heater controls have all been converted to solenoid activated, so no more slide controls.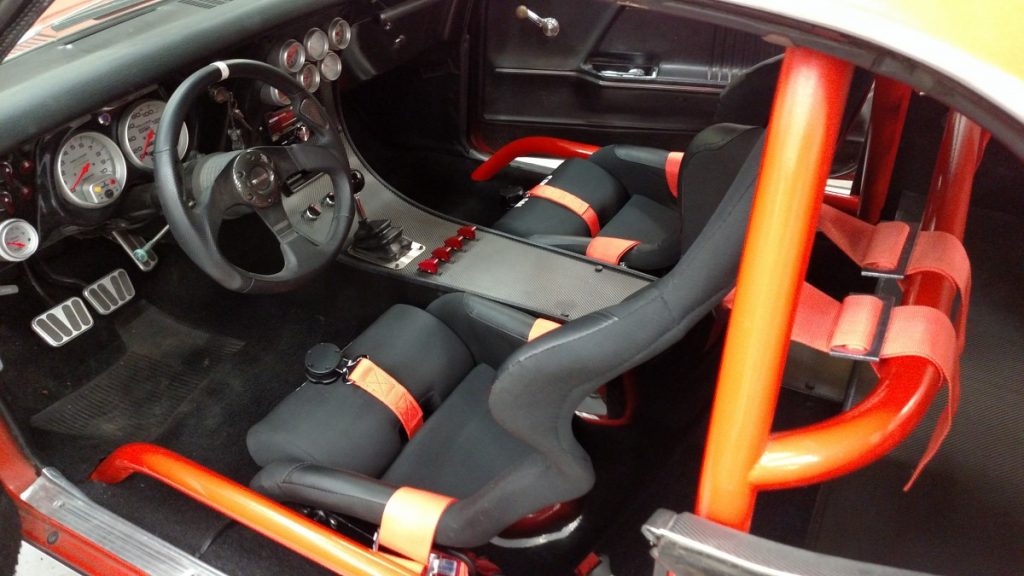 Tell us more about the decision to widebody the Firebird and what kind of difference it made.
I've always loved the look of widebody fender flares, I even did back in the 80's when I first painted the car. I wanted to do flares back then but had neither the money or skill to do it.
Wanting to be more competitive in the Optima series gave me the push to make the change last year. I knew I needed wider tires, but did not want to tuck them in under the car. I love the look of the old school Trans Am racers with fender flares, and that was the look I went for.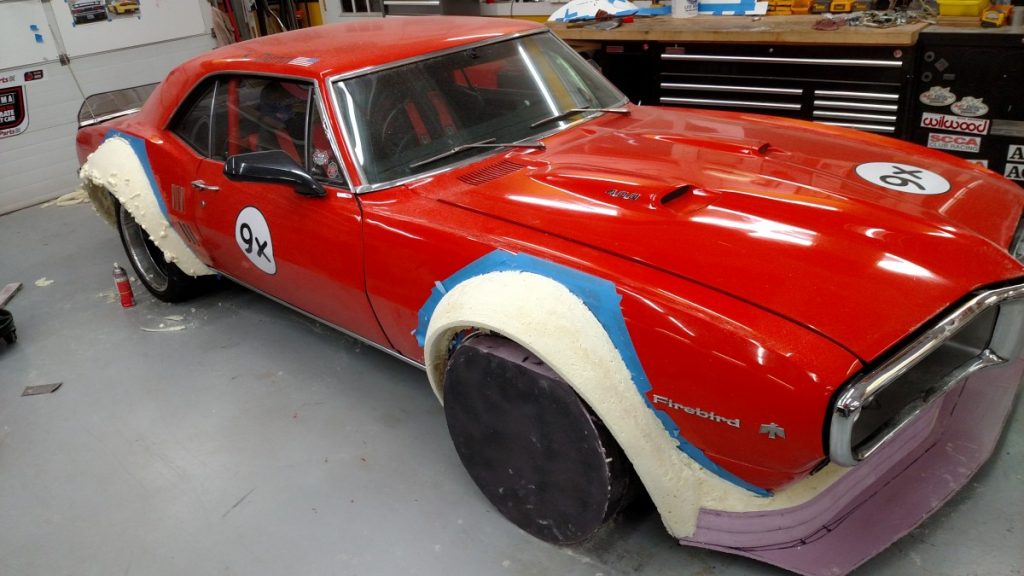 The car handles amazingly well with the wider tires / wheels. Overall response about the car has been very positive. I get a ton of comments on my 18×12 American Racing forged wheels. They have a very deep dish to them, something you don't see a lot of anymore these days. Most wheels these days are positive offset.
I had to laugh when I walked up to my car at Road America and a guy was taking a picture of the front wheel with his hand inside it to show the size comparison on the dish.
What would you say the car's primary strength is?
The car handles incredible well and really does all I ask of it. I suspect it is capable of much more once the driver is more capable.
What types of performance driving to you use the Firebird for?  Do you have a favorite?  And is there anything you haven't tried with the car yet?  
I have done the Optima events, SCCA track nights, local autocrosses.  But, I love the Optima series by far. Generally, I do local autocrosses for test and tune type activities. In the future I want to run the Midwest Muscle Car Challenge, I hear good things about that event.
I'm also really interested in doing some hill climb events.  However, living in the midwest makes those a little tougher. A friend up mine in Canada has invited me to a hill climb event there next year.
I would also like to try my hand at the Sand Hills Open Road Challenge in Nebraska once year, it looks fun and intimidating…but first I need to find a navigator.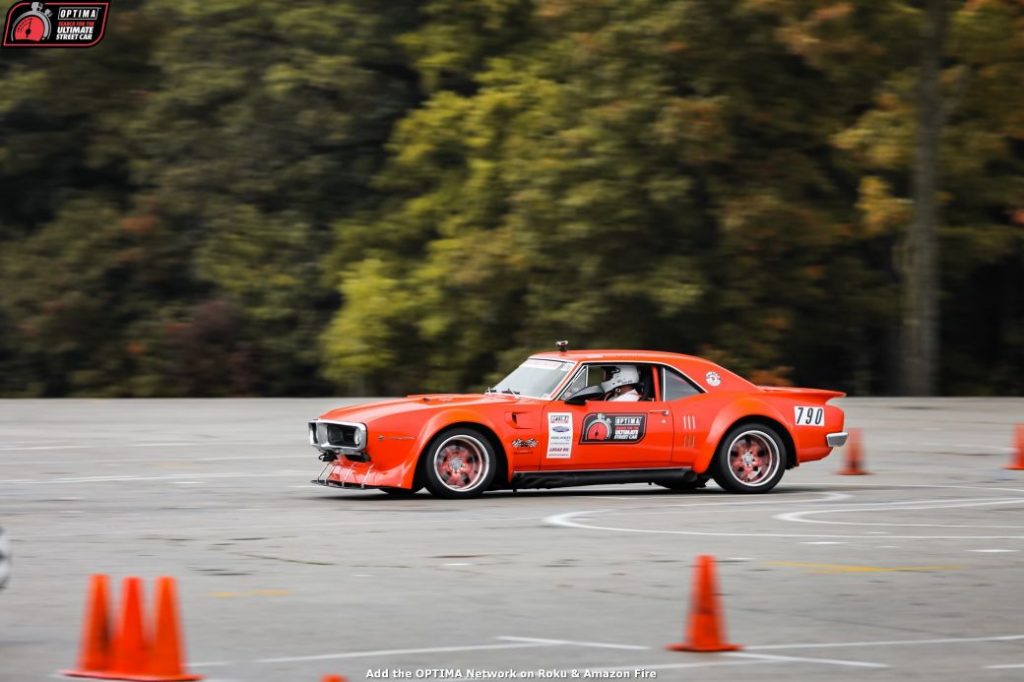 Is the Firebird full competition car at this point?  What's your view on the line between street car and race car in the pro touring world?
The Firebird leans more to the side of race car than it does street car, and in the future will probably extend that gap further.
I think it all comes down to how you want to enjoy the car. If you want to drive the car cross country in the heat of the Summer with AC, you are going to lean more towards a street car, that can still hold it's own at a track even or autocross, but if you are looking to really find every last bit of performance and be really competitive on the track, you might give up the creature comforts and some practicality to drop another .1 second on your best lap time.
What's next for you and your Firebird?
Definitely an engine upgrade. This current engine is old and tired and owes me nothing, it has performed admirably for 30 some years.
I have plans for a new engine in the future, I won't give out any specifics, but I can tell you this car will always be Pontiac powered, carbureted and normally aspirated ….just sticking with the old school theme.