Alcino Azevedo: SCCA San Diego Region CAM Champion
The San Diego Region (SDR) of the SCCA is home to the largest CAM-T class in the country.  SDR CAM-T saw a record turn out of 22 drivers in February and regular attendance is typically 15-20 drivers.  There are a number of talented CAM drivers in the San Diego Region but one name is consistently found at the top of the leader board.  This driver has won more regional championships than all the rest combined.  And that driver is Alcino Azevedo piloting his trusty Mustang II.   In fact, Alcino won the combined CAM class in 2014, CAM-S in 2015 and CAM-T in 2016.  Alcino also won the Ridetech Renegade award at the 2014 Fontana Optima Ultimate Street Car event which recognizes hot rodders who "make the most with the least."   That last accomplishment really resonates.  Alcino has done 99% of the work on his car himself while keeping it a daily driver.  This includes everything from typical bolt on mods to his own paint and body work and even wheelbase suspension mods.  Due to the level of success Alcino has had and given that he's done it in an atypical CAM-T car, AutoXandTrack really wanted to sit down and learn more about the man and machine.
How long have you been competitively driving and how did you get started?
I've always loved going fast and pushing the limits.  I grew up in a family of Dairy Farmers in central California and when the chores were done we were free to play in the countryside.  It seemed like all my male relatives had three-wheelers, motorcycles, go-carts or some other high performance project vehicles.  If we weren't racing them, we would help each other work on them.  Fast forward to 2003, I'm out of college just starting to upgrade the performance of my Mustang and of course I wanted to try racing it.  It was easy to find the local drag strip, but I got bored quickly with just launching and going straight.  Then a few months later I happened to pass by the Chargers Football Stadium and saw cars racing around cones in the huge west parking lot.  Curious, I pulled in and asked what was going on.
Do you remember your first event? What was it and how did you do?
It was an SCCA autox and oh man, what a mess.  I thought I had a fast car and I thought I knew how to drive it… but I was wrong.  I slid wide on the many fast-approaching corners, spun out midway through the slalom and got so lost in the sea of cones I had to stop.  Thankfully I got quickly redirected by a corner worker.  On my last run, I was able to figure out the course and stop the mass murder of cones, but I had to be the slowest one out there.  It was the classic rookie example of wrong inputs, wrong setup, wrong tires and high expectations all leading to a bruised ego.  Most don't come back after that, but I seem to like challenges and there was a spark of fun sliding the car around pulling me back for more.
What different series have you competed in? Do you have any favorites?
For strictly autox I have run with SCCA, BMW Club and SoCal Challenge.  SoCal was neat in that we got to race on a tight go-cart course with a high bank corner.  BMW was the best for learning and gave a little more seat time.  My current favorite is the San Diego Region SCCA CAM-T.  Mainly for the class's camaraderie, big fields and tight competition.  The low cost, location's site and its proximity to my home are nice bonuses.
What events do you want to do in the future that you haven't done before?
I would like to go to the SCCA Solo nationals in Lincoln Nebraska, explore the USCA events outside of Fontana, do HPDE Laguna Seca, Silverstate Classic, Hot Rod Power Tour, 24hrs of Lemons, and though not driving related, experience SEMA or PRI.
Why do you think the SDR CAM-T class has successfully grown to the largest SCCA CAM class in the country?
It's the excellent people and the focus of having a good time.  Don't get me wrong, we're very competitive, but we're also cheering each other on.  From the beginning, we have been BBQing, lending tools, sharing tips, trading parts, swapping stories, laughing and teasing each other.  It's like a potluck family gathering with a car show and a race.  Passersby and other class competitors can't help but stop by and enjoy themselves in the atmosphere.  What seemed odd to the region's regulars at first has become a great example of how to recruit and retain new members.
Have you attended any driving schools? If so, how significant were they in helping you develop as a driver?
After a 7-year hiatus, I came back to Autox via the BMW club as a result of heavy co-worker recruitment.  As part of the BMW club you must have a dedicated instructor the first 2 events and they drive your car the first lap to show you the course.  I balked at this requirement but I thought I would play along to see them struggle in my car.  Next thing I know I'm getting thrown around in my seat while this instructor zips through the course doing things I didn't know was possible with my car.  Then when I drove he quickly pointed out so many things I had been doing wrong for years and gave me tips I still use today.  That one day cured many of my supposed handling issues just using driver techniques to shift the weight balance around.  It was also the day when I actual fell in love with Autox after taking a roller coaster of ride in the instructor's personal well prepped S2000.  So yes, schools have been very significant in my development and wish I hadn't avoided them for so long.

Please give us your top driving tips for Autocross.
I love the saying, "The hardest part is showing up". This is so true with autox. You have to get used it.  Even us veterans need to stay "calibrated" to read the course at speed and have the feel of the car under us to make the proper corrections.  Seriously, don't worry what your car "needs" and just run what you brung.  Don't be afraid to ask questions, take ride alongs, or even try a co-drive with the regulars.
As for actual tips the one I have to remind myself of constantly is to brake early for the pinch points.  These are spots where you need to do heavy braking to make a hard turn.  This is commonly referred as the "slow-in-fast-out" technique, but I can't over emphasis it for these kinds of turns.  I see too many people lose a ton of time sliding their cars wide into these slow turns because they don't want to give up their speed until it's too late.  It will feel painfully slow going in, but you will have so much more control and traction to point and shoot out of there efficiently.  Trust me, I've never found time dive bombing corners.
The next tip is to make the course as short as possible.  I do my best to get close to cones, go straight to the next one, hug the inside of a sweepers, etc.  Pretend you're running a string through the course and tighten it up to the cones.  That is the line I'm trying to drive within reason.  I see people driving wide arcs to maintain speed, but at 40mph, 60 less feet equals 1 less second.
For slaloms, I feel I get through them the fastest when I can get in a rhythm of backsiding all the cones while smoothly adding speed through to the exit.  This usually means slowing the car a bit before entering to get it started right.  Also know beforehand if you can ignore the last cone so you can shortcut the distance and accelerate longer to the next element.
Lastly, have fun and enjoy the difficulty.  This is Autox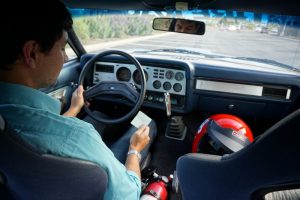 I understand your Mustang II Cobra has been in the family since new. Have you always competed in this car? If not what other makes and models have you driven in competition?
Until recently I only competed with my car.  Then about two years ago I started to let others autox my car for feedback and in turn I got to try some different cars.  Wow, what rush.  Nothing like pressure and thrill of trying to navigate an autox course at speed in a foreign car.  It will take your driving skills to a whole new level.  These "others" were, Tom's 67 Valiant, Charles' 73 Camaro, Bryant's 71 Maverick and Danny's 89 Mustang.  They are all capable of similar or better lap times as my car but drove very differently.  It was interesting to discover how loose a car and stiff of pedals someone can tolerant, but also showed me what I'm missing out with not having power steering and high horsepower acceleration.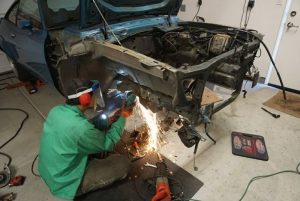 Tell us a little about your Mustang and do you think you would ever campaign a different car in the future?
My uncle Albert bought it new in 1976 and my dad took it over a year later.  He met my mom with it and then she used it to transport my brother and I around for many years.  I get attached to things and at age 15 I argued to save it from being junked from a thrown rod.  It has been mine ever since.  It's currently configured with a roller cam 302 with about 270 hp, T5 trans, and 3.55 Truetrac 8" gears.  Brakes are Wilwood 12" discs all around. Ridetech single adjustable shocks with coilovers in front and composite leaf springs in back.  Stock swaybars front and rear.  Custom Panhard bar.  The front suspension is Mustang II of course, but moved forward bit with adjustable arms to allow 9+ degrees of caster and it's manual steering rack.  2" drop spindles lower the front and help fit the massive for this car, 17"x10" 38+ wheels with 255/40/17 tires in the best 200tw brands.  There's plenty I left off but that should cover the major performance parts.
Would I campaign another car? Sure.  I'm not against Co-driving competitive cars, and soon I may get a more family friendly vehicle to help drop both my kids off to school.  Hopefully I can find something vintage and unique with performance potential.  Any leads on a nice '73-'74 AMC Hornet Sportabout is much appreciated.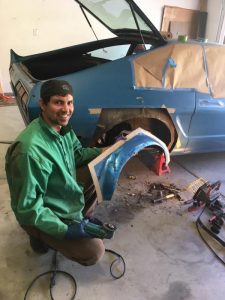 As a guy who has accomplished a lot on a budget and still daily drives your car, do you think a driver can still be competitive without spending a fortune?
For SCCA CAM it's very possible. Autox is very driver centric.  So a good driver on a technical course can be very competitive.  They just need a solid car with smart modifications. Specifically, the best and freshest tires money can buy.
As for the Optima Series, I love it and try to do one each year.  It's my litmus test on where I stand against serious competition.  Compared to Autox it's quite a bit more.  One entry there can cover a season of SDR autox championships for me.  Wear and tear is greater from these combo and HPDEs type events.  Logistics aside, the budget cars can be competitive, but they may get dinged in the D&E segment, and will need a serious motor and other upgrades to hang with the best on those Hot Laps. People can get ridiculous deals and/or be very capable fabricators.  So, anything is possible with a relative "budget".
What's it like to autocross a car with no power steering? How has it affected your development as a driver?
This is by far the most shocking feature that other co-drivers discover and suggest I fix ASAP.  It was an upgrade I made while into drag racing.  It reduced weight and complexity.  For that activity the added force and much slower ratio(4 turns lock to lock) wasn't an issue.  I've gotten conditioned to the effort and love the feedback, but there have been situations in autox where I've lost the run because I couldn't steer fast enough to negotiate the turn or catch the rear stepping out.  This has forced me to shuffle my hands in anticipation and be conservative in certain spots of the course.  As development goes, I think it's forced me to be a smoother driver and use the gas and brake pedal to help turn the car using weigh management.  But that will change as the recent co-drives in cars with quick power steering had me loving the rapid corrections. [Editor's note: go back and rewatch the video of Alcino driving.  No power steering!]
Are there any sponsors or others you would like to acknowledge for their assistance in getting your car to what it is today?
My wife Jacalyn, for being so understanding of my obsession with this financially irresponsible sport.  All my friends and extended family for all their help and company through the years.  RideTech for great products and support. Ron Sutton for blowing my mind with his suspension tuning secrets and Larry Callahan for the pro-touring.com website.
Is there anything else you would like to add?