NMCA Hotchkis Autocross Season Opener Event Preview
Its here!  The much anticipated NMCA Hotchkis autocross season opener is this coming weekend at Auto Club Speedway in Fontana.  A whole lota earth shaking v8 horsepower will be on display in both the NMCA drag races and the autocross.  With another sell out event, expect to see 80 cars both days competing in autocross for class wins each day and the much coveted Hotchkis cup!  Thanks in no small part to the Racing Byrds providing host duties, this event has become a can't miss on the West Coast!
A quick word on the Hotchkis Cup…
For those that aren't familiar with the Hotchkis Cup, this trophy is awarded to the driver who competes both Saturday and Sunday with the lowest combined time from every single run of the weekend.  Yep, every single run, every cone hit, every DNF will impact the rankings for the Hothckis Cup.  This award is unique in the world of autocross where normally only your fastest one or two runs count and all you need is that magical hero run to pull off the win.  In addition, the top 25 Hotchkis cup drivers from each of the four NMCA West Hotchkis Autocross events earn points towards a year end class championship.  In other words, it takes consistently fast and clean laps over 8 days of competition and over 60 individual laps to secure a season championship class win.
Demanded by everyone nobody, AutoXandTrack is here to give you the inside scoop on how each class will shake out.  We weren't able to get our hands on an entry list but from scouring social media we got a pretty good feel for the entrants.  Read on to learn more about each of the classes and of course the cup!.
Classic Muscle
Modern Muscle
Sports Car
Compact Car
Truck
Hotchkis cup winner
Want to know what an NMCA autocross course looks like?  Take a ride along with Greg Nelson setting Fastest Time of the Day at a 2016 NMCA Hotchkis autocross event.
Classic Muscle
Classic Muscle has (waiting for confirmation) drivers signed up for Saturday and Sunday respectively.  This is the class for all your 1982 and older cars.  Everything from a bone stock 1969 Charger to some of the fastest pro touring Camaros and Corvettes and everything between has run here.  And the competition level has been steadily rising the past year with several, already fast, local autocrossers doing major suspension upgrades in the past 6+ months.
Classic Muscle Podium predictions
The defending class champion, Chad Ryker, will be returning in his TCI Enginnering equipped 1968 Camaro.  When his driving is on point, Chad has been nicknamed the "Chad Norris" of autocross.  Chad will have a big target on his back and we have identified a few of the competitors with him squarely in their sights!  Michael Cuthbertson completed a host of upgrades late last year and at this first event back (a NMCA autocross) he won with his 1968 Camaro.  If he's continued to make tuning changes in the right direction he will be a definite contender!  Another Camaro that recently went through a bunch of upgrades is the supercharged 1970 Camaro of Hollywood Nick Relampagos.  Nick is taking time out of his busy shooting schedule with the Motortrend show Big Muscle to travel down from Northern California and battle for the title of fastest classic muscle car.  Last but certainly not least is #Archenemy Efrain Diaz and his yellow 1969 Camaro.   Efrain and his home built bruiser are fresh off a 2nd place overall finish in GTV at the Optima Search for the Ultimate Street Car in Las Vegas.  He will be anxious to back that up!
Finally, as a wildcard pick Richard Trujillo and his 315 squared 1969 Mustang will be carrying the hopes of the blue oval crowd in Classic Muscle!
Modern Muscle
Modern Muscle has (waiting for confirmation) drivers signed up for Saturday and Sunday respectively.  1983 and newer 4 seat capable cars compete in Modern Muscle though the clear weapon of choice has been the Camaro.  Modern Muscle is home to the 2016 Hotchkis cup Grand Champion Jordan Priestley in his JDP 6thgen Camaro Evilyn.  In addition, the friendly but ultra competitive rivalry between Jordan and Greg "The Unicorn" Nelson, who pilots a 2015 Z28 Camaro, is always a fan favorite to watch.  Modern Muscle has recently grown to be the largest class in the series.  With the Camaro domination will 2017 finally be the year that Dodge or Ford create an upset??
Modern Muscle Podium Predictions
The top spot in this class will likely come down to the battle between Greg Nelson and Jordan Priestley.  Both of these guys have targets on their back and their competitors will be quick to take advantage if Greg and Jordan get carried away and push each other into making mistakes.  Kurt Robinson and his aero equipped 5th Gen Camaro has been busy dialing his car in further and will be looking to come out strong.  Also, former Hotchkis Cup winner Speedy Gonzales (aka Dongle) driving his 5th gen Camaro, Mary Jane, shouldn't be discounted.  If Don's latest "Mod of the week" pays off he could be walking away with a second 2 foot tall trophy!  Our wildcard pic and another blue oval torch bearer is Paul Molina and his GT350R Mustang.  Paul is new to autocross and this is his first NMCA event but he has put in a ton of seat time in the last 4-6 months and is getting faster every event!
Modern Muscle is also home to the Mid Pack Leader trophy!  Second in prestige only to the Hotchkis cup the Mid Pack Leader award is another fun crowd favorite.  Jason Flaherty has won the award twice in his convertible Camaro and is expect to return to defend his title.  With Jose Ramirez selling his Mustang he's no longer a threat.  However, Rick Dehart recently sent his Camaro to the LS experts at JDP Motorsports for some horsepower upgrades.  Rick is also coming with brand new tires.  The question is if Rick is hungry enough?  On the other hand Jeff Cox will be one to keep an eye on.  Inside sources misquoted Jeff as saying "Jason couldn't drive his way out of a wet paper bag and that MPL trophy is as good as mine!"
Sports Car
Sports Car has (waiting for confirmation) drivers signed up for Saturday and Sunday respectively.  Sports car is the class for 1983 and later high powered 2 seat coupes.  The class is heavily populated by Corvettes with an occasional Viper or Porsche showing up.
Sports car Podium Predictions
The 2016 Class Champion and previous Hotchkis Cup winner Ryan Thacker will be back to defend his title in his spotless black Corvette.  Some say this car has never seen a drop of rain… and that Ryan will only wash the car in the tears of unicorns.
However, there are quite a few interesting developments in the Sports Car Class.  Hotchkis Cup Grand Champion Jordan Priestley is expected to run his Camaro Evilyn and JDP's new C7 Corvette Grandsport.  A little over a week ago Jordan's corvette had less than 1,000 miles on it but he still took 3rd overall in PAX at a recent Utah SCCA regional event.  Former Hotchkis Cup winner Tom Kamman won this class with a C5 Corvette Z06 in the past.  Tom promptly capitalized on his Hotchkis Cup fame to sell the winning Corvette for a reportedly outrageous price.  Tom further refined his driving skills behind the wheel of a 3rd gen Camaro he lovingly nicknamed the Slowmaro.  However, despite the fearsome reputation developed by the Slowmaro Tom just recently acquired another C5 Z06 and will be back to show he is more than capable of driving fast cars with more than 200 hp.  Another top competitor in this class will be Scot Spiewak in his no longer stock C5 Corvette Z06.  Scot recently made suspension and brake upgrades and ran extremely well at the Optima USCA season opener earlier this month.  Finally multi Hotchkis Cup winner Steve Abbott will be back in his blue C5 Corvette Z06. Steve will likely be the Sports Car competitor with the biggest target on his back.
My prediction is that's we will see the Fastest Time of the Day come from this class!
Compact Car
Compact Car has (waiting for confirmation) drivers signed up for Saturday and Sunday respectively.  The only compact themed autocross class that hasn't been overrun with Miatas!  Will 2017 see the Miata horde arrive?
Compact Car Podium Predictions
Marc Lewis won the class championship in 2016 and will return to defend the title in his white Ford Fiesta.  Marc easily conquered all challengers early in the 2016 season.  However, a newcomer in his red Fiat began coming out late in 2016 and bringing the heat.  With no entry list I don't know the Fiat driver's name but he could take down the champ.  We aren't sure if he signed up but Sean McKillop's awesome mid engine Ecotech powered Volkwagen Beatle could shake things up in the Compact class as well.  That is, if he can keep it together!
Truck Class
The truck class has (waiting for confirmation) drivers signed up for Saturday and Sunday respectively.  Many people don't associate trucks and autocross together but the pro touring movement is slowly changing people's perceptions  this class has saw growth in 2016 and will likely continue to grow in 2017.
Truck Class Podium Predictions
With 2016 class champion Brandy Phillips returning in her amazing C10R built by PCHRods, she will be the one to beat.  Right on her heals last year was Mike Sullivan and his El Camino.  Wes Drelleshak is also rumored to be attending with his 1959 Apache pickup.  Wes is blazing fast in his Apache and if he does show look for him to challenge Brandy and Mike for the truck class win.
The Hotchkis Cup
There are (waiting for confirmation) two day driver entries this weekend and all of them want the ultimate prize!  There are no classes for the weekend's Hotchkis Cup and no handicaps.  It's given to the driver and car combo that can lay down the fastest consistent lap times of the weekend.  Given that more Hotchkis Cup trophies have been won by Corvette's than any other car it is highly likely that this weekend's Cup will go home in a Corvette.  Especially when you consider that four previous Hotchkis Cup winners will be returning in Corvettes.  AutoXandTrack's prediction is that the first Cup of 2017 will be going home with either Steve Abbott, Jordan Priestley or Tom Kamman.  However, if those drivers hit cones then Greg Nelson is my wildcard pick that will be ready to steal the Corvette's thunder!
Updated: With Steve signed up just for one day he is out of the running for the Hotchkis Cup!
We actually reached out to Greg Nelson to see if he had a comment on our prediction of Corvette domination.  He said a picture was worth a 1,000 words and sent us this: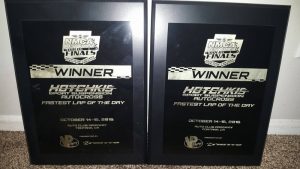 And if you are wondering what a Hothckis cup looks like.  Well Ryan Thacker has your answer!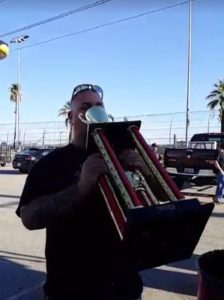 Article photo credits to Laura McKernan, Jason Flaherty, Pro-touring.com and Facebook stalking…