Optima USCA GTV Mid Season Review
What do you get when you take some of the most iconic cars of yesterday and force feed them a diet of the best automotive technology of today? Why, The Optima Batteries Ultimate Street Car GTV (Vintage) class of course. The Optima series is home to some of the most beautiful street cars that can be found anywhere. But, in Optima these cars perform as good and often even better than than they look.
I'm biased, and love classic American muscle cars so it should come as no surprise that my favorite class is GTV. Home to cars and trucks 1989 and older. It's in the GTV class that you will find a large field of pro touring cars all around the country vying against each other for on track glory and off track bragging rights.
Three of the 7 scheduled 2019 Optima Ultimate Street Car events are over and the mid season event at Pikes Peak International Raceway in Colorado is right around the corner.
Top 8 Cars in the Optima's Search for the Ultimate Street Car GTV Class
If the Optima USCA series attracts the best of the best pro touring cars in the country then who among this elite group is at the top? I've picked 8 GTV cars using two simple criteria. First, they have to be signed up for an event in 2019. Second, cars and drivers that consistently finish on the podium and have the potential to win any event they enter.
Quick note. These cars are presented in no particular order. Also, I recognize there are more than 8 cars that might have a chance of winning in GTV but a line has to be drawn somewhere. These cars have proven through multiple wins or podium finishes that they can win. I apologize now if I miss your car or your favorite car and driver. If you think they should of been included then let people know in the comments!
Brian Hobaugh – 1973 Chevrolet Camaro
Brian and his cars are no stranger to the series. In fact Brian has been to the big show (OUSCI) 8 years in the row and has already earned his 9th invite to attend the 2019 OUSCI. Also, yes that's right, cars plural. In addition to his 73 Camaro, Brian previously won the Optima Ultimate Street Car Invitational in his 1965 Corvette in 2013. Later that car would go on to be featured in Fast & the Furious 8 as Lettys Vette. Also, Brian has campaigned a C5 Corvette in the GTS class the past few years. Despite an OUSCI win and runner up, a class season championship has eluded Brian so far. Could 2019 be the year that changes?
Brian's 1973 Camaro quick mod list:
Suspension: Mike Maier Inc. heavily modified OEM subframe and chassis with a body on frame / tunneled drivetrain
Drivetrain: Mast Motorsports 416 LS3 engine backed by a G-Force 4A transmission and 9″ rear end
Brakes: Wilwood disc brakes front and rear
Wheels & Tires: Forgestar wheels & BFG Rival 1.5 315s
Body: One off bodywork. Handcrafted metal flares to accommodate 315mm wide tires. Custom fiberglass front end
Interior: Large amount of handcrafted metal work on the interior panels (for example the door panels are frenched around the Mike Maier Inc. roll cage)
New for 2019
According to Brian, there wasn't much of a need to make any major changes for 2019. The few things he is working on before PPIR include tuning the suspension for the new BFG Rival 1.5, tweaks for D&E, and brake cooling upgrades.
Chris Smith of Smitty's Custom Automotive – 1970 Camaro
Chris, aka Smitty is another Optima USCA regular who also happens to have won the GTV class 2 of the 3 completed Optima events in 2019. Smitty kicked off his 2019 season with a dominating performance at the iconic Daytona International Speedway. Where he racked up 480 points at this event which is currently the highest score of any GTV car in 2019. In the past, Chris campaigned the Ridetech 48 hour Corvette but jumped to this Camaro last year. Which his shop, Smitty's Custom Automotive, built.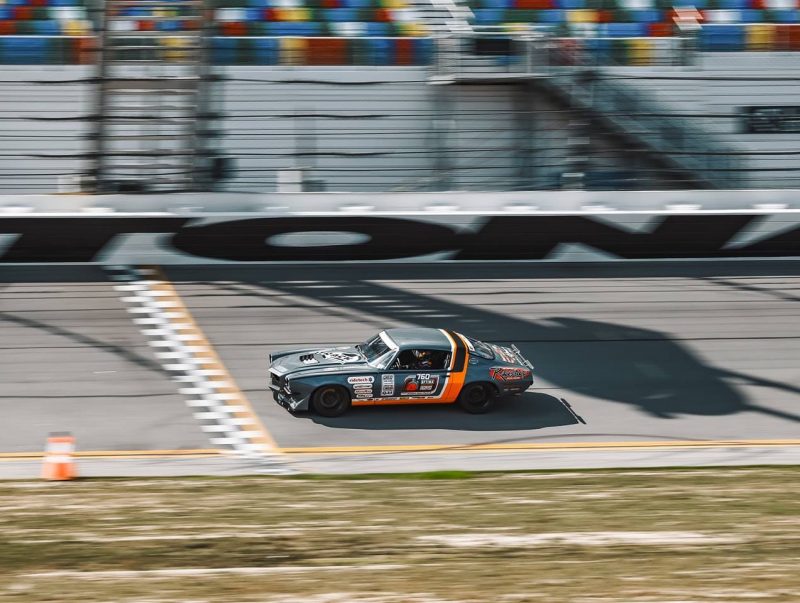 Smitty's Camaro quick mod list:
Suspension: Complete Ridetech Track 1 suspension (retains the OEM subframe, though all seams have been welded) with a a four link rear
Engine: LS7 Engine backed by a Bowler Performance T56 and a Currie Enterprises Turn 9 w/ MillerBuilt floater ends
Brakes: Wilwood 14-inch rotors front and rear. Aero6 calipers. Bosch Motorsports M5 ABS
Wheels & Tires: Series Sponsor Forgeline wheels and BFG Rival 1.5 315/335
Body: Carbon Kustoms composite doors, hood, decklid, and fenders, flared front wheel arches; custom air dam by D&Z Customs
Interior: Done by Trent's Trick Upholstery with Recaro, Kicker, Racepack and Vintage Air components
New for 2019
Apparently, the electric wizardry won't be limited to just shocks. We reached out to Smitty and he let us know that he recently added a Bosch Motorsports M5 ABS system to the car. He also managed to squeeze a few more ponies out of the already stout LS7 with a bigger cam. Even before adding the ABS Smitty dominated the Speed Stop at the recent Optima event at NCM Motorsports Park. This car just got a little harder to beat!
Efrain Diaz – 1969 Camaro
You'll notice a trend in this list of cars and drivers. It's populated with quite a few veterans of the series and Efrain is no exception. Efrain attended his first Optima event in 2014 after literally working all night and into the morning to finish the initial build of "Poledancer." And since 2015, Efrain has made an appearance at every OUSCI.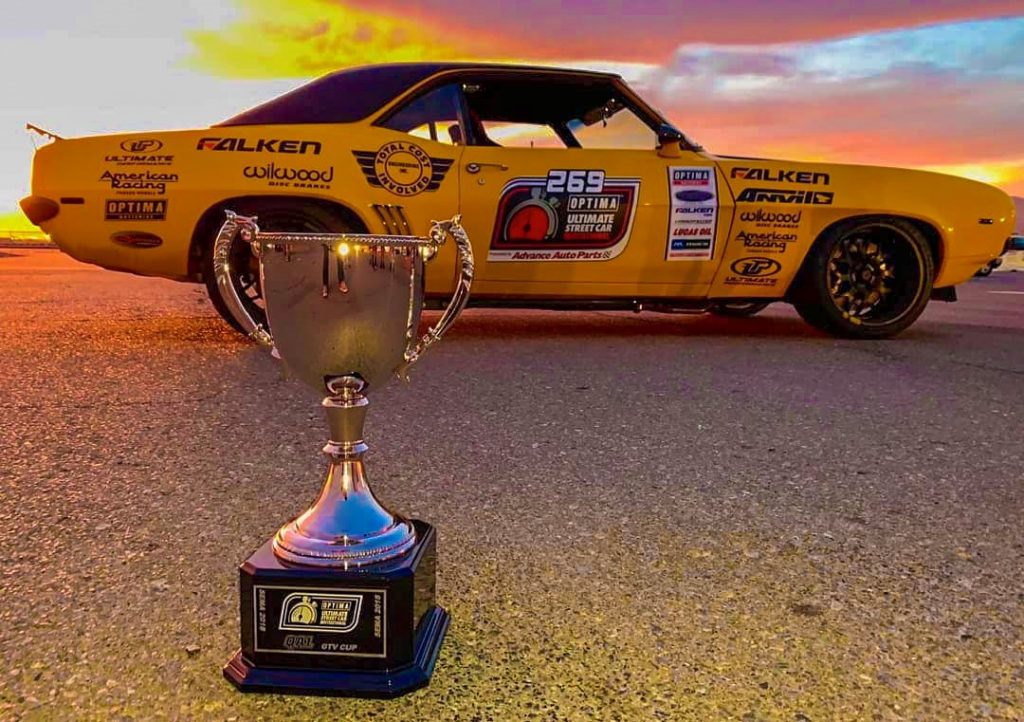 A member of Team Archenemies, Efrain is one of the hardest working one man shows in the GTV class. Efrain might of originated "If it wasn't for bad luck, I wouldn't have any luck at all!" As Efrain's Archenemy I'm not saying I've absorbed his good luck and left him with the bad. I'm also not, not saying that either…
Efrain also reminds me of another saying. "Luck is when opportunity meets preparation." He made his own luck by taking home the OUSCI GTV Class win last year.
Efrain's Camaro quick mod list:
Suspension: Series sponsor TCI Engineering Subframe and Torque Arm with JRI shocks tuned by Ultimate Performance
Drivetrain: Custom built LS7 backed by a Magnum transmission and Currie Enterprises Turn 9 full floater
Brakes: Wilwood 14″ rotors with Aerolight Calipers
Wheels & Tires: American Racing and Falken 315's
Body: Anvil Auto Carbon Fiber header, hood, cowl, decklid and inner fenders. Anvil Auto Fiberglass front fenders. AMD aluminum lower valence. All body work done by Efrain himself including fabbing the front and rear bumpers from fiberglass
Interior: Rear seat delete with Cobra front race seats. Working Vintage Air a/c. TMI one piece suede headliner
New for 2019:
Efrain made a massive amount of changes last year. He stripped all of his existing suspension and replaced it with the TCI Engineering subframe and torque arm. Added Anvil's new 100% carbon fiber extractor hood and their fiberglass fenders. Upgraded the interior and more. His primary focus this year has been dialing in the suspension setup and he will be attending his next event with a radically different alignment and tweaked spring rates. If it's anything like his recent performance in TCI's 2ndgen Camaro, RedDawn, then watch out!
Dust

y Nixon – 1979 Chevrolet Camaro
Dusty Nixon won the 2018 GTV Season Championship in his 1979 Camaro which puts the bullseye squarely on his back for 2019. A father son project that started life as a drag racer, Dusty has been competing in Optima since 2015. At the end of 2017 the car went under the knife which seemed to really pay off the following year. Father and son designed their own suspension geometry and built it themselves using the original Camaro subframe. Dusty also gave a nod towards D&E with various upgrades of which the most visible was a new set of wheels.
Dusty had a strong showing at the only event he has run so far in 2019 at NCM Motorsports Park. He scored well and took 2nd place behind Chris Smith. However, since Chris already had his invite Dusty punched his ticket to the 2019 OUSCI. Sadly, Dusty encountered engine trouble on Sunday which ended his day early. Though, within 24 hours he and his Dad hauled the car home to Texas and had the engine pulled! As of the writing of this article the car is already back together and has been to an event.
Dusty's Camaro quick mod list:
Suspension: Home built and designed front suspension using the OEM subframe and NASCAR style truck arm suspension in the rear
Drivetrain: 421 small block Chevy backed by a 6 speed trans into a Speedway full floater rear end
Wheels & Tires: BC Forged 18×11 wheels with BFG Rival 1.5 315 squared
Body: All steel except for the hood
New for 2019
After the massive suspension overhaul of the past year, the focus for 2019 was on more power. Dusty and his Dad did a whole new top end of the motor, including better heads and a Holley Dominator EFI system. Dusty has worked closely with Holley and Alex from Peitz Performance Tunes to get the car dialed in. While more power was obtained, Dusty reports the best part was the drivability enhancements of switching to the EFI.
As the defending champ, we asked Dusty if he was keeping any eye on anyone in particular this year and this was his response.
The class is crazy now being so close, it's not like a few years ago where Jake and Mike ran away with it – there's any of a number of guys that will be strong contenders for it. Smitty has come out of the gates strong and has at least one more event planned, the Archenemies are doing their Archenemies things, and several tough competitors like Larry Woo and Chris Ramey haven't made it out to an event yet. The swing back west to Pikes Peak will start to show how the battle is going to shape up.

Dusty Nixon
Dusty also has a YouTube chanel if you want to see more behind the scenes of his 79 Camaro. https://www.youtube.com/user/silverc10
Chad Ryker – 1968 Camaro
I've been running the AutoXandTrack Camaro in the Optima USCA series since 2015. 2016 marked my first visit to OUSCI and I've managed to get an invite each year since. However, 2019 is also going to be the first year since 2015 that I am unable to attend 3 or more events. As the miles rack up on this street car Camaro, so too do the D&E scores fall. Indeed, the pressure will be on at the Auto Club Speedway event in Fontana later this year to try and earn a spot to the big show. But it won't be easy, the West Coast is stacked with GTV talent all trying to do the same thing.
AutoXandTrack Camaro quick mod list:
Suspension: TCI Engineering subframe and torque arm with JRI coilover shocks tuned by Ultimate Performance
Drivetrain: Mast Motorsports 427″ LS3 backed by a GM T56 and a Currie Turn 9 full floater
Brakes: Wilwood 14″ disc brakes and Superlight calipers
Wheels & Tires: Forgeline DS3 18×11 with Falken 315 squared
Body: Anvil Auto CarbonFiber header panel, hood, cowl, decklid, spoiler and inner fenders
Interior: Autometer gauges. TMI dashpad, door panels, rear seat, headliner and trunk kit. Sparco seat and Driven steering wheel
New for 2019:
After completing a host of upgrades in 2018 that included shaving more than 70 lbs with Anvil Auto Carbon Fiber as well as throwing the TMI catalog at the interior there aren't many changes planned for the AutoXandTrack Camaro this year. Most of 2019 will be refreshing worn components. Though, I do have some additional weight saving ideas and a possible livery change in mind.
John Smith – 1967 Mustang
Just kidding! Seven cars on our 2019 list are Camaros and the eighth car is a Corvette. Fun fact, I only know of three non GM cars to win a GTV Optima USCA qualifying event (sort of). First, Mike Maier's 1965 Mustang, Old Blue, used to consistently battle for the win. Though, he has not campaigned this car in Optima for a few years.
Second, John Lazorak's over the top Chrysler Conquest / Mitsubishi Starion. But, John's car is powered by an LS3. He also, has not signed up for any events in 2019.
Third, when I drove the TCI Engineering 1967 Mustang at Auto Club Speedway last year. I scored enough points to solidly take the GTV win however, the car was moved to an exhibition entry.
Special mention to Paul Wilke who put a big ol' Buick 455 GS on the GTV podium back in 2016 and earned an invite to OUSCI.
C'mon folks where are all those Ford and Mopar contenders? As much as I love my Camaro I wouldn't mind writing about a Mustang…
Nick Relampagos – 1970 Chevrolet Camaro
Nick "Hollywood" Relampagos is getting faster every year. Will 2019 be his breakout year? You might be familiar with this Camaro as it was featured on the House of Muscle a few years back. Project ZL-70 as its called, also features the most horsepower of any of the cars on this list and is the only one equipped with forced induction. Lurking under the Anvil Auto power bulge hood is an LSA based LS3 producing more than 850 horsepower.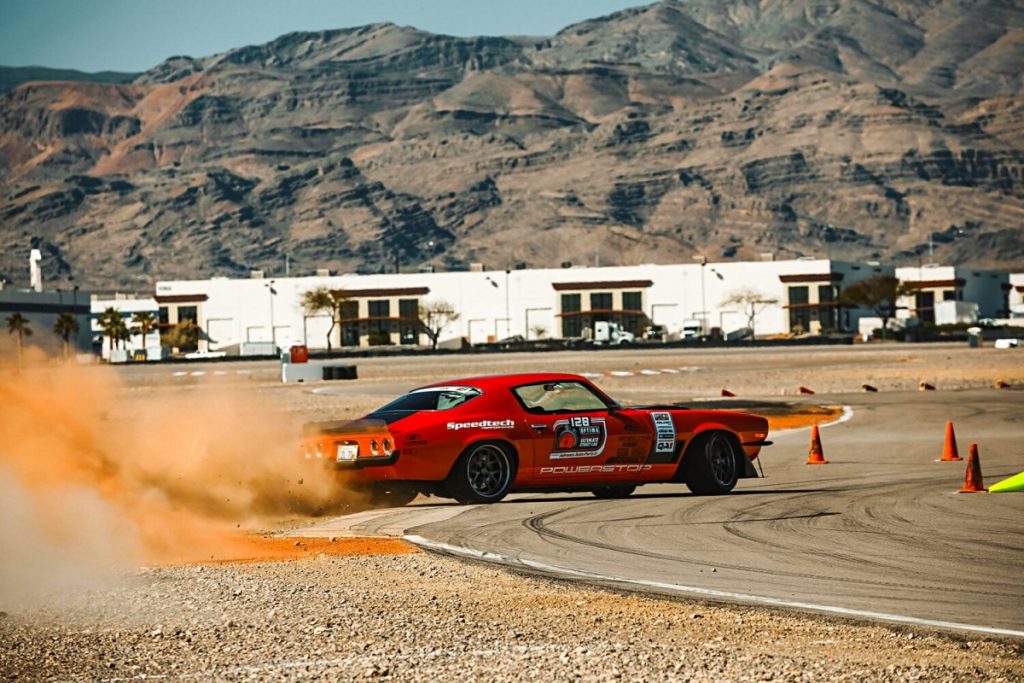 With PPIR looming its worth noting PPIR is where a year ago that Nick won his first Optima qualifying event. His goal is to return and repeat that performance this year.
Suspension: Speedtech Extreme subframe and torque arm with JRI shocks tuned by Ultimate Performance
Drivetrain: Modified LSA engine backed by a Magnum transmission and 9″ rear axle
Brakes: C6 Z06 Calipers with series sponsor, Powerstop Brakes, pads and rotors
Wheels & Tires: Forgeline and BFG Rival 1.5 335 squared
Body: Entire Anvil Auto carbon fiber front end and decklid
Interior: Custom upholstery with Sparco race seats up front and rear seat delete
New for 2019:
Some of Nick's 2019 changes include. Aero enhancements in the form of a front splitter and rear spoiler extension. After getting a second opinion from Jake Rozelle, Nick finally followed my advice (from 2 years ago!) and replaced his broken posi with a TruTrack. According to Nick the rear is significantly more predictable and he's able to power out of corners much harder.
Nick's also made some spring rate and swaybar changes and a new alignment. At his most recent event, Goodguys in Pleasanton, Nick had one of his strongest performances all year. Beating Brian Hobaugh most of the day and only losing by .1 in the shootout.
As I mentioned above Nick is gunning hard for a win at PPIR and it appears his car is working better than ever!
Larry Woo – 1968 Camaro
Larry Woo drives a gorgeous black 1968 Camaro that arguably has the most electric wizardry in all of GTV. Larry did not respond to requests for comment for this article and so we don't have all the details on his build or any changes for 2019. We do know Larry's car went under the knife before the start of his 2018 season. Some of those upgrades included an entire carbon fiber front clip and Lingenfelter LS7 naturally aspirated power.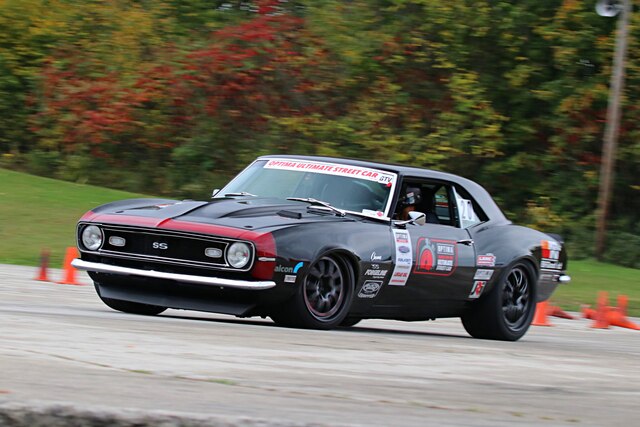 CB Ramey – 1984 Corvette
The one car on this list that isn't a Camaro. Chris Ramey's Corvette is a lion in sheep clothing. And not just beacuase it is a C4. A lot of work and planning went into fitting the 315/335 tire combo under the stock body work. Chris says he could saved a whole bunch of money and time just flaring the car. Chris's car gets its go from a Mast Motorsports LS7 and some help with the whoa from a Bosch Motorsports ABS system. Unfortunately, we were unable to touch base with Chris to get all the details about his build and 2019 plans.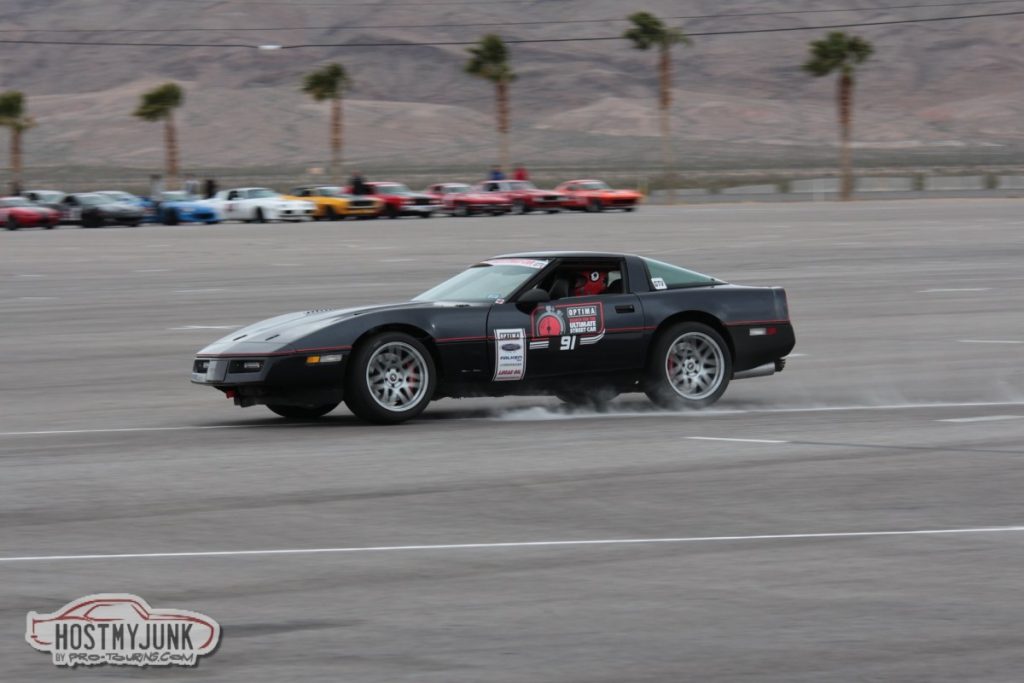 2019 GTV Ultimate Street Car Season Championship Review
As a reminder the best 3 events of the season counts towards the Championship and none of the cars on this list have done 3 events yet. Many have only done one event and some none. PPIR this weekend will give further insight. Though in reality PPIR is mainly the faster West Coast GTV cars and some from the South adding their second event. There still won't be any of the cars on this list with a 3rd event.
Smitty in the 1970 Camaro has scored the single highest event of 2019 GTV with 480 points from Daytona. Followed by top scores from Brian Hobaugh and Efrain Diaz with 472 and 446 points from Las Vegas. Smitty also scored well at NCM with 456 points. Which means Brian Hobaugh will need a 464 or better this weekend at PPIR to stay even with Chris.
Based on the early season results, if Smitty and Hobaugh continue their scoring trends they will be favored for the overall GTV Season Championship. However, defending champ Dusty Nixon has historically scored very well at the unpredictable NOLA event and this is the last event of the season. If Smitty or Hobaugh have a poor event or suffer a mechanical then Dusty and Efrain Diaz won't leave them any breathing room and could challenge for the Championship.
Finally, with neither Larry Woo or CB Ramey having yet made an appearance they represent the ultimate wildcards yet to be played this year…
Follow the points race on the DriveUSCA site here.