What it was like driving in the Optima Ultimate Street Car Invitational ("OUSCI")
During the late fall of 2016 when most people had already put away their sports cars for the winter, or were getting ready to, myself and 76 fellow competitors were doing last minute preparation for battling it out at the Optima Ultimate Street Car Invitational.  Because the OUSCI is a part of the Specialty Equipment Manufacturer's Association ("SEMA") trade show, many thousands more were also working tirelessly to get their cars ready for display.  When your car is going to be seen by as many as 150,000 people at the largest trade show for the aftermarket automotive industry it adds just a wee bit of pressure.
I chose to spend my time engaging in some last minute upgrades in the form of taking my existing Currie Enterprises 12 bolt rear end and upgrading it to the Currie pro touring full floater.  It wouldn't have been possible for me to get it done in time if it weren't for some great help from TCI Engineering and Currie Enterprises.  A last minute radiator replacement the day before I was scheduled to be in Las Vegas ended my preparations.  Ready or not, it was time to go!
As Monday of the first week of November dawned I joined the mass migration of cars and people heading to Las Vegas.  Luckily being from Southern California it was a relatively easy drive out.  And yes I drove my car rather than trailer it.  Because this series is searching for the "Ultimate Street Car" and because whenever possible I'd rather drive than trailer and because I earned my invite driving my Camaro to every event I had to drive it to SEMA too.  
SEMA Week
Having never been to SEMA before I chose to stay and check it out the whole week leading up to the OUSCI competition. All the OUSCI cars not part of a booth display are displayed in Optima Alley (check out the Optima Alley gallery at the end of this post).  SEMA is byond huge!  I loved being able to finally get to see what all the hype is about and getting to see all the cars and products on display.  As amazing as SEMA is, I also learned that is pales in comparison to the lure of racing afterwards.  After two days I sufficiently over dosed on SEMA was ready for the driving!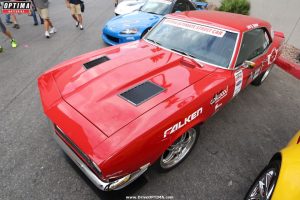 One of the many bonuses to being there for SEMA was that the tech and Design and Engineering judging both took place during the week.  This made Saturday a little less hectic compared to a normal Ultimate Street Car Association ("USCA") qualifying event.  Another really neat bonus was the OUSCI swag awarded to all of the OUSCI competitors.  This included HPTuners, Optima power pack, Optima battery maintainer/charger, gloves, jackets, hats and more.  In a world of participation trophies I'm thankful for a bunch of stuff I can use!
OUSCI Saturday
As dawn lit the sky I was up early from a fitful night of sleep to head from the Las Vegas strip to Las Vegas Motor Speedway.  The weather for the weekend couldn't of been more perfect.  The usual desert winds were quiet and with temps in the mid to high 60's we had the perfect balance of human comfort, track temps and air temps for power.  As competitors arrived at the track a few differences jumped out right away.  Now, instead of mostly west coast cars you had a true mix of cars from around the country.  You had a lot more banners and signage everywhere and Optima Umbrella girls helping shade the drivers (and occasionally turning on a GoPro).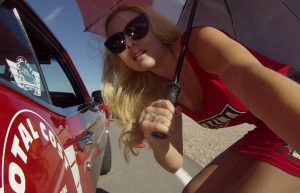 However, the biggest differences to the qualifying event I attended at LVMS in April were the driving elements.  Now instead of a single monster autocross course we had twin mirror image courses.  Very much like an SCCA Pro Solo but without the christmas tree.  Also, instead of a 3 hour window to get as many runs in on the autocross courses and 3 hours on the speed stop each driver only received 4 runs on each.   I thought my recent SCCA experience would help me ensure some good times with the limited runs.  And I did run a respectable Speed stop time, however autocross ended up my worst of the three driving elements.  The drag start against another car at the start was definitely fun though and has me itching to try a Pro Solo.  
With the limited runs, no tech and no D&E Saturday was a lot more relaxed than I anticipated.  Well except for the competition part anyhow.  That night we did the road rally drive to the Shelby Museum / plant in Las Vegas.  It was fun parking my Chevrolet Camaro right under that Shelby sign too.  I enjoyed checking out the cars, eating dinner and bench racing with my buddies.
OUSCI Sunday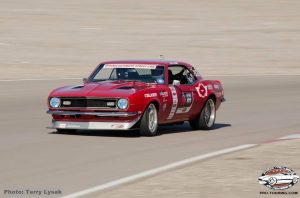 Sunday saw another beautiful picture perfect day.  The Falken Tire Hot Lap Challenge was run much the same as any other USCA qualifying event.  We got 4 sessions of 10-15 minutes to try and set our fastest time of the day.  I really had a blast on Sunday.  I shaved off close to 3 seconds from my previous personal best at LVMS in April.  And despite the addition of an extra chicane, April's time was already an improvement from 2015.  No matter how other people are doing whether they are faster or slower I'm always having fun if I'm improving and dropping time.  It was also fun talking strategy and driving line with friends and competitors such as Efrain Diaz and Nick Relampagos.  
In the interest of camaraderie I shared the areas I had improved and found time but I'm not sure either Efrain or Nick needed it.  Those guys were pushing hard and I barely squeaked ahead.  
Final Thoughts
It was a combination of pride and awe that I attended the 2016 OUSCI.  The competition is on another level but many of the friends I regularly hang with at these events were still just as fun to be around in the pits and helpful.  At the end of the day my fellow racers make the event fun and probably the capstone event of a successful 2016 season.

The baddest of the bad track capable street cars attend the OUSCI.  Any USCA event is a true test of just how well a car is able to balance street duties with track duties (with perhaps a strong bias towards track). In light of this competition I only had one goal with respect to my finishing position.  That was to finish in the top half of the competitors.  A goal which was achieved!  And if I look at just the GTV cars I managed a 7th place finish right behind the godfather of pro touring himself Mark Steilow.  
Not bad for a 68 Camaro that drove to every event in 2016 and put on over 12,000 miles and not once had to drop out of an event due to mechanical failure.  I've said it before and I'll say it again.  Fans of muscle cars and handling are experience a golden age.  It was truly incredible what a 48 year old muscle car with the help of the pro touring aftermarket can accomplish even being pitted against the best sports cars in the world.  
Special Thanks to the support of the following companies: