2017 Goodguys Spring Nationals Autocross Recap
The Spring Nationals in Scottsdale, Arizona represents the official start to the 2017 season for Goodguys Rod & Custom. For many, it also represents the start of their autocross season. This is when many drivers find out if the long nights and busy weekends of wrenching during the off season result in improved lap times. It's a chance to dust off the cars and trucks as well as the driver's reaction times and autocross skills and get back into the swing of things.  The weather in Scottsdale was certainly up for the start of the Goodguys autocross season with temps in the high 80's throughout the weekend. Friday and Saturday are only open to the 72 and older American made or powered vehicles and is used to decide the winning drivers from each class. "All-American Sunday" allows American made or powered vehicles of all years to compete on the autocross.
Goodguys Autocross Friday & Saturday Recap
Pro Class
The Pro Class saw many familiar names return, such as Chris Smith, Bret Voelkel, Greg Thurmond, Casey Cronin and Mary Pozzi to name a few. Friday was a game of Hot Potato as everybody wanted to secure the fastest time heading into Saturdays runs. Chris Smith (Smitty) would run a time to beat only to be outdone for Greg Thurmond or Mary Pozzi. It was like watching kids have an amusement park all to themselves. As soon as one run would end they would hop right back into line to get another run. As it was late in the day on Friday, most of the autocross competitors had called it a day by then but the competition in the Pro class stayed strong. The battles continued throughout the day on Saturday and when John Borcher of Goodguys decided it was time to cut off the runs it was Chris Smith and the 48-Hour Corvette securing the win.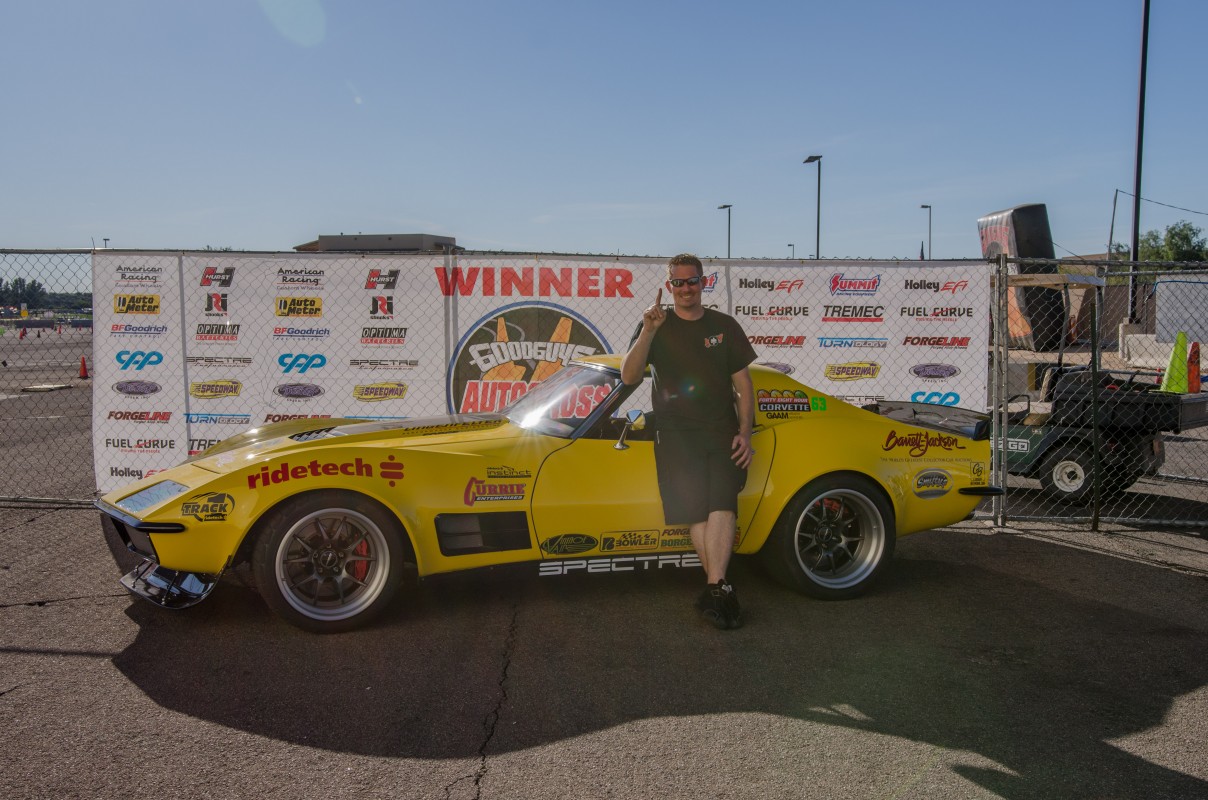 Pro Class Top 5
Chris Smith – 1972 Chevy Corvette – 34.277
Greg Thurmond – 1965 Chevy Corvette – 34.366
Mary Pozzi – 1972 Chevy Camaro – 34.619
Casey Cronin – 1972 Chevy Corvette – 35.197
Bret Voelkel – 1967 Chevy Camaro – 35.353
Ride along with Casey Cronin with his in car video.
Street Machine Class
Street Machine had the largest number of entries and you could throw a blanket over the top runs from the weekend as all the top times were within hundredths of a second of each other. In addition to the top 5, we saw drivers like Mark Allen and his 67 Camaro, Mike Slaughter's 67 Camaro, and Adam Watkins with his 72 corvette who were all running hard. Kevin Daigle and his 65 Shelby Cobra held the top spot most of the day Friday but ended up breaking a half shaft late in the day on Friday that ultimately ended his weekend early. Kevin decided to pack it up and make the long trek back to Texas to get his Cobra fixed for Goodguys Texas next weekend. At the end of the day, it was Keith Corrigan with his 1968 Camaro taking the top honors of the Street Machine class.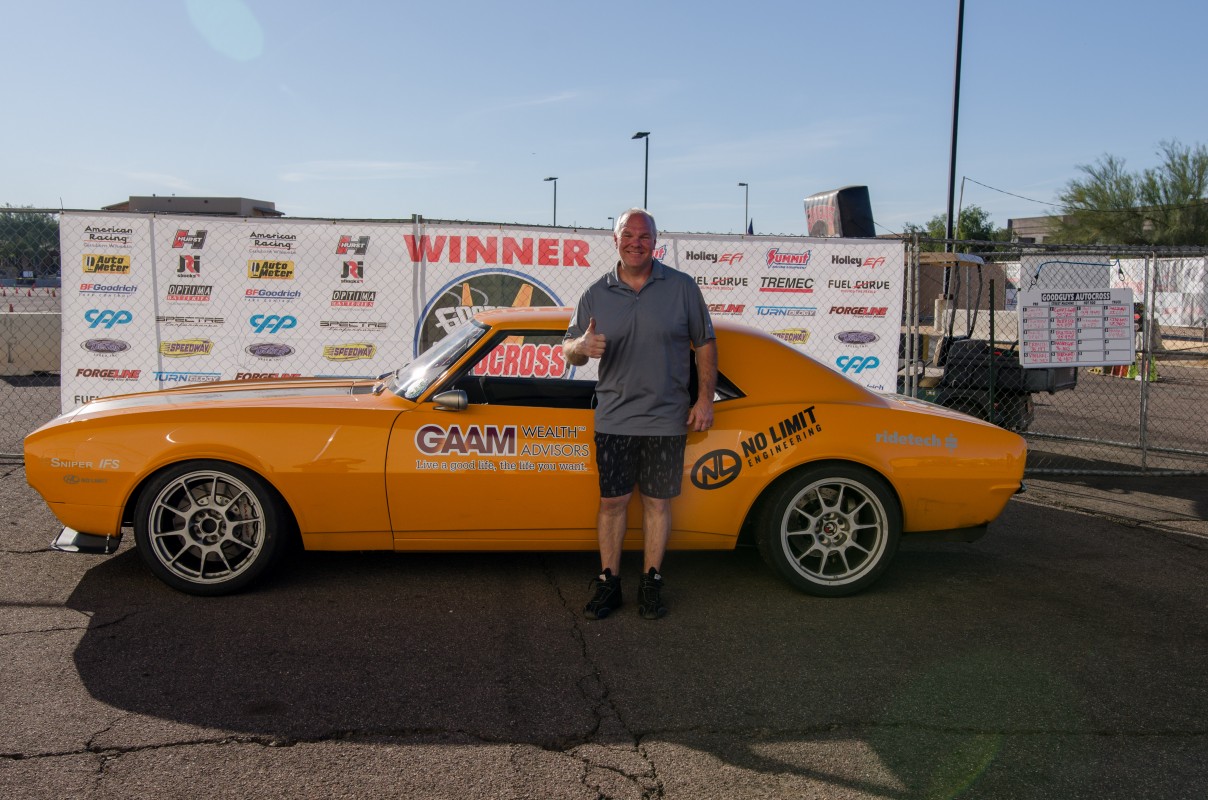 Street Machine Top 5
Keith Corrigan – 1968 Chevy Camaro – 35.725
Cheryl Herrick – 1967 Chevy Nova – 35.859
Richard Trujillo – 1969 Ford Mustang – 35.938
Rob MacGregor – 1968 Chevy Camaro – 36.025
Jane Thurmond – 1965 Chevy Corvette – 36.454
Truck Class
The truck class unfortunately only had 3 entrants which was sad to see as typically the truck class is pretty strong in Scottsdale as far as entries are concerned. However, with that being said there was a good battle for first going on between Bill Kinsman and his fan favorite 1972 Brown Ford Bronco with a 5.0 and Mike Sullivan and his FiTech 65 El Camino. At the end of the day on Saturday, it was Mike edging out Bill to take the top spot. In third place was Randy Honkala with his 1966 Ford F-250 running a full drivetrain swapped from a newer generation F-100 with a 3.5 Ecoboost to power it through the course.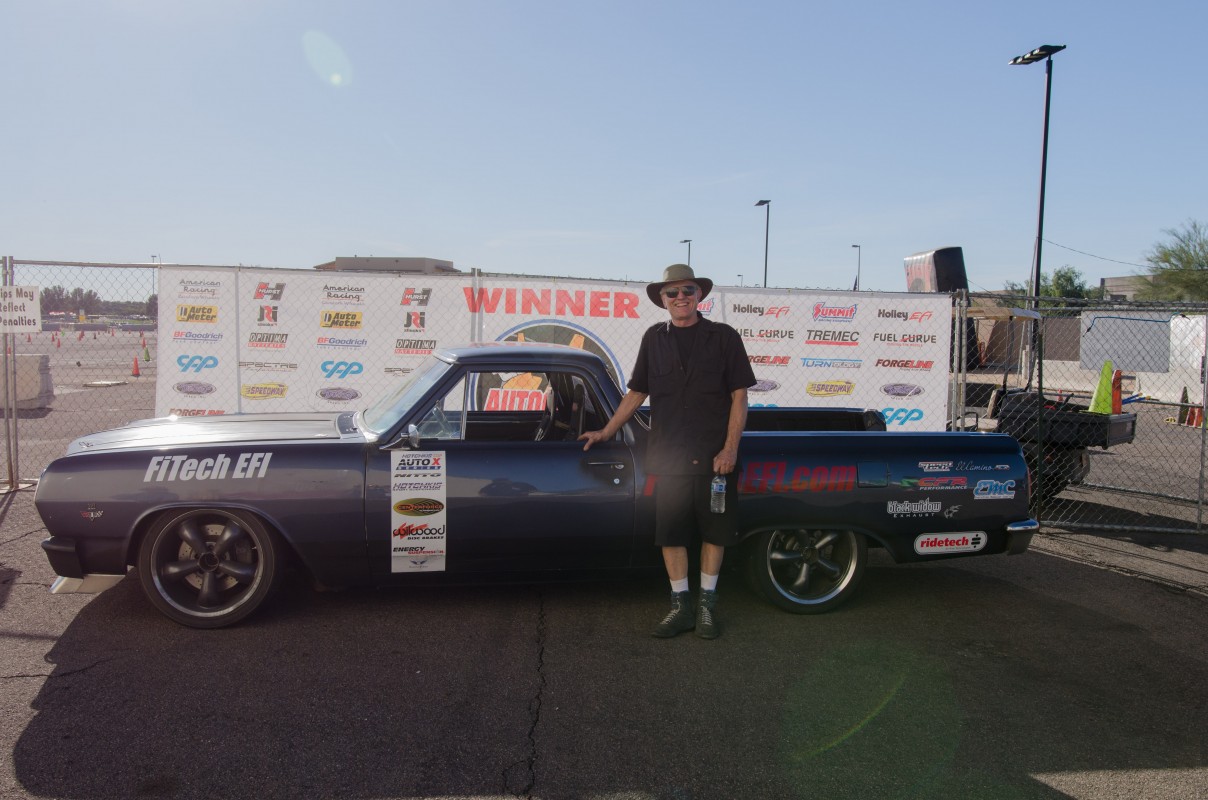 Truck Results
Mike Sullivan – 1965 Chevy El Camino – 37.681
Bill Kinsman – 1972 Ford Bronco – 38.360
Randy Honkala – 1966 Ford F250 – 44.905
Hot Rod Class
In the Hot Rod class, you had Tom Hull and his patina or as he calls it "rust" 1936 Pontiac Silver Streak taking the honors. If you've never seen Tom's ride it's pretty cool to see in person. A real deal 1936 Pontiac running a turbocharged LS1 and corvette suspension. Howard Schroeder with a 1924 Dodge 2-Door Coupe rounded out the Hot Rod class.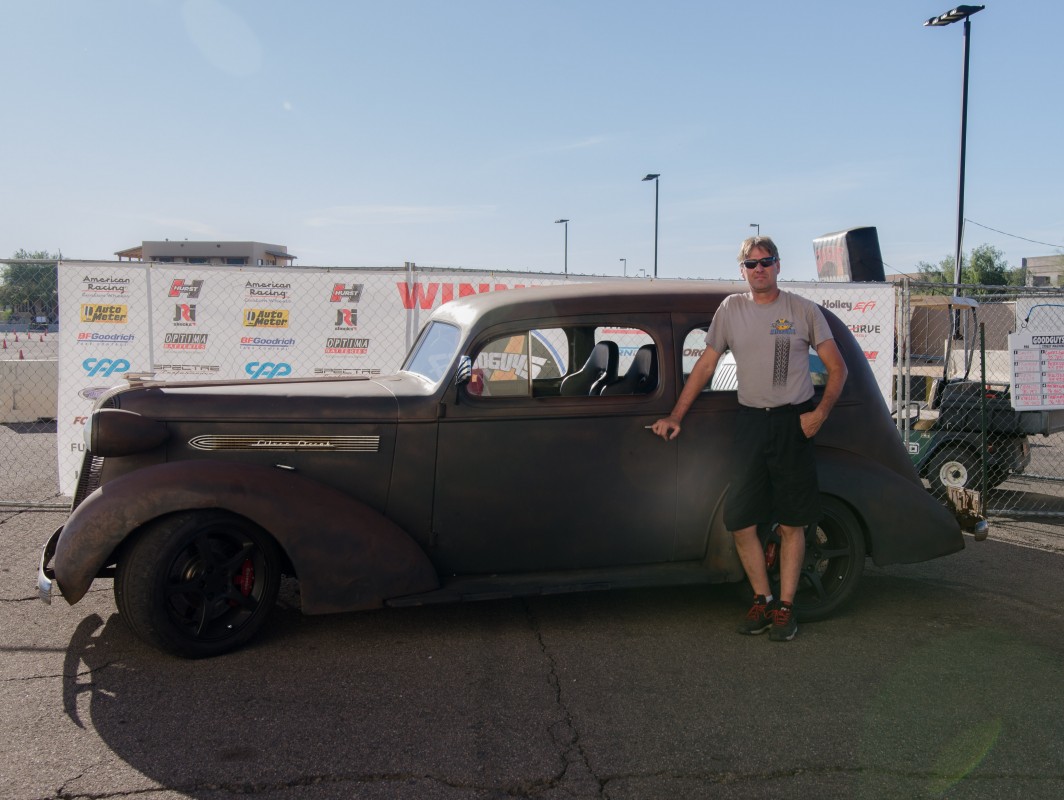 Hot Rod Results
Tom Hull – 1936 Pontiac Silver Streak – 39.945
Howard Schroeder – 1924 Dodge 2-Door Coupe – 46.080
Goodguys Autocross Sunday Recap
Sunday was another beautiful warm day with a healthy mix of new and old drivers and fans alike watching and competing. There was no shortage of first-time autocrossers getting to test their driving skills and their vehicles ability alike. Cars ranging from 80's G-Bodys, 90's Fox Bodies and a plethora of new Camaro's and Mustangs with some Mopars sprinkled in for good measure. When all was said and done it was Scott Spiewak and his Corvette Z06 edging out Gregg Biddlingmeier in his Fox Body Mustang to take the class win.
Overall, it was great to see old friends and meet new ones which at the end of the day is what it's all about in my opinion. Sure, you'd like to have a faster time than the other guy or girl but when the racing is over for the day and you get to have a cold beer and relax with your buddies there are no winners and losers. Just great memories to take home with you.
Article and Photographs by Terry Lysak