FFR Cobra – West Coast Vintage Racer
Ever wondered what it's like to race wheel to wheel with iconic American Muscle cars?  Fresh off his 2016 season championship in the Vintage Auto Racing Association's ("VARA")  GTO class, AutoXandTrack sits down with Maui Brandhoff to learn more about his winning Cobra.  Maui has a passion for vintage V8 American muscle cars, especially Fords.  Read on to learn about the various cars he has flogged on the track, what its like racing with VARA and of course the Cobra.
How long have you been racing with VARA and how did you get started in racing?
I grew up in Germany and I was always involved with old V8 American cars from day one I got my driving license. Racing was always on my wish list but growing my classic car sales business had to be my first priority.  In 2011 I moved to California for a new business venture and everything related to cars seemed to be easier and cheaper here in California.  In 2014 I went to the Coronado Speed Festival to watch the vintage races at the navy base, and I was so thrilled! During that weekend I decided that I wanted to try vintage racing for myself.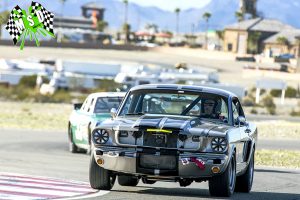 At that time I owned a mildly modified street driven 1966 Mustang and I started working during the winter months to convert it to a race car.  This mainly consisted of adding the safety equipment (Roll cage, fire system, fuel cell etc.) required for VARA.  
Do you remember your first event?  What was it and how did you do?
My first event was the VARA Duel in the Desert at Spring Mountain NV Feb. 13 2015.  I had lots of fun and it was very exciting to drive an old Mustang fast on a Race Track.  However, I quickly realized that first I needed to improve my driving skills and second to build a better prepared with better brakes and way more horsepower if I wanted to run with the front of the pack.    
How many different cars have you raced with VARA and why have you settled on the Factory Five Cobra?  
After 2 races I decided I did not want to spend any more money on the Mustang to make it faster so I was looking around for a cheaper alternative. Being always a Ford guy I was looking at the Factory Five Challenge Cobras which are more affordable. Because of the weight and brake advantage to a Mustang you can run in the mid field with a pump gas 350HP engine vs a expensive race fuel engine in a Mustang.
Besides my 1965 FFR  Roadster I also raced a FFR 1965 Daytona Coupe with VARA in 2016.
Please give us an overview of your Cobra.
1965 Factory Five Challenge Cobra, built in 2006 and street legal with title. I bought the car mid 2015 from the original builder in North Carolina
How has the Cobra changed or evolved as you have raced it?
The old 347 cui engine needed a rebuild after a few races and over 10k miles of street driving. I also added an Accusump oil system.  Additional upgrades included new shocks and springs and a rebuilt transmission in 2016
Full Build / Mod List
Engine/driveline
363 cubic inch pump gas engine built by Pick's Racing Engines in Santa Ana, CA

363 SBF engine built by Pick's Racing Engines

Dart Block
AFR cylinder heads
COMP Cams Solid Roller Cam
Eagle Rotating Assembly with CP Pistons
Aviad Road Race oil pan

Accusump

Tremec 3550 5 Speed Transmission

8.8 Rear Axle

Suspension
SLA front suspension

3 link rear suspension

QA1 with Eibach Springs
Wheels, Tires & Brakes
Enkei 9″ front and 10″ rear wheels
275 and 315 Hoosier R7 or Nitto 01
Wilwood Disc Brakes (6 piston front, 4 piston rear)
Body
Fiberglass, some Aero mods
Interior
What is your favorite bang for the buck mod for the track?
New Hoosier R7 Tires
Are there any future changes planned for the Cobra?
Not for now maybe a better set of Exhaust headers to get more HP out of the engine
Have you competed in other series besides VARA?  Do you have a favorite?  
VARA only because they race at nearby tracks including Willow springs, Buttonwillow and Spring mountain.
And is there anything you want to try in the future?  
I have only been racing with VARA but I did a few track day events and would like to try autocross in the future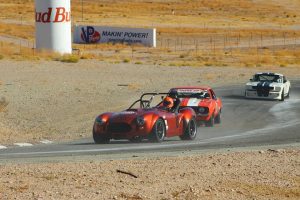 If you have tried other series what is it about VARA that keeps you coming back?
My passion is classic American Muscle cars. So for me it is important to get to run with the old cars at the track. Also, VARA is a great organization with super nice people that are fun to hang out with.  For example, most race weekends most of us get together around a campfire on Saturday night for some fun bench racing. And we usually have a big screen projector with video from that day's racing action from various in/on car cameras.
Have you attended any driving schools?  If so, how significant were they in helping you develop as a driver?
I did the VARA university school with my Daytona coupe and i have learned a lot. Also, I attended the Bondurant driving school which was helpful to improve my driving skills.
Please give us your top driving tips for the road course.
Don't get distracted by the cars in front or behind you.  Do your own pace and try to drive as smooth as possible.
What advice do you have for someone thinking about getting into vintage racing?
In vintage racing the Big Bore classes are one of the more expensive ways to get started.  In fact, it is much cheaper to start with smaller bore cars and they also help you learn to use the momentum of the car better.
Are there any sponsors or others you would like to acknowledge for their assistance in getting your car to what it is today?
Thank you Factory Five Racing for building these great cars and providing outstanding customer support.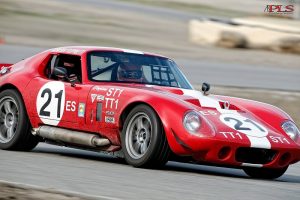 Bonus info: VARA and Pro Touring Cars
With the way the current GTO class is run, VARA offers a place where highly modified pro touring style cars could try their hand at wheel to wheel racing.  Normally the vintage racing classes of VARA, SVRA, SCCA, etc. have strict rules requiring all modifications to classic muscle cars to adhere to what was available when those cars were originally raced.  Pretty much the opposite of pro touring.  However, VARA currently allows these older muscle cars with modifications exceeding vintage specs to run in the GTO class.  While most people probably aren't looking to convert their beautiful pro touring street cars to race cars anytime soon the GTO class means that you could use the amazing aftermarket support for pro touring cars to build a bad ass vintage race car.
In 2017 VARA is also planning to start offering HPDE or track stay style run groups during their events for those not interested in racing their car wheel to wheel.
VARA safety requirements for AP, AS, BP or GTO ( Big Bore classes)
Minimum 4 point roll bar,
Fire System
Fuel cell with bladder
5 point Harness
Battery cut off switch
Driver needs fire suit, full face helmet and HANS device