Falken Azenis RT660 Review for Autocross
Falken has begun to release the larger sizes in the hot new Azenis RT660 and we were able to get our hands on one of the first sets. We picked up a set of four 315/30/18 Azenis RT660 to test. A number of different outlets have already tested and reviewed these tires earlier in 2020 but all of them have been on 255 or smaller width tires. Indeed, I believe AutoXandTrack is the first to publish reviews in the larger sizes favored by CAM and other larger tire size classes.
Our test mule is the AutoXandTrack pro touring 1968 Camaro. On Falken's RT615K+ we have won SCCA Solo Nationals in CAM-T, countless national level SCCA events, 3 NMCA Classic Muscle Season Championships, and Optima's Ultimate Street Car in the GT class. Needless to say the car is competitive and I've got a lot of seat time behind the wheel. This article (and the below video) will mostly focus on comparisons to the Azenis RT615K+. Full disclosure, I'm a Falken Tire sponsored driver.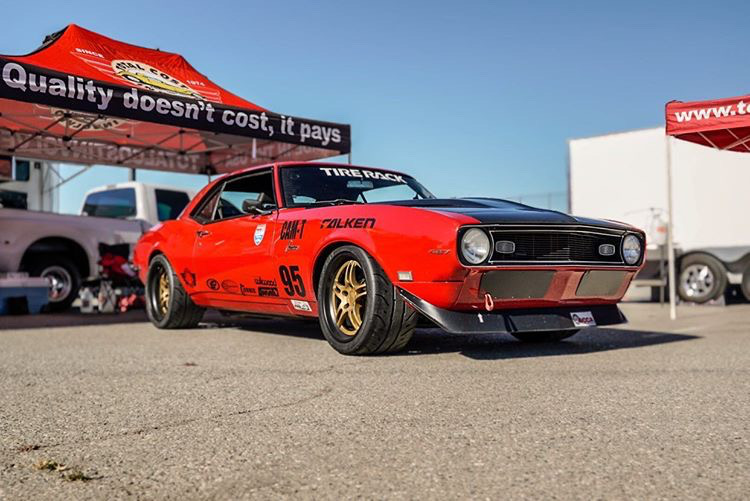 For the video fans out there we have an AutoXandTrack YouTube episode diving deep into our Azenis RT660 review.
We did our testing at a two day NMCA autocross event in Fontana CA. The event is a separate competition Saturday and Sunday running the course counter clockwise the first day and clockwise the second. Each day drivers received 3 run sessions with 3 laps very close together in each session. As such, we did 9 competitive laps each day plus 3 after hours "fun runs" for a total of 22 laps.
Falken Azenis RT660 Initial Impressions
The very first lap out I could feel a noticeable difference from the Azenis RT615K+. After a few laps the strengths of the RT660s emerged.
Crisp turn in. The turn in and steering response is the best tire I've driven. I had heard this from a few people and that if you weren't careful you'd run over cones with the back wheel. Sure enough, I did the same thing. Though to be fair, it's been a few years since I've driven a fresh set of RE71s. Though the course didn't have a slalom it did have back to back Chicago boxes which drive very similar to a slalom as well as a stand alone Chicago box. This gave a good opportunity to test the transitional response which I found to be almost as good as the improved turn in.
Peak lateral grip. The other obvious and vast improvement over the previous RT615K+ was the mid corner grip. I carried significantly more cornering speed with the new Azenis RT660. Again, our test benefited from the autocross track having two fast and long sweepers that gave plenty of time to push the tire. It took me most of the first day to get comfortable with just how much more entry speed I could throw at this tire.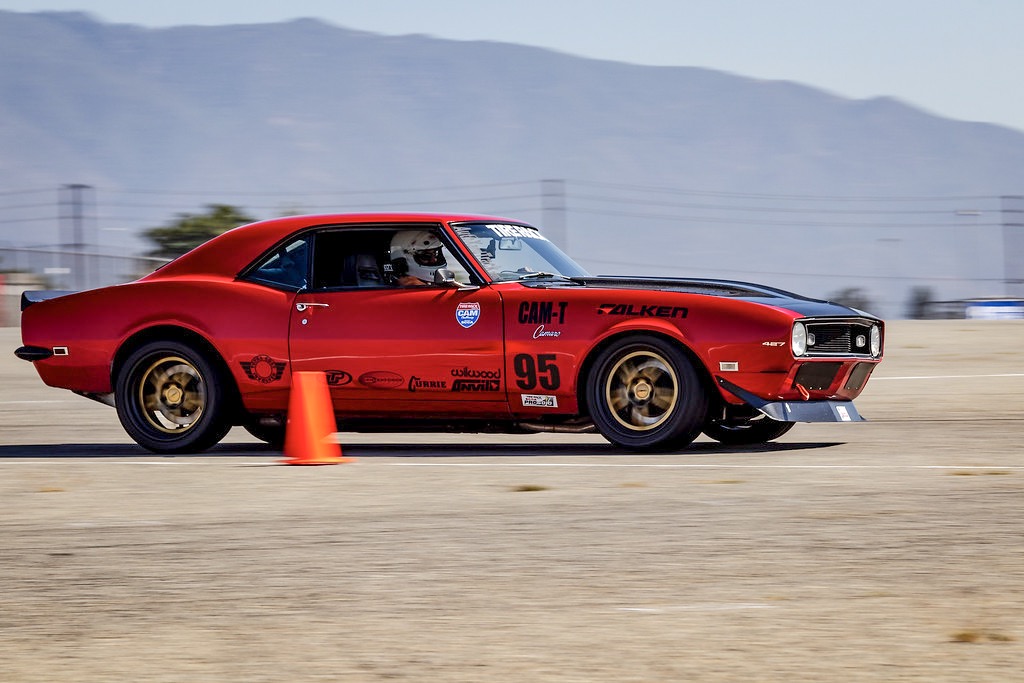 Improved cold performance. A big change with this tire is the ability to be very fast on your first lap on cold tires. If you run at NMCA where all laps are averaged together for points and every lap counts or you are at an event with long waits between run times such is typical at Goodguys or solo drivers at big SCCA National events then this tire is a big help. The tire put power down right from the starting line on the first lap.
Improved hot performance. On the flip side as the tires got hotter they had a much higher tolerance for heat than the old RT615K+ I found my old Falkens would start falling off after tire temps hit the mid/high 130's. After two laps on the RT660 I was seeing temps in the 150*-160*'s. And while I did spray them between run 2 and run 3 I still managed to set my fastest laps on the third runs. During the 2nd session on the hottest part of the day I did notice the rear tires were easier to overheat if you spun the rears too much on corner exit. That run would be a throwaway (see the video for an example).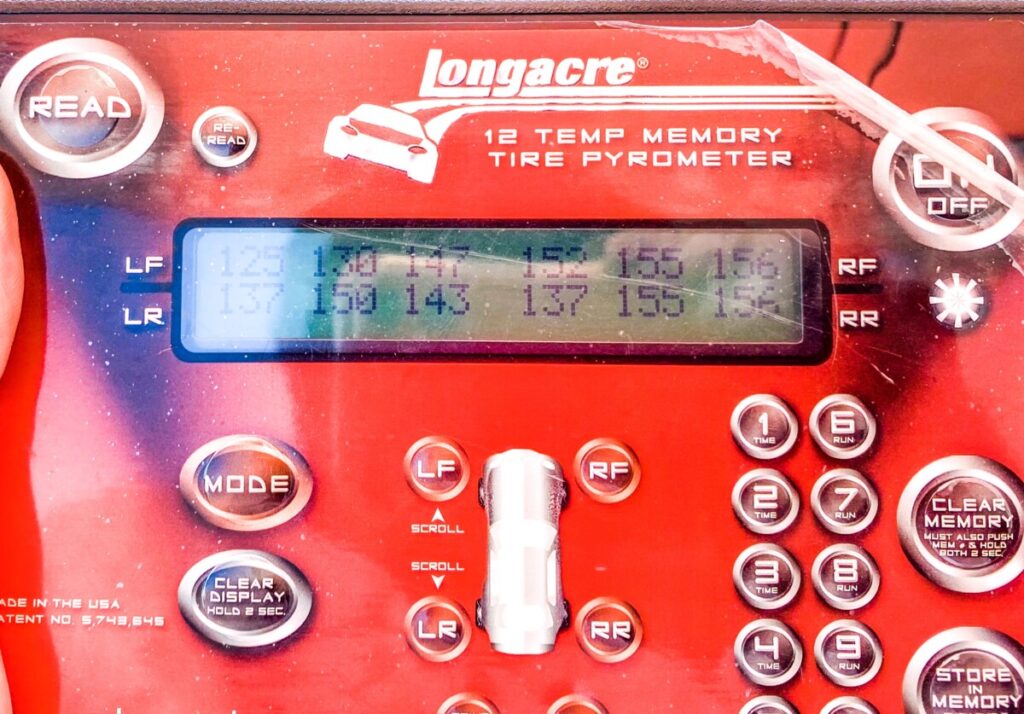 Falken Azenis RT660 Wear observations after 22 laps
The course design I ran was about 40-45 seconds long for most cars. It consisted of 2 fast sweepers, a slower 180*, 3 Chicago boxes and a few other elements. The YouTube video above shows laps from each day. Temperatures were 105* Saturday and mid to high 90's Sunday. Further, the Fontana Auto Club Speedway is considered a lower grip asphalt surface with a fair amount of surface gravel/pebbles. So far, the wear looks great to me. The tires come with 7/32 of tread and everywhere I measured on the tire I still had 6/32 or more of tread. There is a fair amount of rounding on the leading edge of the center and inside tread blocks but that is pretty consistent with what I've seen in other tires like this. I plan to update my review once I've fully used up a set of these large size RT660s.
Bottom Line
The Azenis RT660 is a huge leap forward in autocross performance over the RT615K+. It clearly does everything better and in some cases significantly better, at the cost of increased wear.
I knew I wasn't going to A B A test these tires against any of the other top 200TW tires at the event I was attending. Therefore, my benchmark was a friend and competitor who has been consistently beating me since last fall when he switched to Yokohama A052. Since then we have competed against each other 7 times in SCCA, NMCA and Optima USCA autocross courses. And at each of those match-ups he beat me by about a full second. At this event he was on his 40+ run Yokohomas and I beat him by 0.6 seconds Saturday and 0.8 seconds Sunday. As such, the RT660 tires blew my hopes and expectations out of the water (in a good way). It would appear they are worth ~1.5+ seconds over the RT615K+.
It will take more time and more events for me to see exactly where they rank in the competitive 200TW segment. In the mean time these tires were good enough to beat 36 classic muscle cars and 30 modern muscle cars at the NMCA to take the win both days. Something I haven't done in my own cars for several years!