Carrie Willhoff: Fastest Female Driver in the USCA
Meet Carrie Willhoff.  She is the first AutoXandTrack featured driver and the fastest female driver in the Optima Ultimate Street Car Association ("USCA").  And one of the fastest drivers in the series period.  Highlights from Carrie's 2016 USCA season include: two GTS podium finishes, the highest points of any woman, and an overall 17th out of the 357 drivers who earned season points.  In fact, she was one of only two women who earned competition based invites to compete in the prestigious Optima Ultimate Street Car Invitational ("OUSCI").  I've seen Carrie Willhoff in action and knew others would like to know more about Carrie behind the wheel.
How long have you been competitively driving?  How and why did you get started?
I started drag racing at 16. I lived about 15 minutes from Sonoma Raceway and had a Mustang that I thought was fast. Many of my guy friends participated in their 'Top the Cops' program which promoted racing at the track instead of the street. They had the local police departments in one lane and they raced the high school class cars. As much as I liked racing, the real reason I was there is because that's where the cute guys hung out. And I found out that I really enjoyed winning…which kept bringing me back. There was something about being lined up against a guy who think they've got the race in the bag because I'm a girl, and then treeing him off the line.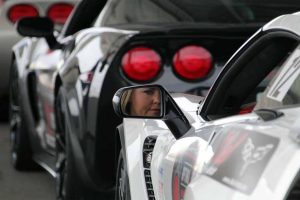 Do you remember your first event?  What was it and how did you do?
The first event that really got me to commit this hobby was when I first met Rich (my now husband) and he told me about an auto-x event that his Corvette Club was putting on. He encouraged me to come out by saying that drag racing was for fast cars but autocross was for fast drivers. I remember being very intrigued but apprehensive. I brought my brand new C6 out and took a ride with one of his friends to try and understand the course and then took a couple runs later in the day. He said I did great, but I think he was just being nice. After we started dating, he gave me a few lessons and I saw a fast improvement in both my skill and confidence level behind the wheel. For a moment, my goal was to show up to these events and be competitive. Then it quickly changed to wanting to win top time of day.
What different series have you competed in?  Do you have any favorites?
I've run some of our local autocross series, but my favorite by far has been the Ultimate Streetcar Series. It is refreshing to have many different events in the same series testing and improving your skill. And I'll be honest (and maybe a little lazy), I like that the entire weekend is devoted to actual on-track racing, rather than working run groups most of the day.
Tell us how you got involved in the Ultimate Street Car series and why do you keep coming back?
We had a couple of local autocrossers that had told Rich about this series, and we had watched the show. When it was announced that they were coming to Thunderhill Raceway (our home track), Rich decided to take our yellow C6Z out to see how he would do. At the time, we both raced that car so I didn't think even think about participating in that first event. Once I got there, I realized that I was a TERRIBLE spectator. He liked that event so much he decided that we would be traveling to Las Vegas for the next event. I told him that if we were traveling that far, I wasn't going to be watching. Since we both couldn't drive our car in the same event, I decided to take our 1 week old *stock* C7Z to Vegas. I enjoyed our road trip and the shared experiences of that first event together.
What keeps us coming back is the people, the enthusiasm and the level of competition in this series. With each event I go to, I see the competition getting more fierce which challenges me to constantly look for ways to improve my driving as well as improve the car. Because this series is televised and there is so much visibility, it provides a great platform to secure sponsorships which ultimately helps us be better.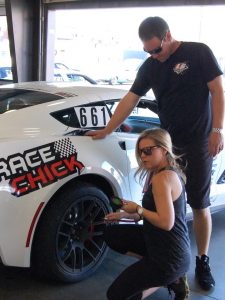 What was your experience like being one of only three women to compete in the 2016 Optima Ultimate Street Car Invitational?  
I started this series in the middle of the 2015 season and missed out on making the invitational by just a few points. That gave me motivation to start out 2016 strong, with the ultimate goal to make it into the invitational. I ended up securing the GTS invite for season long points and was very happy to participate in my first invitational. There is so much talent among the women drivers in this series, and I was very humbled to be one of two women to qualify. Mary Pozzi qualified at Fontana but decided not to go so I was very happy that there were sponsorship slots and golden tickets given to other women participants within the series. I hope that this series continues to grow and more women will consider stepping out of their comfort zone to come out to these events. Once you do one, you will be hooked!!
Do you do multiple types of events and if so do you think there is any cross over?
I've drag raced in the past, but I lost interest once I started doing more autocross and track days. I was told that I break too many parts to keep drag racing (Rich and I blowing up both engines in our cars while drag racing each other didn't help). I've done many autocrosses over the years and I feel that it was a good foundation to have before I started road racing. It has taught me so much about car control and trying to find the edge and stay there. I now do many track days each year in addition to the Optima series and for me, the road course has become my favorite.
Carrie Willhoff on the Podium.
2012 & 2013 Western States Corvette Council's season long points champion – fastest woman racer
2015 – USCA Fontana Event 3rd Place
2016 – USCA Thunderhill Event – 2nd Place
2016 – USCA Highest non-qualifier point total resulting in GTS invite to invitational
What new events do you want to do in the future?
For the USCA series, I would like to travel to one new track each season. We are limited by the amount of time away from work so we are looking at transportation options to venture out to some of the iconic tracks that this series races at.
I would love to race in the Chump Car series at some point. There's something about being a part of a team, working towards a common goal that appeals to me.
Have you attended any driving schools?  If so, how significant were they in helping you develop as a driver?
I've never been to a driving school…unless you count the 'Rich Willhoff' method of racing. The guy is a great driver and a fantastic teacher, so he's given me lots of information over the years. He's given me many tips, but more importantly to be able to pay attention to the car and understand what it's doing and how to adapt to it. Rich is a much better teacher than I am a student at times. He's watched me kick my tires, curse, and worse. And then somehow finds a way to get me to calm down and figure out how to counteract whatever the car is doing.
Please give us your top driving tips for the road course.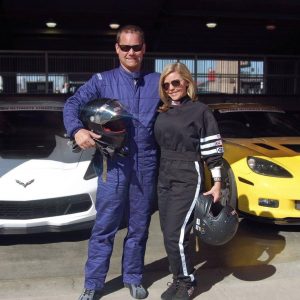 Be predictable

Keep the rubber side down

Pay attention to braking zones & markers…and not zone out looking at the cool functioning spoiler on the McLaren in front of you

Look ahead

Don't take your hands off the wheel to curse at the person in front of you who isn't paying attention to their mirrors to let you pass

Smooth is key

Get braking done in a straight line if possible

Don't F up the corner entry or you will pay for it in the corner exit
And top driving tips for Autocross?
Check and pay attention to your tire pressures

Get at it from the start

ALWAYS do a thorough course walk – I pick out the cones that I think I will be likely to hit and try to get it clear in my mind where those cones are when I'm driving at speed

Look ahead

Limit gear changes

Take rides often with people who are faster to learn something
Have you always driven the same car?  If not what other makes and models have you driven?
I have struggled this year in the 2015 Corvette C7 Z06. I spent 8 years driving and learning our C6Z and I was trying to take what I've learned from that platform and do the same thing in the new car. It's a completely different beast and that was a mistake. At one point this season, I realized that no matter how many modifications I do to the C7Z, nothing will replace the experience that I have in the C6 platform. In a competition such as this one, where every thousandth of a second counts, I decided that the best thing for me to do is to sell the C7Z and go to a C6 ZR1. I'm very excited to see what the 2017 season brings for me.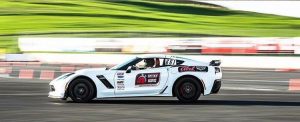 Anything special you would like to say to women that read this and either currently compete or are thinking about it?  
Put your big girl panties on and get out there! We have so much talent within this series and it has been fun to watch the women who started out very intimidated (like myself) gain confidence and become part of this series and not just an extension of their husbands. I want to be "Carrie Willhoff in GTS" and not "Rich's wife who's also kinda fast".  [Editors note: Anyone else agree she has already accomplished this?] That being said, part of the fun I've had in this series is traveling around with my husband and sharing the time together and creating memories and experiences. But when the helmets go on…
You recently launched a brand of female clothing and driving gear branded after your nickname RaceChick.  Where did the nickname RaceChick come from and why did you start this clothing brand?  
My career is in luxury fashion and I have worked for designers such as Christian Dior, Tom Ford, Calvin Klein, Fendi, and others over the years. It's a completely different world from this hobby that I feel so passionately about. A few years back, I was trying to figure out a way to somehow merge what I do with what I love to do, and that resulted in Racechick.com.
As a woman, I know that we love to accessorize things. When I started snowmobiling years ago, I thought it was fun. But when Rich had my snowmobile painted hot pink and I had the matching gear, it became SO MUCH MORE FUN!! We like things to be pretty. Right now Racechick.com is in it's early stages and we started with apparel. We are in the process of expanding on that into fire suits, fire jackets, shoes, helmets, gloves and hopefully car accessories in the future. As a brand, I am focused on promoting and empowering the women of the racing community and hope to offer sponsorship at some point. It was incredible to me at how many different forms of racing that have women competing. I've been approached for sponsorship from road racers, motocross, motorcycle, snowmobilers, karts, sprint cars and even a monster truck racer. My goal is to increase that number and do anything we can do as a company to help expand on that.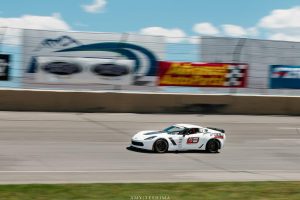 Are there any sponsors or others you would like to acknowledge for their assistance in getting your driving to what it is today?
Abel Chevrolet in Rio Vista, CA (and friends) have been great with getting us the support that we need to do these events. The people at this dealership have worked on my car, helped drive it out to events, and provided support at the races to make sure I don't do anything stupid like forgetting to check my gas gauge. Some of the best people a girl could have.
I also appreciate the support from LG Motorsports, Katech, & Finspeed Wheels and ultimately the support of OPTIMA Batteries who make all of this possible!