Optima WSIR – First Race Since C19
Recently, AutoXandTrack got back to racing courtesy of Optima's Search for the Ultimate Street Car. For the first time, the event was held at the historic Willow Springs International Raceway (WSIR). Known as "The Fastest Road in the West." It's been three years since I've run at Willow Springs so I was looking forward to this event.
Check out the AutoXandTrack YouTube episode here:
Or keep reading to see how the event went.
The AutoXandTrack 68 Camaro hadn't moved since parking after racing with Optima at Las Vegas Motor Speedway. Besides washing the car and doing an oil change my main focus was fixing the air conditioning. I wasn't going to trailer the car with WSIR only a little over 100 miles from home so working air conditioning was a necessity. I also, finally got around to assembling my DIY Ultra Chiller ice chest kit. Who wants to go into the desert at the end of May without being able to be comfortable!
Lazy Camaro Fights to Stay Home
Day 1 of Optima WSIR took place on Friday rather than Saturday. In order to minimize time away from my adorable daughter as well as saved a few bucks I left that morning at 5:00am. Everything was going great until the driver's side door flew open while getting on the freeway. My first thought was that I didn't close the door properly. However, after pulling over to close the door a second time I realized something was wrong with the latch. Sitting on the size of the freeway with precious time ticking away I considered my options. I considered using a tie down strap to hold the door shut. If I was just going to autocross I would of used a strap. But, thinking about Big Willow at 140 mph decided me. And so, I turned around heading home with the idea I would buy a replacement latch from Classic Industries. Thankfully, they are located 10 minutes from my house. On the drive home, I heard back from Jimi Day, who runs USCA. that they would tech me at lunch time if I could make it in time.
I arrived at home and immediately set to work pulling out the old latch assembly. Normally, an easy job it was a bit of work to get the window crank off since I used stock regulators with TMI door panels. They recommend using the deluxe regulator which has a longer arm. Though, Classic Industries website said their showroom was closed, I arrived about 10 minutes before they open and was excited to see a sign for curbside will call orders. Sarah, working for Classic, came out to ask me what time my appointment was for. Turns out Classic was scheduling appointments of when you could pick up your will call order and they were 1-2 days behind. Long story short, Sarah took pity on me and my efforts to get to the track. She got me out of there in about 30 minutes.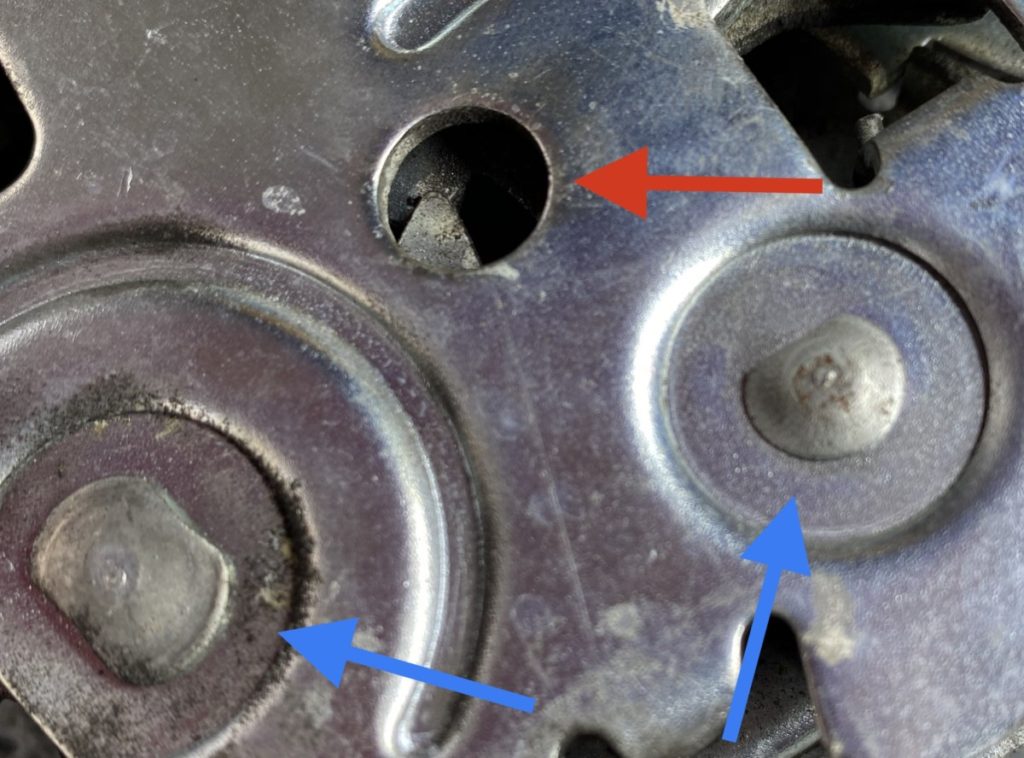 Day 1, Road Course and Speed Stop Competition
I pulled into Willow Springs a few hours later and got unloaded and ready to race. The road course portion is run similar to other time trial events where after the first session they grid you according to fastest lap times. Normally, for me this is a great thing. However, today it meant I was starting at the very back of the pack and would have a lot of lap traffic to battle through. Despite lap traffic on all of my laps I was able to get a nearly clean lap on my last lap of the day and ran a low 1:33 lap time. Fast enough for 3rd in GTV and fastest muscle car in GTV. C4 and C3 Corvettes took 1st and 2nd respectively. Overall, I was happy with 3rd in class and a 1:33 lap time.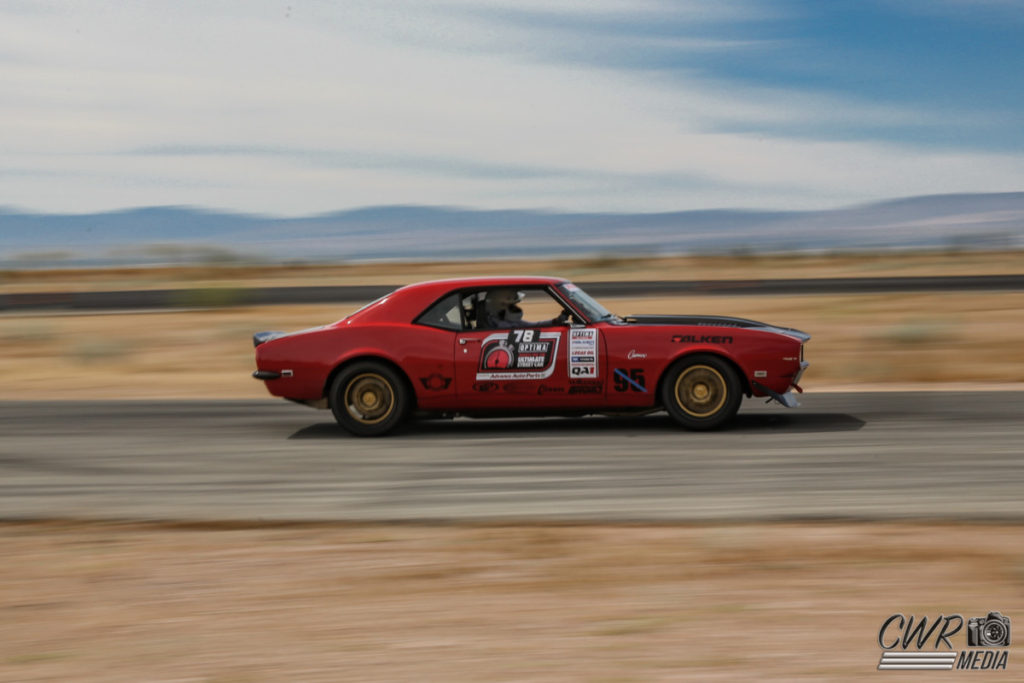 Getting only half of the speed stop runs showed why it's my weakest element. I was only able to eek out a 6th place finish. Perhaps my worst speed stop finish in 3 years. This would turn out to cost me a podium stop and possibly the OUSCI invitation. Though, at the time I wasn't even worried about this as I was just happy to be racing.
Day 2, Autocross Glory!
I had one goal for the autocross. Not get beat by over a full second by the super fast Cheater Corvettes. ™ We would get 3 sessions with 4 laps each for a total of 12 runs. More than any other Optima event I've been to. During the first 3 runs of the first session I led the GTV class. On my 4th lap I hit a cone and Eric Sheely was able to blow past me and take P1. During this session I also realized the car was overheating. Starting with my 3rd run I would immediately come off the autocross and do a quick blast up to 55mph on a side road and would get the temps back down to about 210. This allowed me to avoid missing any runs. If the course was longer or if that side road wasn't close by I'd have lost those runs. The overheating turned out to be a blown cooling fan rely. I was able to bypass it with a jumper and finish the day.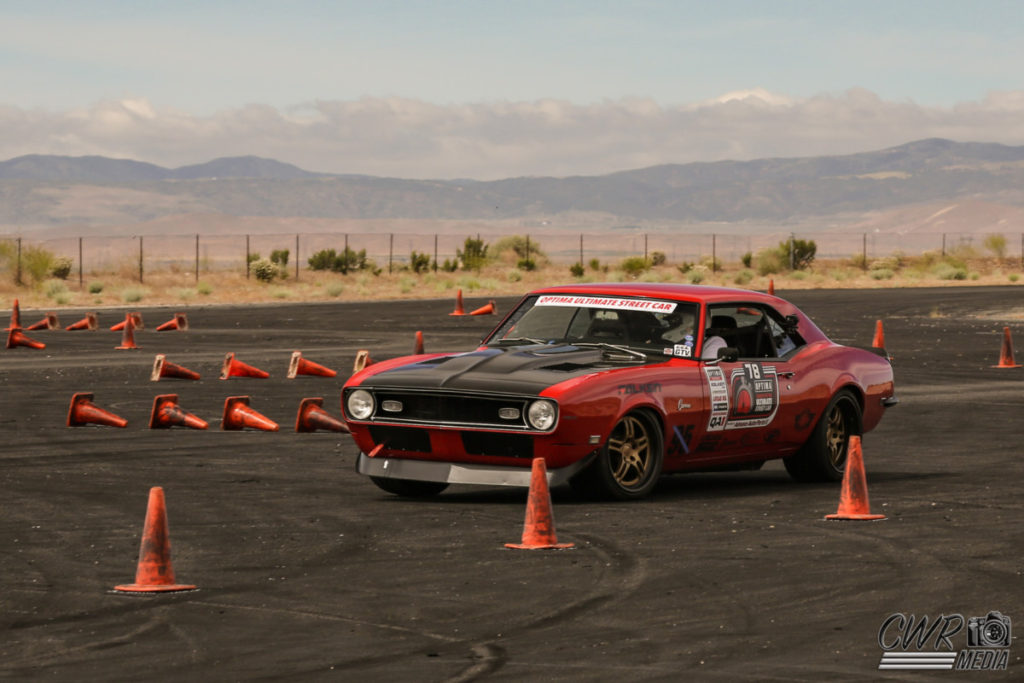 Session 2, I was able to reclaim P1 on my first lap. Dropping from a 33.7 to a 33.3. I held first the rest of the day and was stoked to end the day in P1 for GTV. CB Ramey wasn't able to get past me and sadly Eric's clutch died and he didn't come back for any more laps. Coming in first on the autocross was the highlight of the weekend. I also came in 5th out of all cars at the event across all classes. Beating a few cars I haven't beaten in a while.
Overall, I finished 4th in class. Only ~10 points separated 2nd through 5th place. Very close battles.