Future of Motorsports? Tesla Model 3 Domination
Ludicrous mode and the AWD Tesla Model S showed the world the incredible acceleration potential of AWD and electric motors. Now, the Tesla Model 3 is proving that despite the 500+ pounds of extra weight, AWD and electric motors can also do some amazing things in autocross and on track too. Currently, one of the best examples is John Laughlin's Model 3.
In the short time John has campaigned his Model 3 he has racked up an impressive list of accomplishments. And not just against other electric cars. John has taken on some of the baddest ICE powered autocross and track cars and beat them heads up. This includes consistently finishing top 5 of all cars across all classes in the highly competitive Optima's Search for the Ultimate Street Car series. Home to some of the baddest cars in the country that run on 200tw tires. Not to mention he was one cone penalty away from winning $10,000 at the inaugural UMI King of the Mountain autocross event.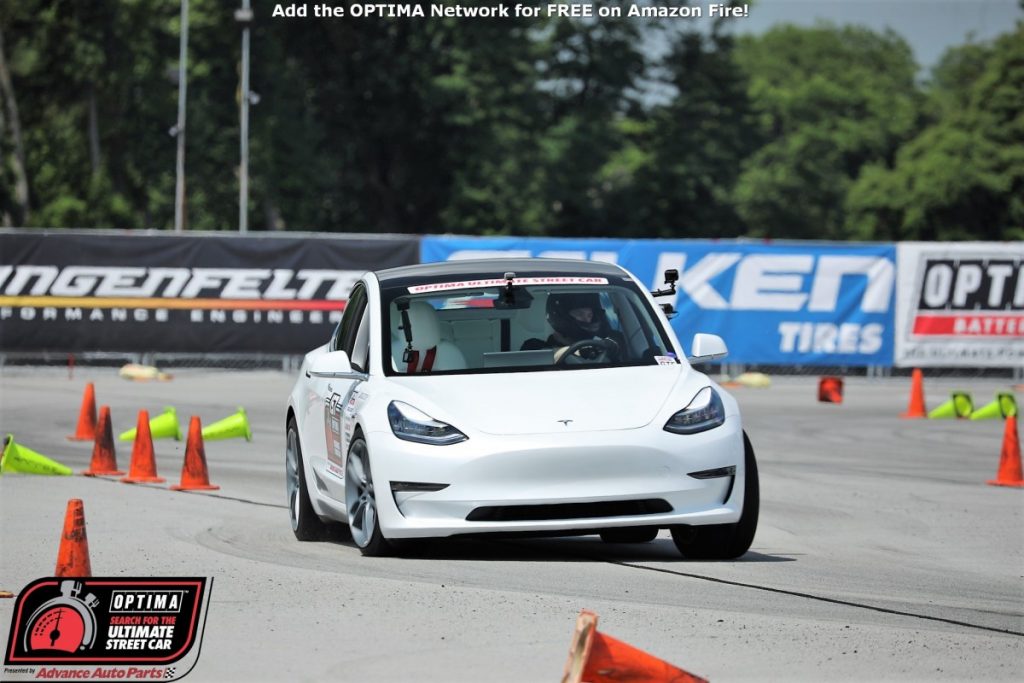 John himself is an SCCA Solo National champion and multitime Pro Solo National points champion so he's no slouch in the driver's department either. Did I mention John's Tesla didn't stay stock for very long? Read on as AutoXandTrack sits down with John to learn more about the Optima GTE Season Champion and Class winner at OUSCI!
Please give us an overview of your Tesla Model 3
This year I've been running a 2019 Tesla Model 3 Dual Motor Performance, that I picked up in May specifically with the intention of running it for Ultimate Street Car events. The car has seen significant suspension upgrades, but otherwise remains largely stock. It's truly an incredible performance machine created by Tesla, as I don't think you won't find a more comfortable relaxed highway cruiser this fast and capable. It's a blast to drive and constantly surprises people with its performance capabilities.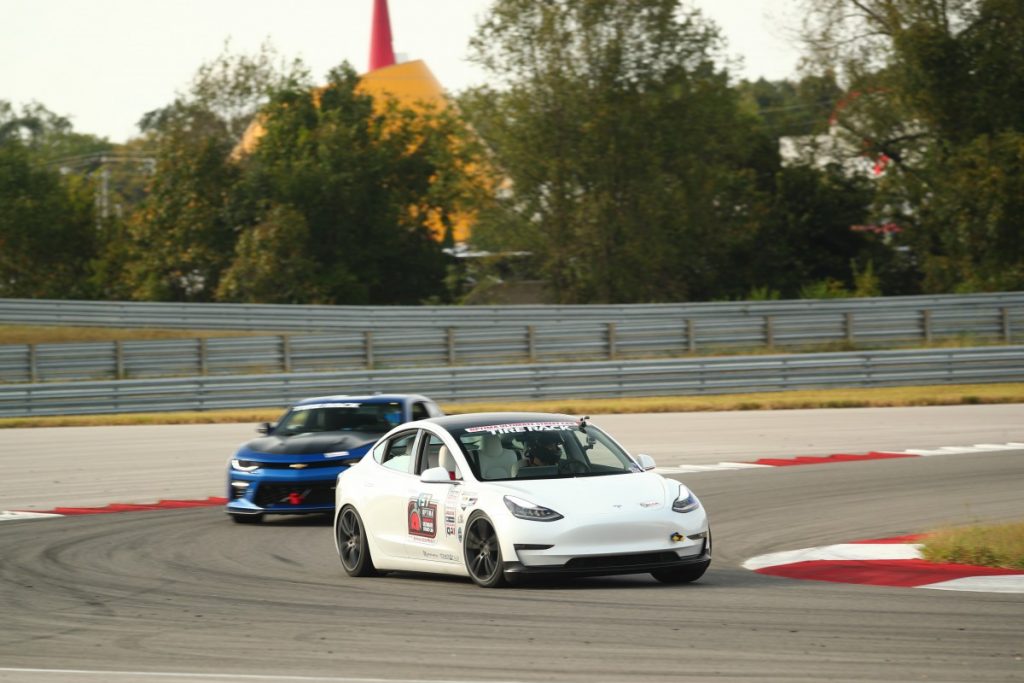 You were previously known as a Mustang guy. After extensive participation in Optima's Ultimate Street Car and SCCA autocross with the Mustang, what prompted you to switch to the Tesla Model 3 for autocross?
I really enjoyed running the Mustang last year for Ultimate Street Car, and with the SCCA. It was an awesome performance vehicle that was a blast to drive, but even as good as it was, the Mustang was going to require a lot of additional upgrades to really compete on faster road courses as I looked to move focus from SCCA to a more-diverse event list. I don't have a lot of brand loyalty, as I've owned quite a few vehicles from manufacturers like Mazda, BMW, Ford, Chevrolet, Subaru, etc, and was interested in trying something new.
The Model 3 sparked my interest due to it being something new and different, that not many people were really exploring, and it offered a way to get into a new platform and develop it in space that few were in. Additionally, I really wanted to learn and ultimately demonstrate that an EV can be a fast and fun performance vehicle.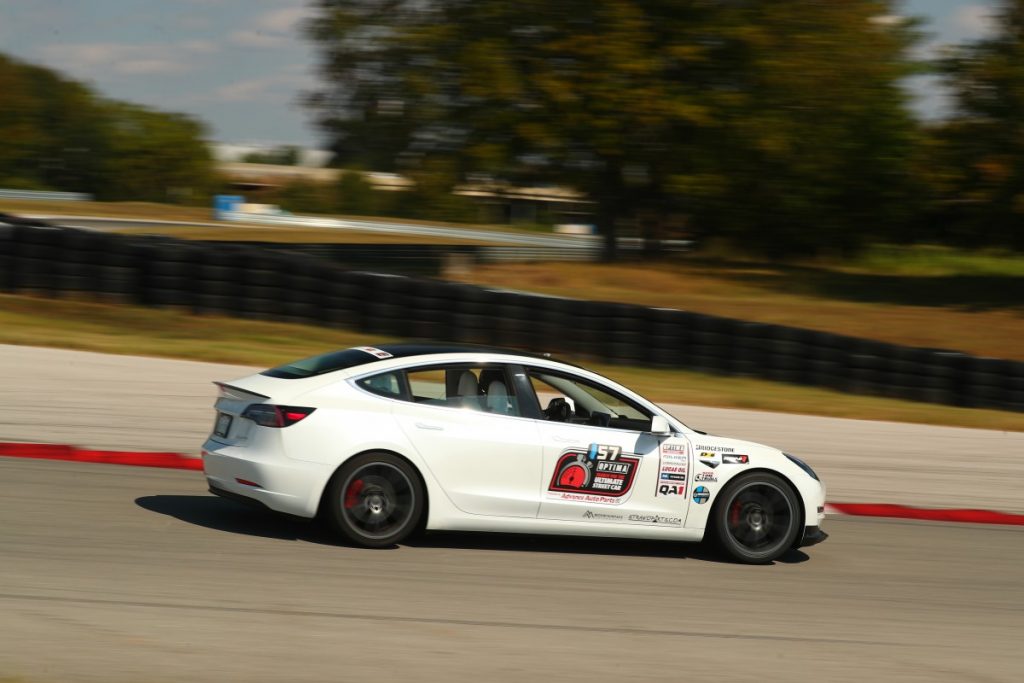 How has your Model 3 changed or evolved as you campaigned the car?
The plan for the Model 3 was always to take it as far as I could this year with basic bolt-ons. For the USCA GTE class, the rules stipulate that vehicle weight must remain published curb weight or higher, which eliminates the temptation to go with a minimum weight setup (ie, race seats, rear seat removal, etc), so the focus was definitely on maintaining full streetability.
Before I even had the car, I partnered with Mountain Pass Performance, a leading Tesla Model 3 performance shop, and they have supplied almost every performance part that I've installed on the car. As the platform is relatively new, I did the first USCA event in May with just wheels and tires. The wheels were sourced through Sam Strano of Stranoparts.com, and paired with Bridgestone RE-71R tires. From there, it evolved based on double-adjustable coilovers becoming available. Which, was the setup for the majority of the season, along with smaller upgrades such as brake pads and fluid.
Now for SEMA and the Ultimate Street Car Invitational, it remains mostly unchanged. Except for Mountain Pass Performance front camber arms, who I believe are first to market with front camber adjustability. So, while the plan has remained the same, there have been constant improvements throughout the year.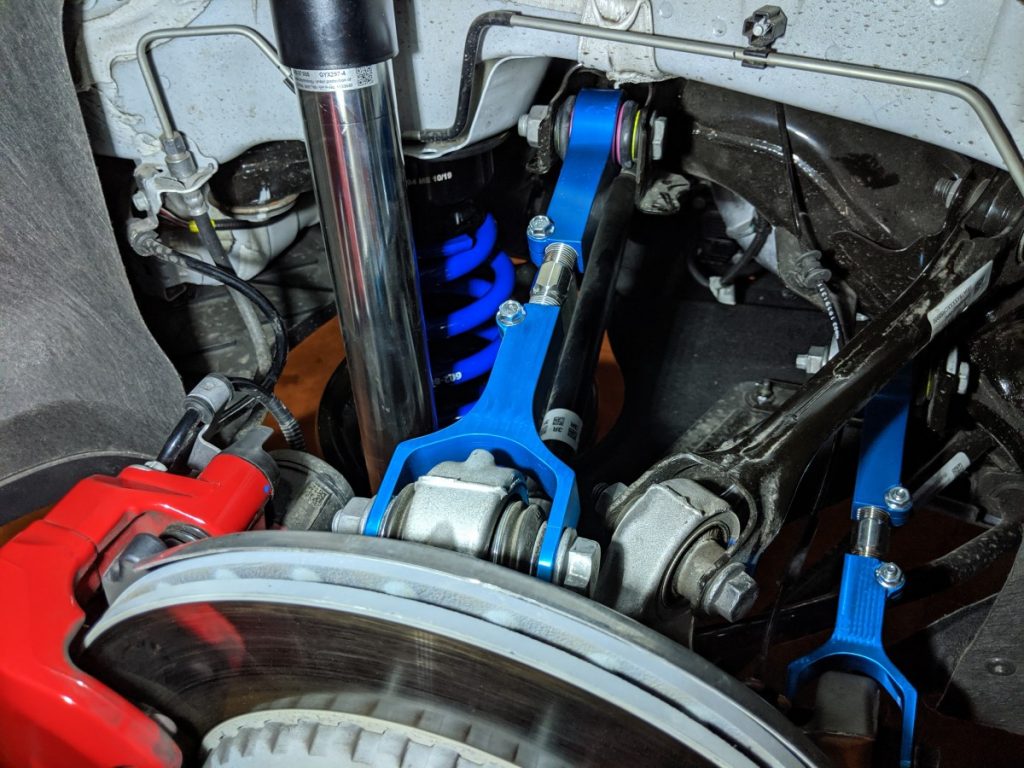 What would you say the car's primary strength is?
The Tesla Model 3 is 4000lbs – the weight is low in the vehicle, but it's still there, so it needs to be managed in corners to take advantage of the main strengths of the car which are both incredible traction and instant torque – often for autocross it's best to sacrifice the entire corner for the exit, although each suspension modification makes it handle more and more like a traditional sports car.
Are there any events you haven't tried yet but still want to try the Model 3?
I've already run the Tesla Model 3 for autocross and time trails at several tracks around the country. I want to continue to try additional tracks to really demonstrate what the Tesla can do. In terms of new event types to try, I'd actually like to take it to a drag strip sometime to see how fast it actually is in a straight line. 😊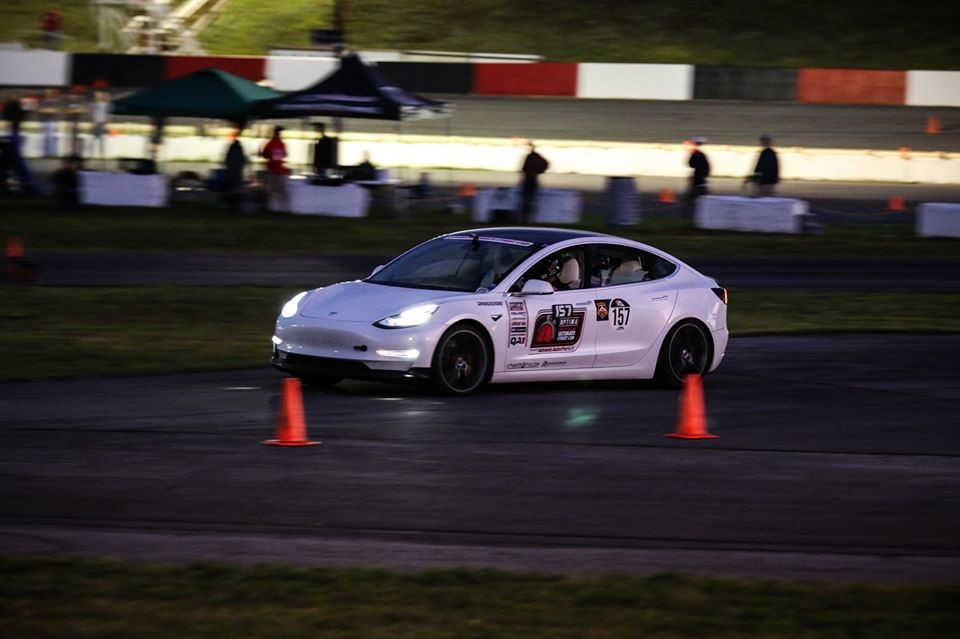 Normally, we let the mod list below do the talking but a Tesla Model 3 autocross and track car feels a little different. Can you summarize which mods you've done to make the car such a force on track?
It really comes down to the suspension and brakes, coupled with 275/35R19 Bridgestone RE-71R tires. The power is there from the factory, but the suspension is soft and the brakes can't handle the weight. The suspension upgrades from Mountain Pass Performance completely changed the dynamics of the car, and have made it into a true performance vehicle. Also, the brakes have been upgraded with pads from Unplugged Performance, and fluid has been upgraded to DOT-4 Redline RL600, which really helped the car stop consistently. With the same wheels and tires, but upgraded suspension and brakes, the fast lap time improved over 3 seconds at NCM Motorsports Park, so the setup is really working well.
List any and all mods you wish to highlight.
Engine/driveline
No modifications at this time, but here are the specs:
Front: 197-hp induction electric motor
Rear: 283-hp 3-phase internal permanent-magnet electric motor
464whp/496wtq combined
Front/rear single-ratio transaxles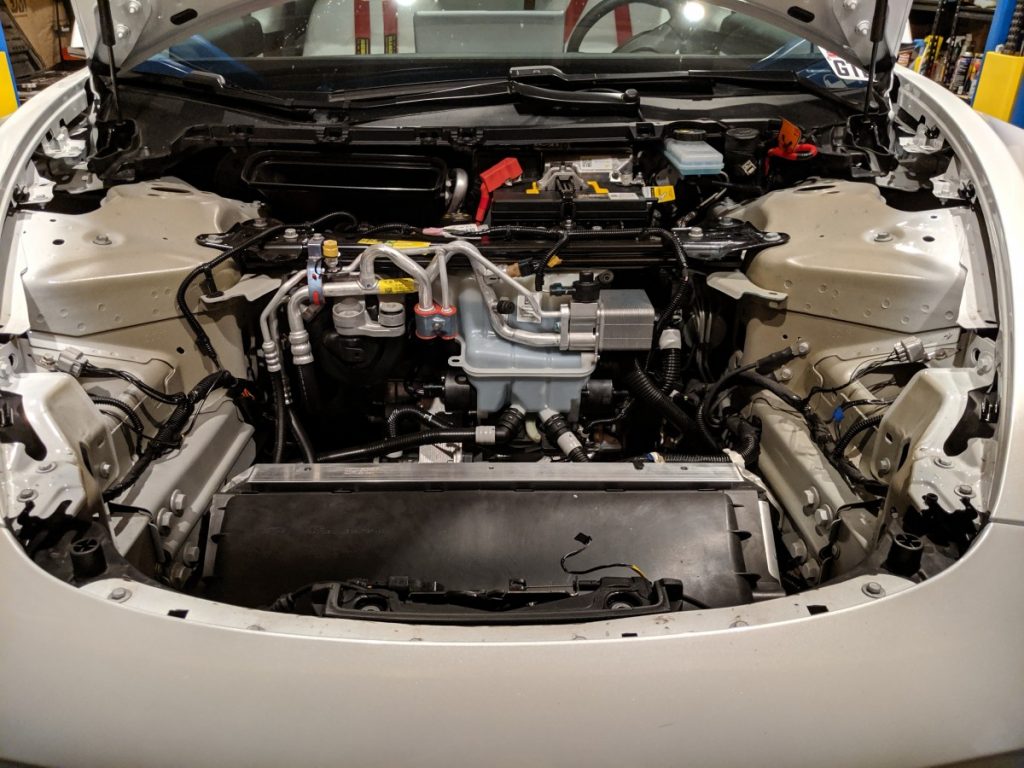 Suspension
Mountain Pass Performance Sport Suspension Package

2-way Adjustable Damping (Compression / Rebound)

Full Ride-Height Adjustability

Mountain Pass Performance Adjustable Front Camber Arms
Mountain Pass Performance Adjustable Rear Camber Arms
Mountain Pass Performance Adjustable Rear Toe Arms
Unplugged Performance Adjustable Rear Anti-Roll Bar
Body
Unplugged Performance Front Splitter
Carbon Fiber Rear Spoiler
Interior
Schroth Quick Fit Pro Harnesses
Solostorm Data Acquisition System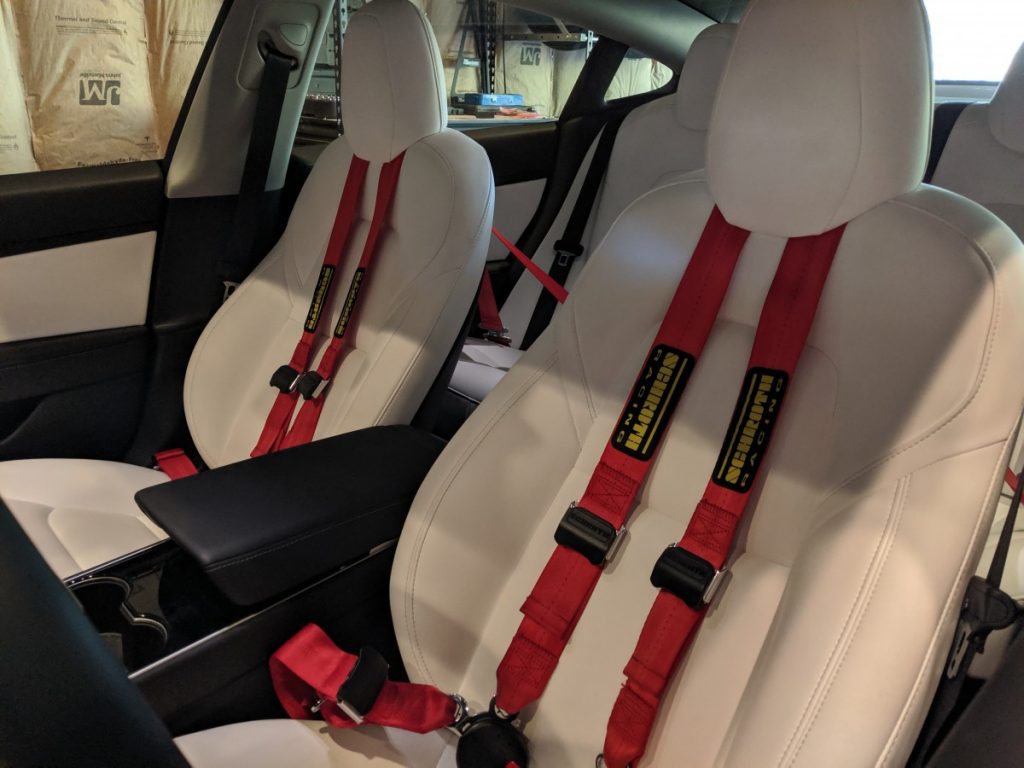 Are there any sponsors or others you would like to acknowledge for their assistance in getting your car to what it is today?
Mountain Pass Performance has been incredible to work with all year, and I can't thank them enough for their parts and their support. Additionally, Sam Strano of Stranoparts.com is always my go-to supplier for anything he carries, which in this case has been brake fluid and wheels for the Tesla.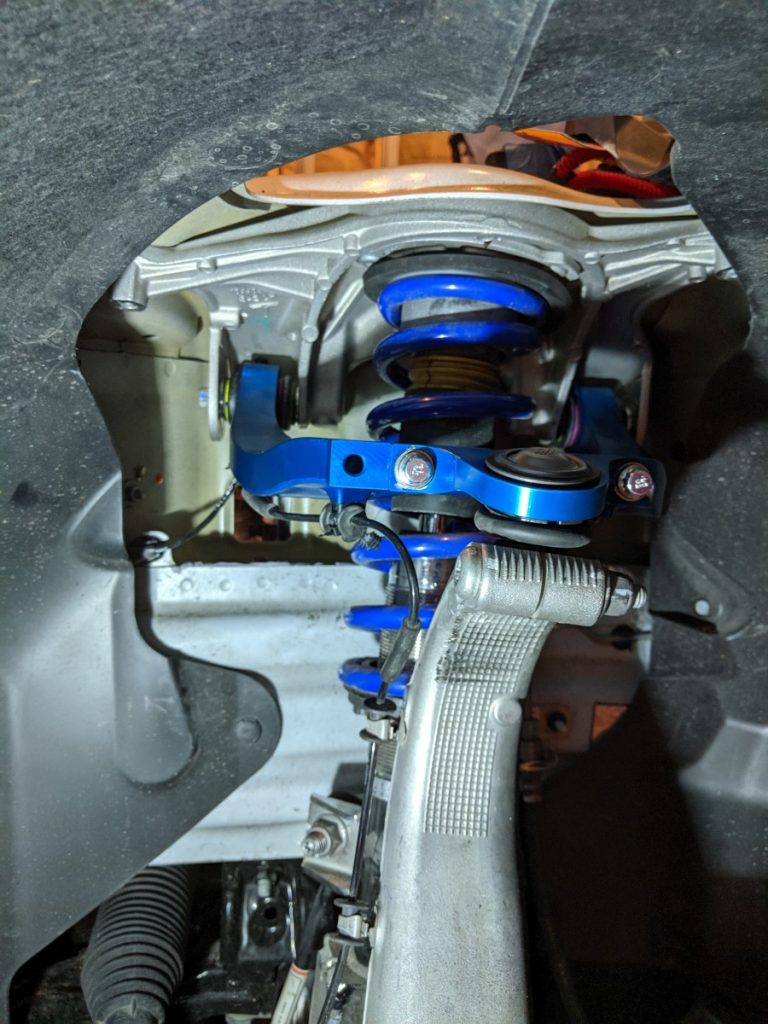 What are your future plans for the car?
After SEMA I'm not sure what I will do with the car next. I think I will wait to see what happens with the GTE class rules for 2020 – I don't expect changes, but depending on what happens I may determine my direction from there
How has competing in your Model 3 changed your outlook for the future of motorsports and electric cars?
Without a doubt EVs are an emerging technology. Until the Model 3 Dual-Motor Performance no EV could really consistently run on a track. While there are still some overheating issues, it's a very minor impact, and wouldn't hamper someone from running a full track day, provided there is a charger available.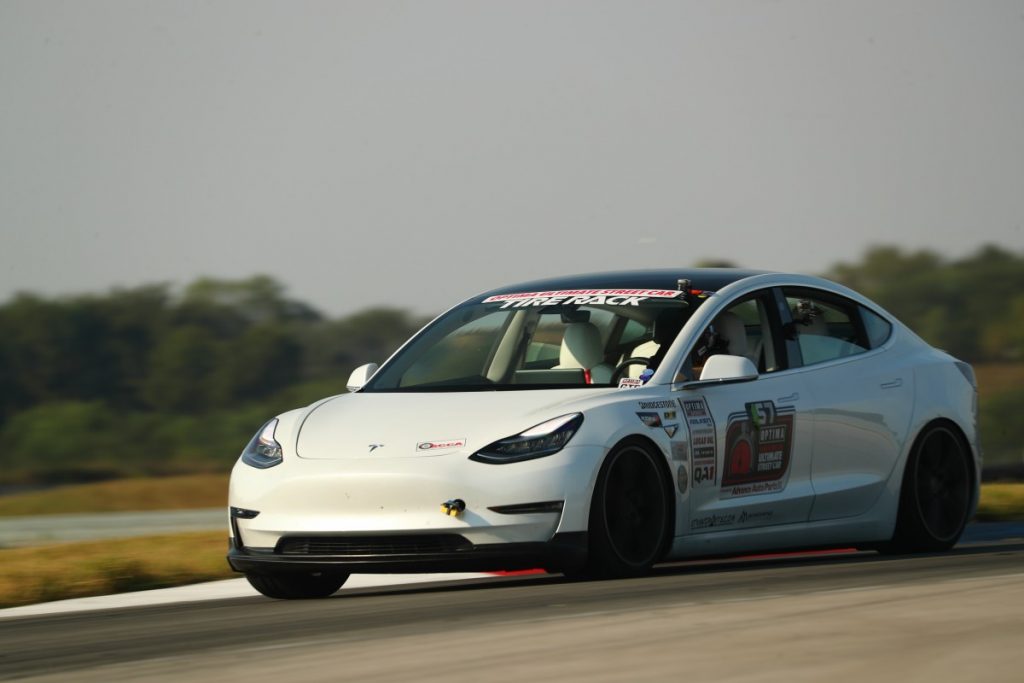 Most tracks have 220V RV spots, which is enough to keep the car charged throughout the day, but not enough to keep it charged to a level that will produce the best lap times (ideally you would want 70%+ charge during your laps). Some tracks are very close to Tesla superchargers, which eliminates any range concerns, but not all tracks are near these – NOLA Motorsports Park in particular is almost an hour from a supercharger, which made the USCA event there a logistical exercise. However, other tracks, like NCM Motorsports Park and Road America are only 15mins from a charger.
Improvements to charger networks, coupled with battery technology improvements, will really change the landscape. I think within the next 5-10yrs this will be far more commonplace, and I'm excited and hopeful that tracks will start to see the need to install chargers on-site. That said, the cars are fun, and it's a great time to be an enthusiast!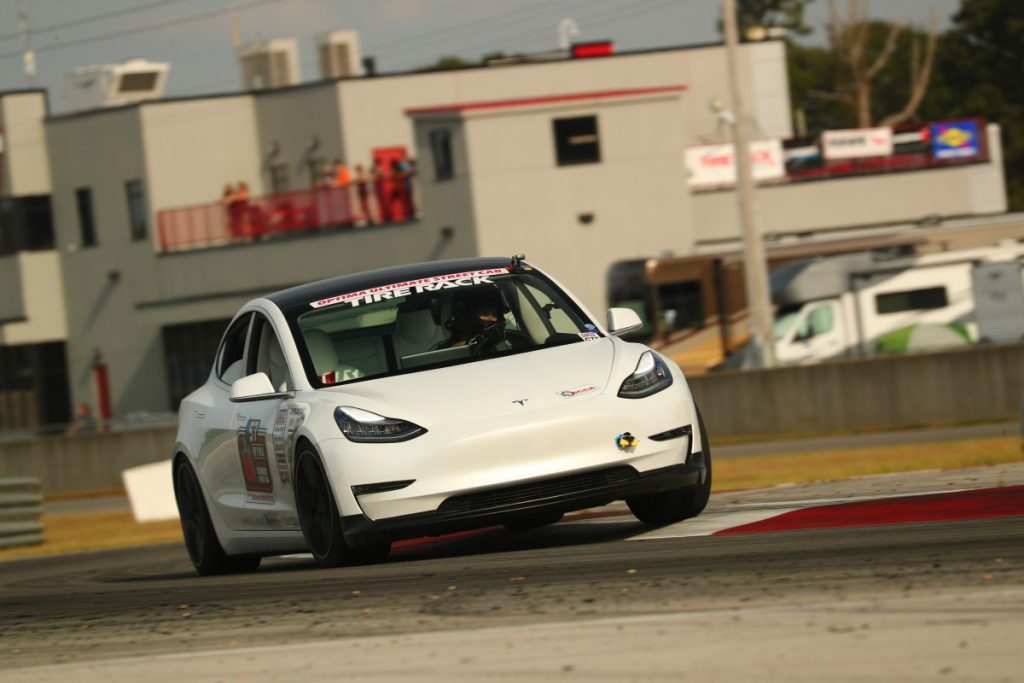 Check out more of John's adventures with the Tesla on his YouTube channel and Instagram. Some of the above pictures were supplied by A borrowed image.